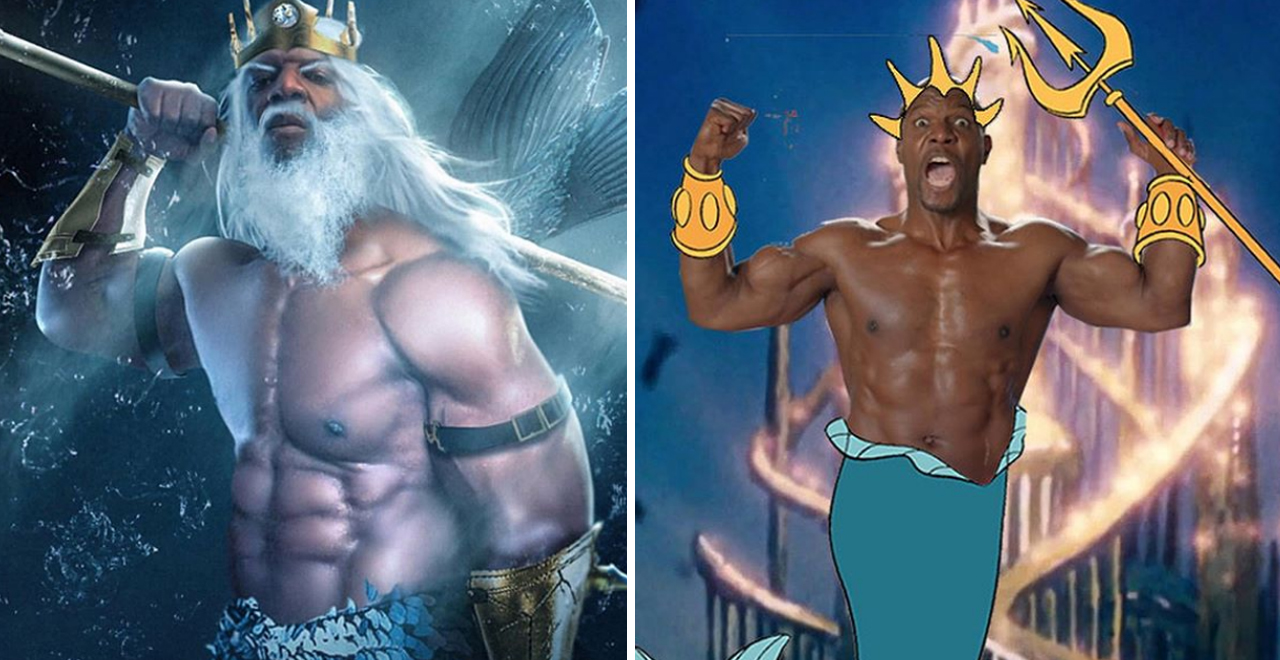 Credit: Instagram/terrycrews
While the debate over who will play Ariel rages on, a few celebrities have been quietly campaigning to be cast in Rob Marshall's remake.
On Monday Brooklyn 99 star Terry Crews took to Twitter with some terrific photoshop work to make a clear and compelling case to play Ariel's Dad, King Triton.
Ariel's Dad!!!! ????♀️ #ArielsGotTerry #AmericasGotTerry pic.twitter.com/OMEXfmpWPE

— terry crews (@terrycrews) July 6, 2019
It's going to be hard to picture anyone else in what is rightfully Terry's role.
Maybe I spoke too soon. Should the role go to Idris Elba?
So are we getting @idriselba as King Triton now? ???? #TheLittleMermaid pic.twitter.com/jD6Afcxmk1

— BossLogic (@Bosslogic) July 4, 2019
Hold the phone.
Plus Terry has auditioned…
Fans have been busy throwing out plenty of other casting suggestions. Some are truly ridiculous, while others are just plainly inspired. For instance, one fan found the role Guy Fieri was born to play. And Fieri does not seem opposed.
We got no troubles ????
Life is the bubbles ????
Under the sea ???? https://t.co/SlepakSULp

— Guy Fieri (@GuyFieri) July 6, 2019
Fieri wasn't the only celebrity chef thrown into the mix as a casting suggestion. One Twitter user found the perfect role for Gordon Ramsay, and it fits, swimmingly.
okay, hear me out, Gordon Ramsay as Prince Eric's angry French chef, Louis pic.twitter.com/wlayHtq4iX

— ???????????????? ???????????????????????? ???????????????????????????????? (@gothjackieburk) July 6, 2019
As long as the casting process continues laboriously through social media crowdsourcing this movie is bound to make a splash when it hits theaters in 2021.