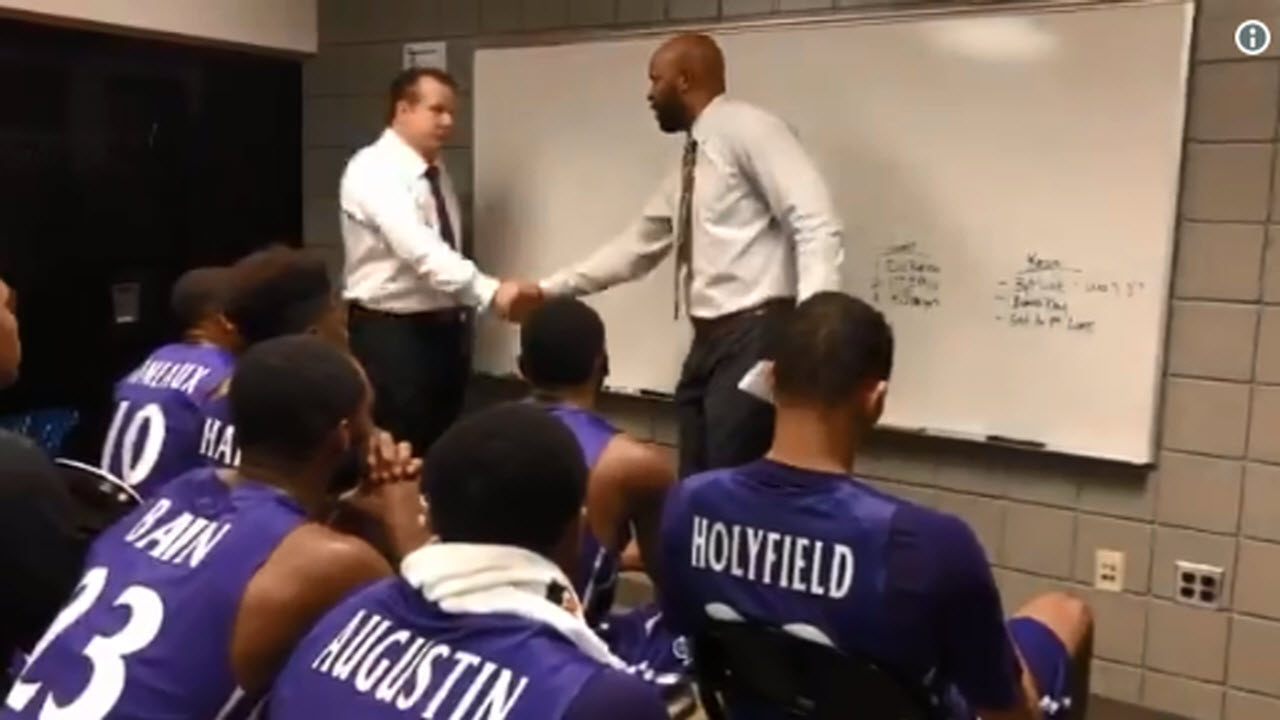 Credit: Twitter
He entered their locker room to praise their effort
Coaches are more than just teachers, they are also leaders, and the best ones don't just lead their own teams, they serve as inspiring examples for everyone in their orbit, including the fans in the stands, and even their opponents.
The head couch of Missouri's men's basketball team displayed a perfect example of this when he walked into the opposing team's locker room and gave them a pep talk, after his team had just beaten theirs.
Missouri had just beaten Stephen F. Austin by a single point, taking the in-bounds pass and dribbling out the last few seconds of the hard-fought game to secure their victory and hand SFA only their second loss of the season.
FINAL | Mizzou gets the inbounds pass in and dribbles out the last 2.7 seconds. 'Jacks drop 82-81 decision to Tigers and fall to 10-2.

Those two losses? By a combined six points to two SEC teams. #AxeEm pic.twitter.com/vH7fQ6WPq4

— SFA Men's Basketball (@SFA_MBB) December 20, 2017
After the game ended, Mizzou's head coach, Cuonzo Martin, did something he'd never done before – walked into an opposing team's locker room.
Then he gave them a speech about how impressed he was with their play.
It was a tough loss in Columbia, but Mizzou head coach @CuonzoMartin did something he had never done in his coaching career – enter an opponents locker room. @MizzouHoops, you've got the epitome of class leading you. Maybe we'll see you in March. #AxeEm pic.twitter.com/86IOt2m9D9

— SFA Men's Basketball (@SFA_MBB) December 20, 2017
In his remarks, he told the players his had just barely beaten 82-81 that they were just as talented as his team.
"I know you're mad and upset guys, and you should be mad because you're a talented team," Cuonzo Martin told the SFA players. "One thing I always tell our players, guys, is it doesn't matter (what's on) the front of the jersey. Y'all got just as much talent as we've got, man. I don't tell you that to make you feel good when you go home. I tell you real talk, man. I've never done this in my career. Guys, I'm telling you: Y'all are a hell of a team. You've got a hell of a coach."
The coach's stand-up move was not a surprise to many who know him.
I have worked with coach before during our time at the University of Tennessee… nothing fake about that man! He is the realest… most genuine person I have ever met! #RESPECT https://t.co/f0QK9G6ZoV

— Tyler Jones (@trayj08) December 20, 2017
I still remember 'Zo, when I had knee surgery, calling me in my hospital room, to offer encouraging words. I was groggy, but remember him saying, "Man, I know about bad knees." #ClassAct https://t.co/UQHYiQXUxD

— Lyndal Scranton (@LyndalScranton) December 20, 2017
This doesn't suprise me one bit! @CuonzoMartin is more than a basketball coach, just an amazing man in general! Even though didn't get the chance to actually play for him however I learned so much in my time being committed to him! Exceptional human being! https://t.co/uTa7KkNTxq

— Jordan Cornish (@JordanCornish5_) December 20, 2017
Martin apparently knows that coaching is about more than wins and losses. It's about teaching, both via Xs and Os and by example.
THIS is coaching. Every moment is a chance to "teach". And THIS was teaching in a multitude of ways. https://t.co/yHBUmg3n6U

— Bryan J. Harvey (@SoBeeHarv) December 20, 2017
Couldn't agree more, and if there were any chance at all my kids were going to play college basketball instead of merely watching it on the couch while holding their phones, Cuonzo Martin is exactly the kind of coach I'd want them to play for.