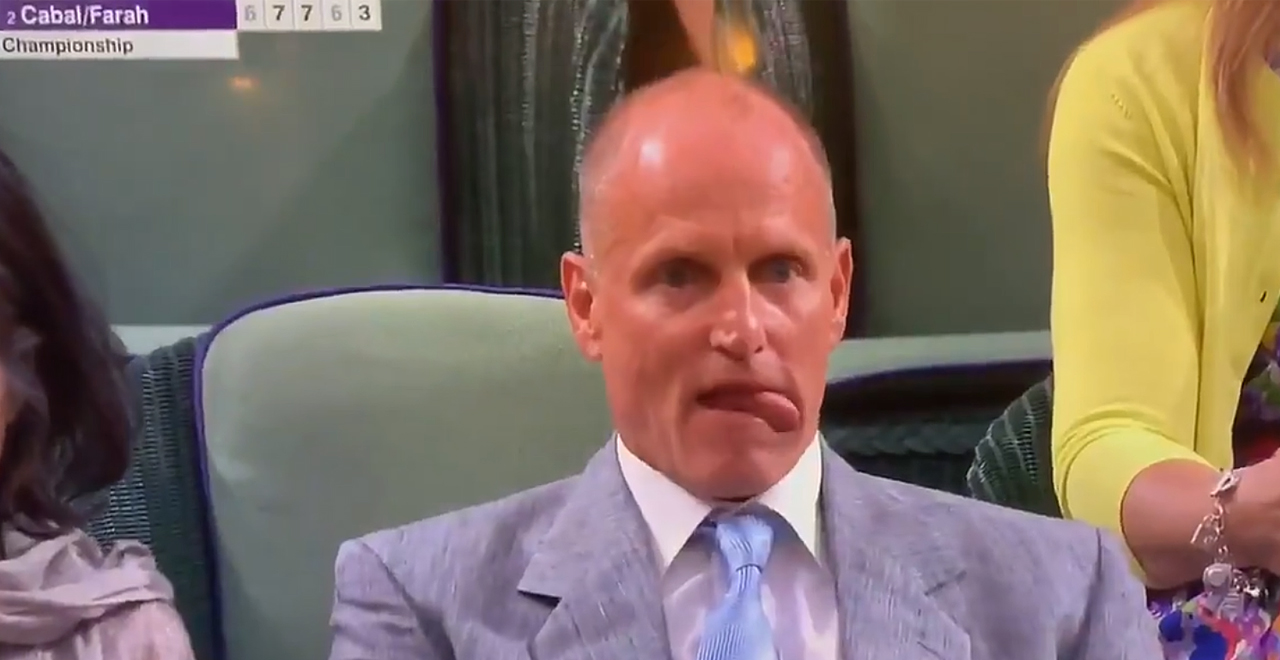 Credit: Twitter/TylerRuinsTV
Over the weekend, Wimbledon was the site of a legendary finals match between Roger Federer and Novak Djokovic. The five-set nail-biter culminated in an outrageous 13-12 tiebreaker, with Djokovic emerging victorious.
But the longest match in Wimbledon history wasn't the most outrageous spectacle at the storied tennis center. That honor belongs to one of America's most beloved celebrities, who attended the men's doubles final on Saturday and captured the attention of the internet, merely by sitting, drinking, watching, and even at one point waiting to go back to his seat.
Woody Harrelson, of "Cheers," White Men Can't Jump, Natural Born Killers, The Hunger Games and countless more roles over the course of his 30+ year career, was in the stands Saturday, and social media couldn't get enough of him.
At first, it was just exciting to see him there.
Woody Harrelson is at Wimbledon. Day made. #Wimbledon pic.twitter.com/rk9Mt6R7G0

— Laura Mary McCabe (@LauraRebelSolo) July 13, 2019
And then it was about his reactions to the match.
Woody Harrelson's reaction to watching a dude get hit in the throat then the balls on back to back points pic.twitter.com/0hoA3dDUUQ

— Mike LaPenta (@MikeLaPenta) July 13, 2019
Soon, though, it became about the drinks he was enjoying as he watched.
Funniest part of this match is announcers keeping track of how many glasses of wine Woody Harrelson has had (keep showing him in the stands every time he gets a drink). pic.twitter.com/UigZPl1EyM

— Scott Shaffer (@ScottSha4) July 13, 2019
There was even a bit of controversy when Woody left his seat mid-match and when he returned, the usher held him back as as not to distract the players.
PSA woody harrelson went for a bathroom break or something during men's doubles and is lurking behind an usher looking mad because they won't let him back to his seat during play WONDERFUL CONTENT

— dn (@fluff_fluff) July 13, 2019
Drama ensued!
drunk woody harrelson being kept from his seats at wimbledon is a huge mood pic.twitter.com/kjh7rMZt0p

— #1 Woody Harrelson @ Wimbledon Documentarian (@TylerRuinsTV) July 13, 2019
Eventually, he made it back:
HE'S BACK BABAYYYY pic.twitter.com/pby95he2c6

— #1 Woody Harrelson @ Wimbledon Documentarian (@TylerRuinsTV) July 13, 2019
And all was right with the world. Although maybe not with Woody's tongue?
can someone check on woody pic.twitter.com/LFunpC0pNj

— #1 Woody Harrelson @ Wimbledon Documentarian (@TylerRuinsTV) July 13, 2019
For many, Woody was the primary reason to watch Wimbledon.
I've been watching Wimbledon since very early this morning and I'm still watching for Woody Harrelson.

— Stephen Amell (@StephenAmell) July 13, 2019
A good time was had by all. Hopefully even by Woody! Even after he learned of the online ruckus he'd caused.
they're closing the roof and I think woody harrelson just found this twitter thread pic.twitter.com/0oMxqTh1Fq

— #1 Woody Harrelson @ Wimbledon Documentarian (@TylerRuinsTV) July 13, 2019