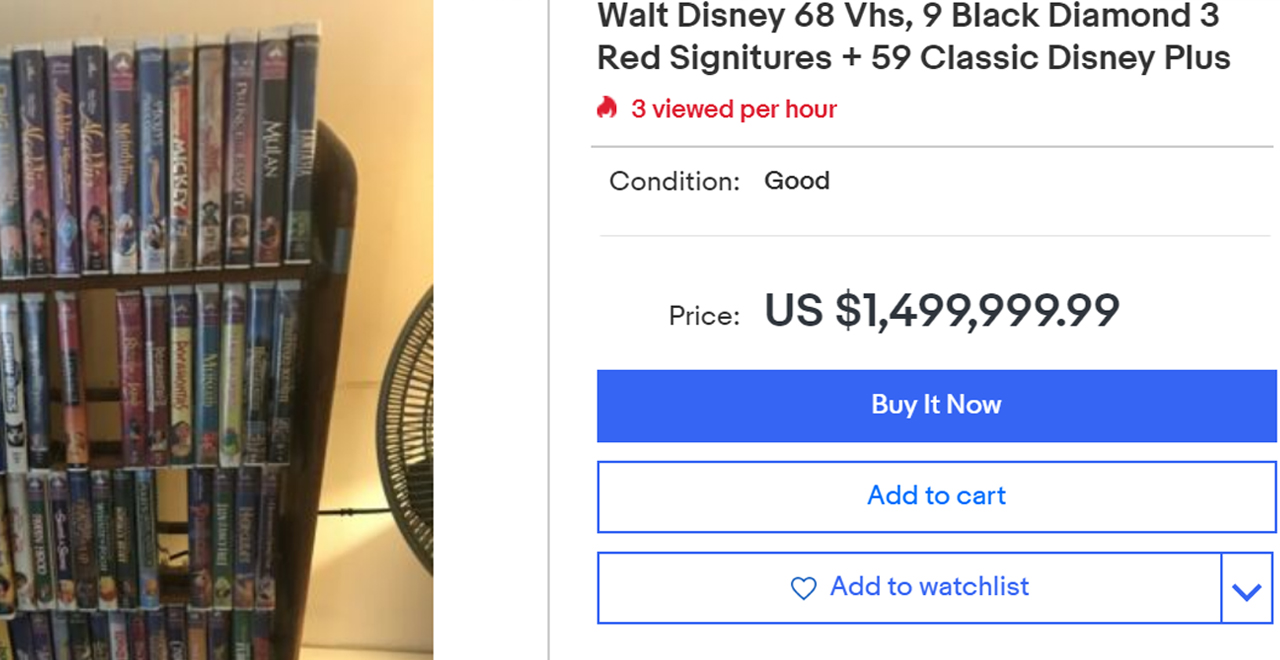 Credit: eBay/tylergiz
Some friends of mine own a cabin upstate, and once a year or so they invite us to stay up there. It's small and quiet, and there's no wifi or cell service at all. They don't even have cable. What they have is a vast collection of movies – on VHS cassette tape and DVD. Among that collection are about 25 classic Disney movies.
They've got the new classics like Beauty and the Beast, The Little Mermaid, Lion King; all the ones our that are currently being remade as live-action movies. There are the lesser-known flicks like 101 Dalmations, Robin Hood, The Black Cauldron, and there are the big guns, the stone-cold classics from the first run of Disney animation: Pinocchio, Bambi, Cinderella, etc. Basically, there are all the favorites that are now available to stream on Disney+.
Here I was, wifi-less, watching the Aristocats three times a weekend because it's the closest thing my toddler can find to his favorite Netflix cartoons, and thinking all these old cassette tapes had to over was a tedious rewind process. Turns out those cassette tapes might be collector's items at this point, and therefore worth a little bit of cash!
Head over to eBay and check out the insane fact that VHS tapes of The Little Mermaid are listed at $8,500. Why? Well, the original cover has controversial artwork that was banned. If you look at the castle in the background you'll notice there's a phallic shape and apparently people will pony up for a penis.
Another seller labeled his ten-cassette collection "Rare Black Diamond Disney Films," meaning they were released between 1984 and 1993. The ten-pack includes some of the movies mentioned above, 101 Dalmations, Cinderella, Bambi, Aladdin.
In the product description, the seller states the tapes are "decent with some minor cracking and yellow from age" and "Pre owned with signs of use but overall a great set." At least he's being honest. And if that collection can fetch tens of thousands of dollars, I'm sure the crappy versions of tapes your little sister bought and you mom stored in the basement can at least land you a six-pack or two!
There's also a motherload collection of Disney VHS that includes 68 tapes priced at a $1,499,999.99. And you can't even make an offer, that price is firm! They would definitely not accept $1,399,999.99 so don't even bother.
Now if you'll excuse me, I have to call my parents and find out what happened to my old The Great Mouse Detective cassette!