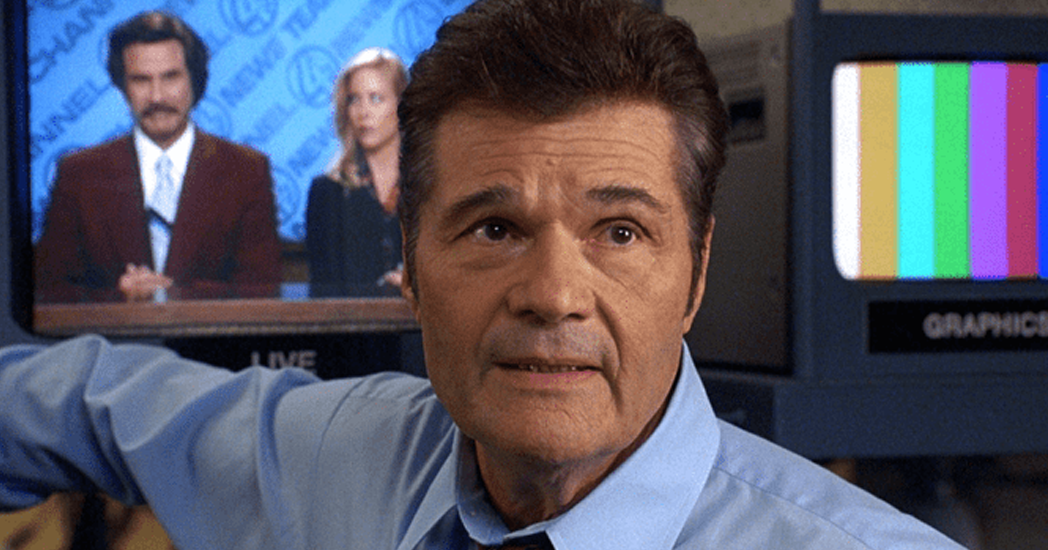 Credit: Dreamworks Pictures
We were so bummed to hear about the passing of comedy icon Fred Willard this week. He carried with him, not just brilliant comedic sensibilities, but a warm demeanor and innocence that beamed through all of it. He had a very dry, measured voice, and there was a very palpable sense of comfort in it. He spoke with what could best be described as restrained jubilance, as if to say, bear with me, this is building towards quite the payoff. And it always did.
Thankfully Fred appears in the new Netflix show Space Force, but that doesn't drop for 10 whole, quarantine riddled days. So to tide you over and celebrate Mr. Willard, we've compiled a list of his 10 funniest performances and where you can watch them.
Best In Show
Fred was a frequent collaborator with mockumentary titan Christopher Guest, and the best examples of their chemistry is hands down Best In Show. It follows a group of eccentric yuppies and yokels who convene for the Mayflower Kennel Club Dog Show. Willard plays an aloof color commentator named Buck Laughlin, one of the funniest characters ever committed to film.
(Rent or buy on Amazon here)
Waiting For Guffman
In this 1996 gem also directed by Christopher Guest, the good folks of Blaine, Missouri put on a community theater musical about their small town. Willard plays opposite Catherine O'Hara, as Ron and Sheila, husband-and-wife travel agents with reserved ambitions of silver screen stardom. This one really showcased his abilities as an improviser. Major props to O'Hara as well for being perfect right alongside him.
(Watch for free on Vudu here)
A Mighty Wind
Willard plays Mike LaFontaine, the maybe insane manager of a large folk band in this criminally underappreciated flick. Mike found his 15 minutes as the star of a sitcom called Wha' Happened? in the 70s, and has since been trying to repopularize its titular catchphrase. It's funny literally every time Willard delivers it.
(Buy or rent on YouTube here)
Harold & Kumar Go To White Castle
Willard has limited screen time in this classic stoner comedy, but it's every bit as hilarious and memorable as the bigger roles we've mentioned. He plays the dean of a medical school Kumar is interviewing for. After overhearing a worrisome phone convo with Harold, he spills coffee on his lap and reacts in a way that only Fred Willard could.
(Buy or rent on Amazon here)
This Is Spinal Tap…
If there's one hyphenated word that best encapsulates Fred Willard's comedic chops, it's probably "pitch-perfect." In Spinal Tap, he had a very brief role as Air Force Lt. Bob Hookstratten, stealing the scene and delivering one of the film's funniest lines:
We are such fans of your music and all of your records…I'm not speaking of yours personally, but the whole genre of the rock and roll.
(Buy or rent on Amazon here)
Anchorman
Fred had a very sweet, understated disposition about him. We think this gentleness was best exemplified in his supporting role as Ed Harken, the perpetually bothered station manager for KVWN channel 4. Willard was so skilled at getting you to empathize with his characters' frustrations, even with something as silly as dealing with school administration over German pornography found in your son's possession.
(Buy or rent on Amazon here)
Wall-E
Fun fact: Fred Willard is the first and only live-action Pixar character. A pretty remarkable asterisk on one's resumé, if you ask us. Fred plays megacorporation CEO Shelby Forthright, who evacuates the earth in 2105 once humanity can no longer coexist with the trash of its making. This is probably the best way to teach your kids about respecting the planet/Fred Willard.
(Available to stream on Disney+ right here)
I Think You Should Leave
Not a movie, but well worth mentioning. Last year, Netflix debuted the very funny and absurd sketch show I Think You Should Leave with Tim Robinson. One sketch features a mustachioed Willard as the substitute organ player at a funeral. He plays a wildly inappropriate song full of honks and whistles and buzzes and ragtime piano and plates shattering. It's incredibly stupid. And Fred Willard's genius lied in taking that sort of stupidity very seriously.
The legendary @Fred_Willard shows off his secret organ playing talent pic.twitter.com/QBr05x7s1p

— Netflix Is A Joke (@NetflixIsAJoke) April 23, 2019
(The rest of ITYSL is available to stream on Netflix here)
Rest easy, Freddy Dubs. That smile will be missed.