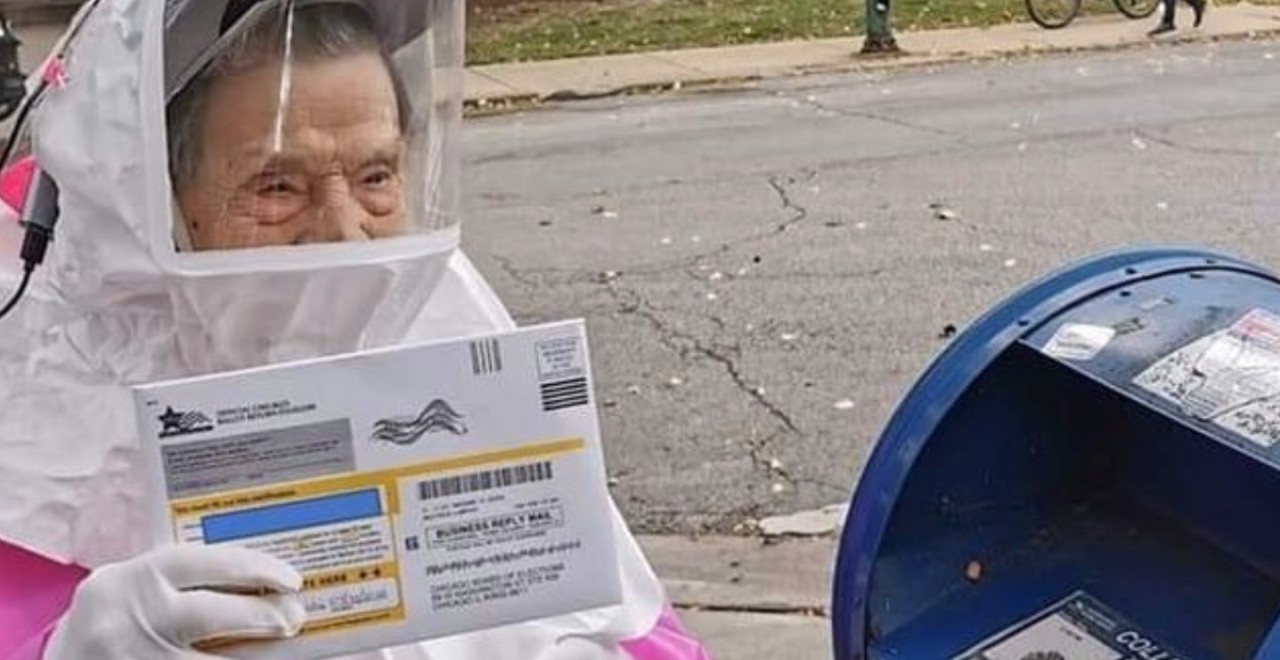 Credit: Instagram/ctulocal1
Voting shouldn't be controversial. It's 2020, and some people have a habit of taking anything radiating in the realm of politics and government and using it as kindling for a Facebook comment section debacle. But, the actual casting of your vote (for whoever it may be) is one of the most important civic responsibilities Americans have.
And few people demonstrate the importance of it like Bea Lumpkin. The 102-year-old woman from Chicago cast her vote for the 2020 election, dropping off her mail-in ballot while dressed up in full PPE. She had her grandson take her photo to encourage others that "if she can vote, they can vote." And when old people try to show us how to live, heeding their wisdom isn't a bad idea.
Yes, there is a global pandemic going on, but Lumpkin wanted to show that you can still vote safely, even if you have to take extra precautions.
"If I could come out at the age of 102 and face a pandemic, nobody should have an excuse," she told Good Morning America. "I think that in this election, more than any other I've taken part in, the only way we can answer it is for people to come out and vote and stay active to a degree we've never seen before."
Lumpkin first voted in a presidential election in 1940! That is a long time to be a voter, but Lumpkin's dedication to the process, at her age, is inspiring. She said she felt it was her duty for the 'young people', who she has great confidence in. Casting your vote can be a safe and secure process, and the nastiness of Twitter and political ads shouldn't turn you off from having your voice heard. Even if you are disenfranchised with the options at the top, there's a lot more to your local ballot (and elections that have a MUCH bigger effect on your day-to-day life) and shaping the community you want to live in.
Sure, some will try to twist and distort Lumpkin's example, but it really boils down to this: think of the children (again, what should be a nonpartisan issue).
"If you never bothered to vote before and if you care anything about the children coming after us, you'll come out and vote this time," she said.