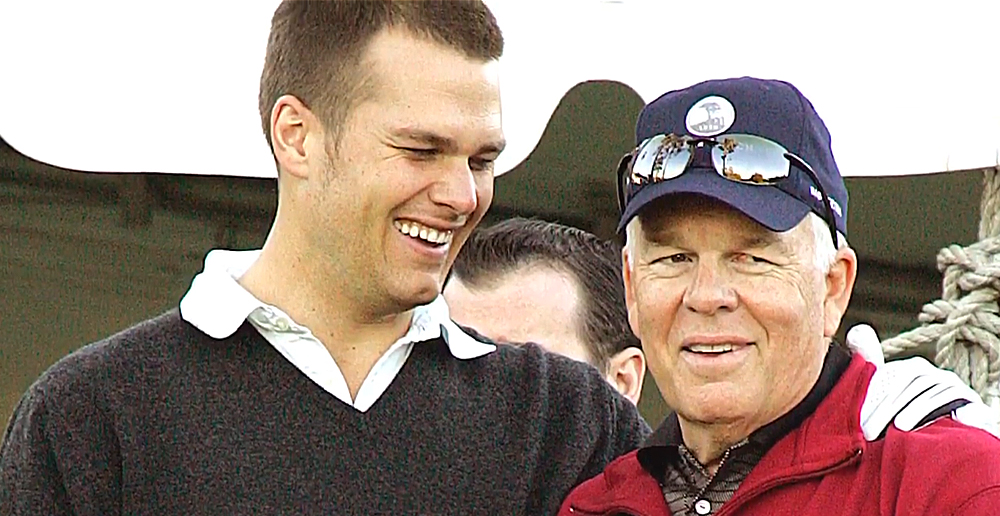 Credit: Twitter/OnlyinBOS
Even our heroes have heroes. Even larger than life, six-time Super Bowl winning Quarterbacks have people they look up to. Even Tom Brady, the world's greatest football deflater, has role models, and he took a recent opportunity to celebrate his biggest one: his father.
The other day, Tom Brady Sr. gave the keynote address at Junipero Serra High School's Annual Fund a Dream Scholarship Benefit. Tom Jr. (he's a junior?! It's all falling into place…) attended Junipero Serra High, so while he couldn't be on hand to give the speech – I think the QB was off harvesting acai or kale or the tears of his AFC East opponents for his weirdo diet – he filmed an introduction for his dad.
Brady gave a heartfelt speech about his father and what he means to him, making it clear that loving one's dad is pretty universal. Before he got to the man of the hour, Brady used his legendary sense of humor (just kidding) to poke fun at his tenure on the Junipero Serra football team. My favorite part of the speech was when he opened with "As you know, I'm Tom Brady." I guess he's less good at deflating his ego!
Then he gave a heartfelt tribute to his dad, speaking of his dad's generosity and kindness.
"He always felt people deserved your best and that's what you should give them every day. I always took that to heart because my dad lived it. He was so accepting and so loving. I grew up watching him pour his heart into his family, his friends, our entire community."
He went on to tell his dad how much he means to him, before throwing down the gauntlet.
"As you guys can obviously tell by now, I love my dad so much. Dad, I look up to more than anyone in this world, so everyone in the audience, trust me, you guys are in for the speech of a lifetime tonight. Enough pressure for you dad?"
The arguably greatest quarterback in NFL history knows a little something about pressure. ESPECIALLY AIR PRESSURE, AM I RIGHT?
"Anyway, it's truly an honor to present to you now the man, the myth, the legend, the original Tom Brady. Go get 'em dad. I love you."
Watch the whole speech:
Tom Brady introduced his father as the keynote speaker at Junípero Serra High School's Annual Fund A Dream Scholarship Benefit on Saturday night.

— Only In Boston (@OnlyInBOS) March 18, 2019