15-Year-Old Coco Gauff Serves up an Untouchable Week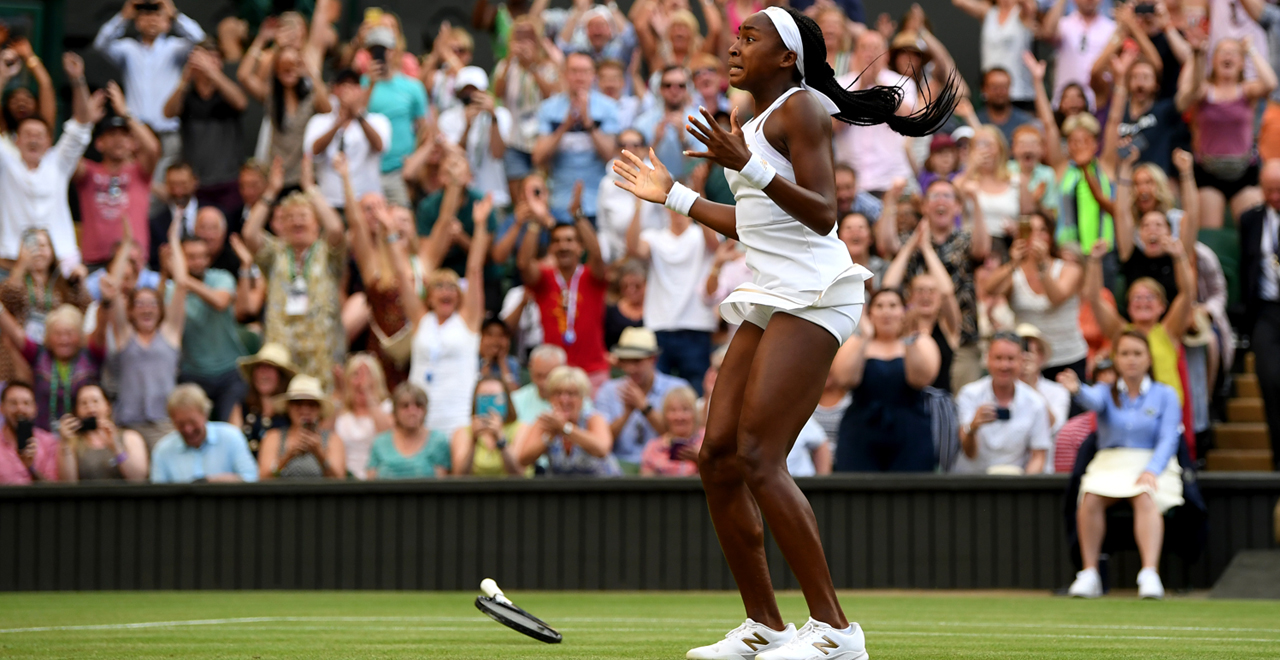 15-year-old Coco Gauff won the week with her breakout performance at Wimbledon. She got on our radar after her historic upset of one of her idols, Venus Williams. She followed that with another stellar performance, this time a come-from-behind win to reach the round of 16.
WHAT. A. COMEBACK! ????

15-year-old @CocoGauff out-duels Polona Hercog in an epic three set match to advance to the Fourth Round at @Wimbledon. #Wimbledon pic.twitter.com/YaHiJX8Jo3

— ESPN (@espn) July 5, 2019
Her parents have done an admirable job, watching their child break onto the main stage of the tennis world in a big way this week. I imagine it would be incredibly stressful to see your child competing at such a high level at such a young age, but they have remained pretty calm for the most part. There was one part of Friday's match where her mom got a little fired up during the comeback.
After an *impossibly* tense tie-break, Centre Court erupted…#Wimbledon pic.twitter.com/jPFDu2AhqT

— Wimbledon (@Wimbledon) July 5, 2019
If it was my kid, I would 100 percent be acting in the stands much like Coco's friends and family did at her dad's Florida bar.
It's loco for Coco in her dad's bar in Delray Beach after her win at Wimbledon pic.twitter.com/XVugcmalgp

— Dave Hyde (@davehydesports) July 5, 2019
Alex Morgan made waves for her post-goal celebration in the USWNT win over England. One of the standouts on the team, Morgan scored the game-winning goal against the Brits and celebrated with a tea party.
Alex Morgan trolling England by sipping tea is LEGENDARY pic.twitter.com/BzIBNx0xzu

— Complex Sports (@ComplexSports) July 2, 2019
It's hard to tell if the backlash to Morgan's celebration is rooted in the act itself or is part of a broader movement to whine about bat-flipping, admiring home runs and touchdown celebrations. Morgan claimed the celebration was an homage to Game of Thrones star Sophie Turner. I was ready to call BS on this, but the Game of Thrones star took a break FROM HER HONEYMOON to come to Morgan's defense, so this seems to have some merit.
.@alexmorgan13 said her tea celebration was inspired by Game of Thrones star Sophie Turner.

Turner showed her support and gave the haters the tea pic.twitter.com/RtVIKrnLFS

— ESPN (@espn) July 5, 2019
The New York Mets minor league team honored the Fourth of July the way many American sports teams did, with a fireworks show. The only difference is their fireworks show didn't go too well. Or, depending on your opinion, it went TOO well. Very too well.
The fireworks for the St. Lucie Mets did not go well tonight at First Data Field. They set a fire outside the stadium.

Photos from Shannon Cullen pic.twitter.com/KaALifPeki

— Michael Mayer (@mikemayerMMO) July 5, 2019
If you told me a minor league team accidentally started a fire due to a fireworks display and you gave me one guess to the farm system, we wouldn't even play the game because we both obviously already knew it was the Mets.
The NBA spent most of the week on Kawhi watch. The NBA Finals MVP has been reported as staying in Toronto or as choosing the LA Lakers as his final destination. But in the end, he spurned the Lakers for the crosstown Clippers. The Clippers traded four first-round picks to Oklahoma City to get All-Star Paul George, which was cemented Leonard on going to LA. The Lakers failure and the shifting ground of free agency, combined with the injuries to Kevin Durant and Klay Thompson that will keep them out of most of the next season, means the NBA should be wide open next year.
Colin Cowherd experienced his first earthquake on live television. The sports talk radio host (who is actually better than people give him credit for) was toiling away in obscurity on Fox Sports, trying to do or say whatever he could to register with the common sports fan. And then an earthquake happened. I, for one, applaud this move in his career and hope it leads to more programming of Cowherd experiencing more natural disasters.
EARTHQUAKE IN LOS ANGELES!

Has Kawhi Leonard made his decision? cc: @ColinCowherd pic.twitter.com/bjDwxsV1mN

— Herd w/Colin Cowherd (@TheHerd) July 4, 2019
And finally, Deion Sanders and his son had a, erm, well, interesting interaction Twitter.
— Deion Sanders (@DeionSanders) July 4, 2019