15-Yr-Old Fortnite Millionaire Says He's Buying His Mom a House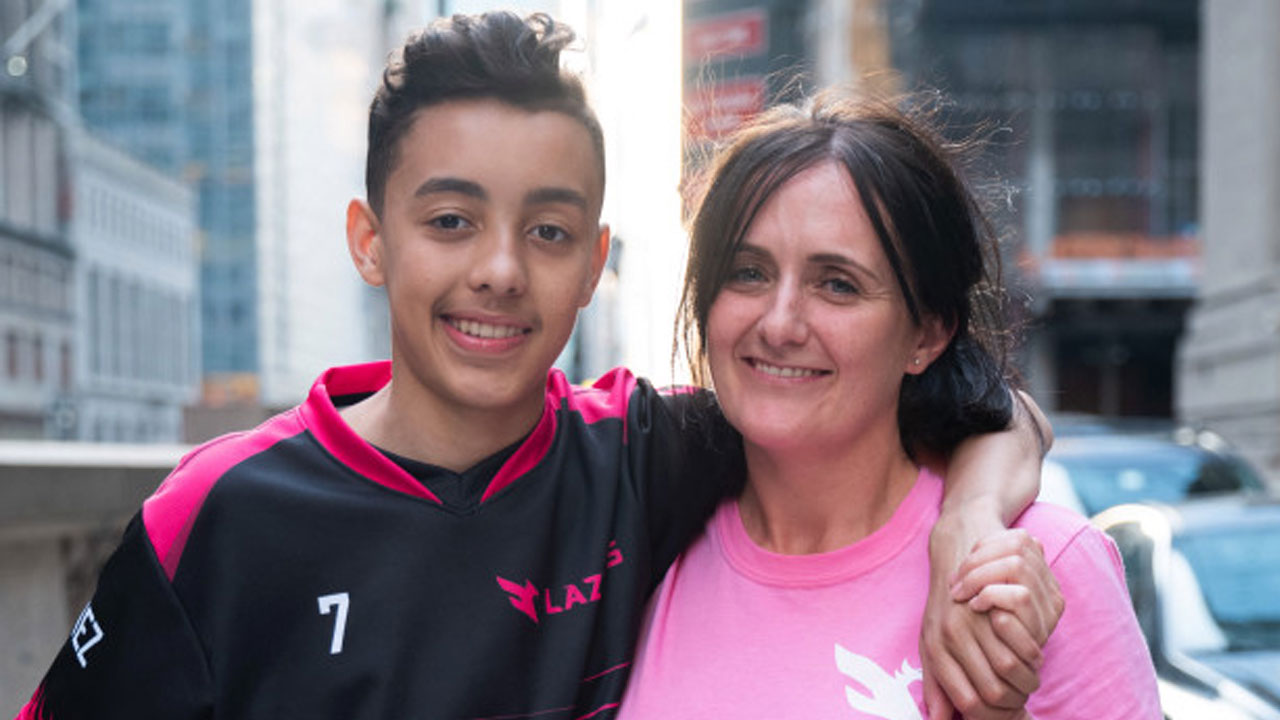 In the past decade, the phrase "I want to play video games professionally" has been echoed by teens around the world. Although pro-gaming is nothing new, the explosive growth of the e-sports industry has now made a once pie-in-the-sky dream like that a reality for thousands of teens and adults worldwide.
With the Fornite World Cup taking place this past weekend in New York, the Internet has been ablaze with stories of newly minted teenage millionaires. The first-ever World Cup Tournament paid out a whopping $30 million in prize money, much of it going to players under the age of 18. While that kind of cash can be life-changing for anyone, it's especially poignant for a kid who has yet to decide exactly what they want to do with their life.
So when 15-year-old Jaden Ashman began spending hours a day playing the survival shooting game, his mom, Lisa Dallman, says they began to argue. "It's not been easy. We've had our differences," she told The Sun. "He's only 15 and his schoolwork was a priority to me," adding that at times it came to a boiling point. "I've thrown out an Xbox and snapped a headset because I've got calls from school saying he is falling asleep in class."
However, Jaden has helped to alleviate some of his mom's concerns that he was "just wasting time" thanks to a massive win last weekend. Jaden, along with his partner, Dave Jong, came in second in the duos competition. The win netted the teammates just over $2.2 million, each taking home a cool mil for their troubles. Shortly after qualifying for the tourney, Jaden also received almost $60k in endorsement money, but his mom says she still wants him finishing school at Abbs Cross Academy in East London. "Jaden is very academic and I want him to do well. I didn't realize how big this all was. I thought he could play video games but needed to concentrate on school work. The turning point was when he got through to the World Cup."
As for the young phenom, he says he's looking forward to turning gaming into a full-time career. "I'm not planning on getting this money and just quitting. I've still got a full career of gaming ahead of me." Jaden also plans on purchasing a few necessities. "I'm definitely going to buy a house but I haven't got a clue where. And some Gucci shoes. I might buy a car for my mum too, as she drives a little Fiat 500."
While this may have kids everywhere trying to convince their parents to let them play more video games, here's some food for thought: An estimated 40 million players tried qualifying for the Fortnite tournament with only 140 making the cut.
Best to keep studying… just in case.