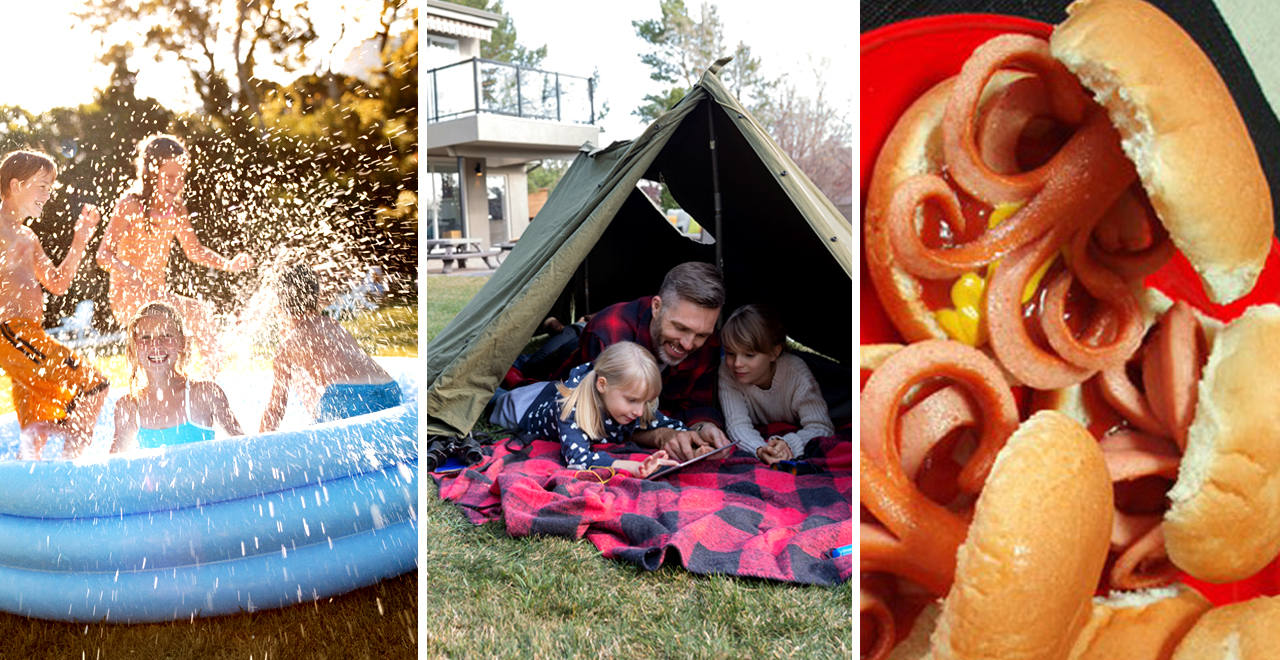 Credit: Getty/Digital Vision./Hero Images Food Network
Hooray for another weekend, or two-day-vacation-with-kids as I like to think of it. The weekend is all about disconnecting with the daily drudgery and making some memories with your little ones. It doesn't matter if you're building something or just being silly, commit to whatever you're doing and have a good time.
Get the Pool Out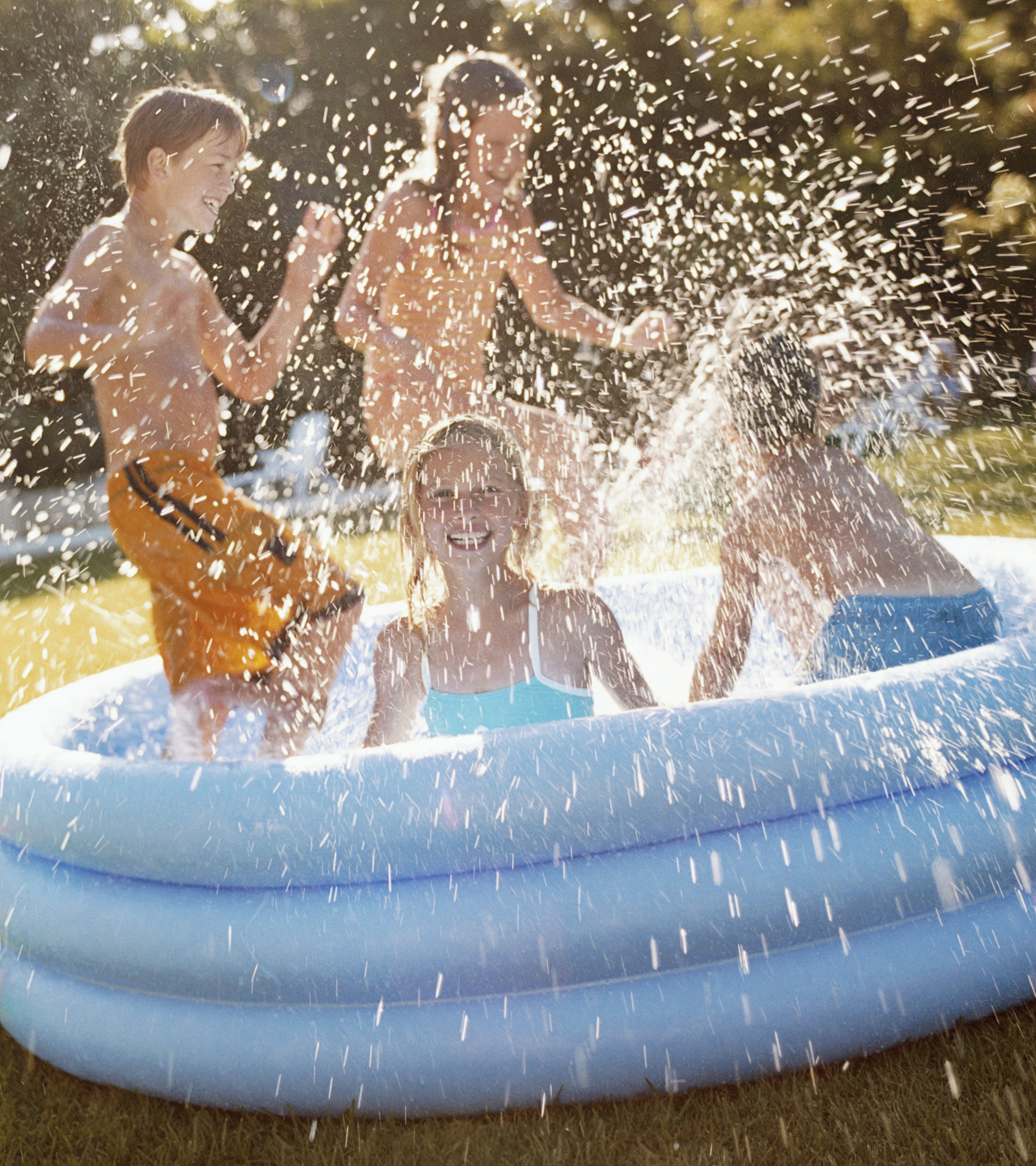 Hooray for it finally being sunny enough to spend evenings outdoors (in some areas of N. America at least). Get a few cold beverages in the cooler and give the kids enough toys to keep them busy for a while. Lather on the sunscreen, get the hats and shades on and spend your weekend outside. You can pick up an inexpensive inflatable pool for as low as $30 at Amazon. Sure it might only last the season, but that saves on storing it away through the winter, so who cares!
A few ideas that'll keep the kids in the pool and away from their screens, how about:
Ping Pong Race – Empty a bag of ping pong balls in the water and get the kids to act like Hungry Hungry Hippos and race to gather the most
Atomic Whirlpool – All the kids run in the same direction around the inside edge of the pool to get the water spinning. Then let them get swept around or try to swim against it.
Sponge Toss – Unload a few big car-washing sponges and let them throw them around. They'll quickly get water-logged and fun to splash around.
Backyard Camping and Outdoor Movie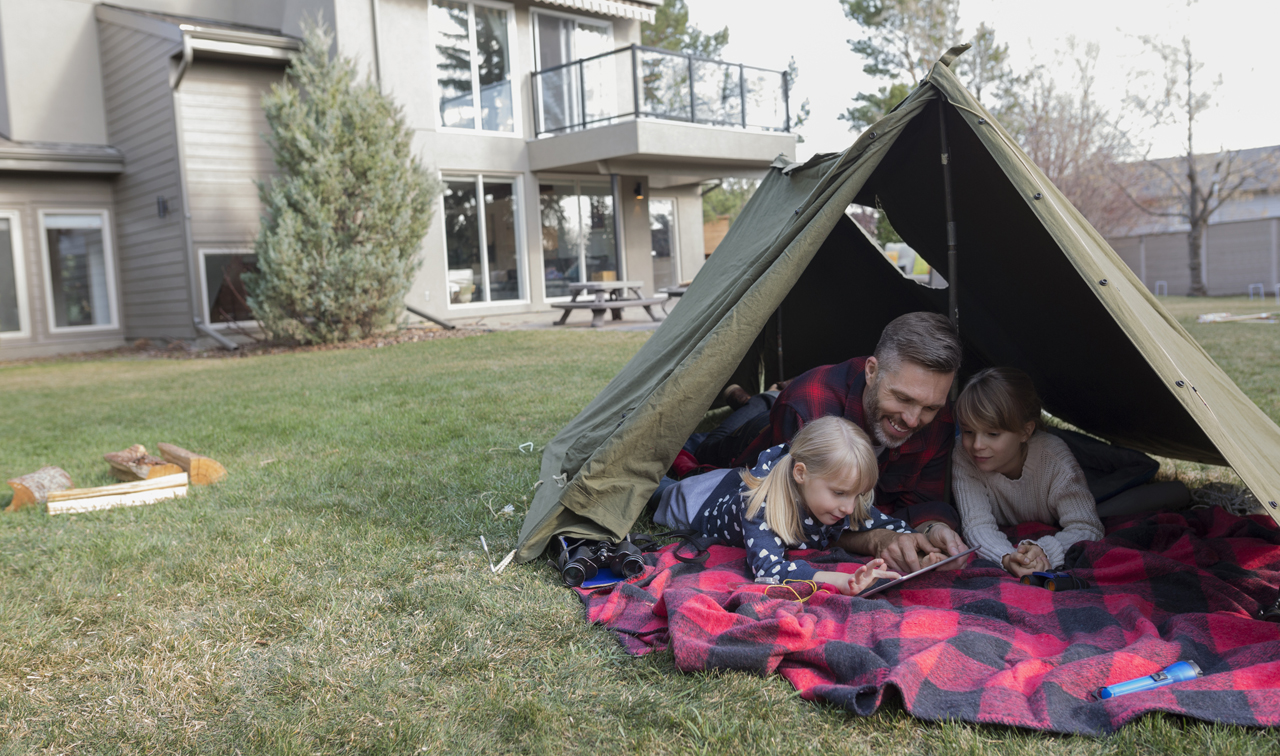 You don't have to travel far to have the same fun as going on a family camping trip, and they'll have the benefit of on-site bathrooms, snacks, and the comfort of their own beds if they get chilly at night.
Set up a tent and let them bring all their blankets, pillows, cuddly toys, flashlights, and some food to get them into the evening at least. Make it really memorable by setting up a projector and drape a white sheet over a wall to create an outdoor movie theatre. Bring popcorn and all the goodies they need. Even if they don't stay out the whole night, they'll surely have a great time.
Make Spider Burgers
Ok, well they're not technically spider burgers. They look more like octopus burgers. Either way, your kids will love them, probably! They're super-easy to make too, which is always a winner in my book. Here's the recipe, thanks to FoodNetwork.
Ingredients:
Hot dog wieners

vegetable oil

Small hamburger buns as wieners
Condiments for burgers
Directions:
1. Preheat oven to 400 F. Line baking sheet(s) with parchment paper or foil.
2. To cut wieners so they will cook into "spiders", begin about an inch down from one end of each wiener, use a small sharp knife to cut along the length of the wiener into halves, then make two lengthwise cuts into each half, making 6 "legs" total. Try to make each "leg" the same thickness. The wieners should be intact at one end and have with 6 "legs" dangling from it.
3. Put sliced wieners in a bowl. Add drizzle vegetable oil (1 tsp for every 4 wieners) and toss to coat weiners.
4. Splay wieners onto lined baking sheets by spreading "legs" out like spokes from the intact end of the wiener. You can fit 4 to 5 wieners onto each baking sheet. Bake on middle racks of the oven for 6 minutes, or until "legs" curl up and wieners look lightly roasted.
5. Tuck wieners into hamburger buns. Set out with self-serve hamburger condiments.
For more suggestions check out last week's 3 Things to Do With Your Kids.
Just a heads up, if you buy stuff using the provided links, The Dad may collect a small commission.