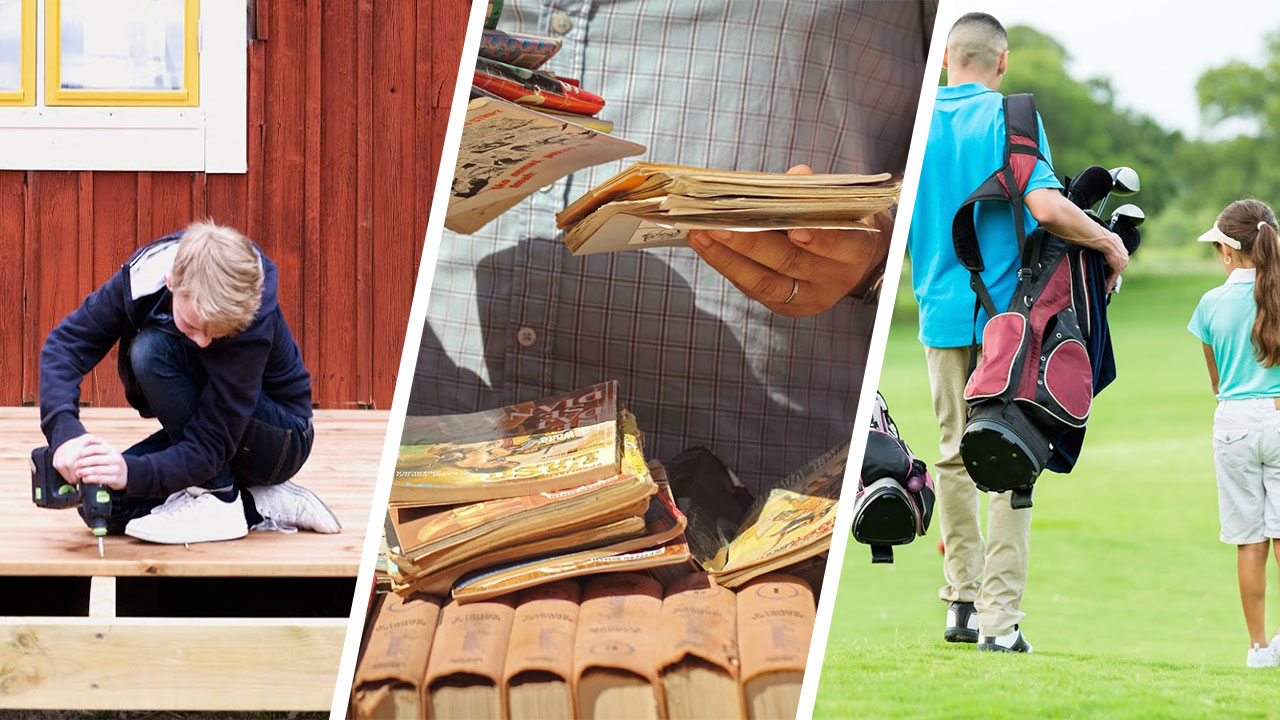 Build Something Together
If you're the type of dad who's skilled with a skill saw and handy with a hammer, why not impart your lifetime of knowledge onto your kids? As with any activity, safety comes first. Make sure the type of work you'll be doing is the sort where little hands or clumsy feet won't cause a serious accident.
If you're unsure exactly how your kids can pitch in, the easiest and likely safest way to start is to just have them close by while you explain what you're doing. Remember to start simple.
Why a Phillips head instead of a flat head? Crescent wrench or torque? Things that may seem mundane to you may be new information for young, inquiring minds. Hell, you may even remember a few things you didn't even know you learned in the first place.
Even if you're not a handy guy, here's a perfect chance to learn something yourself while creating new memories with your kids to boot. Again: SAFETY FIRST!
Share Your Collections
Oftentimes we dads tend to keep things close to the chest, even when it comes to our hobbies and passions. Father's Day is a perfect excuse to flaunt your knowledge on a random topic or bust out your carefully curated coin collection.
Maybe it's old stamps. Maybe you have baseball cards. Man I hope you didn't invest too heavily in baseball cards. Either way, whatever makes your dad clock tick, open up and share it with your kids.
Worst-case scenario, they'll learn a little something about you and have a better estimate of what they'll inherit after you're gone.
Sorry son, I really thought PEZ dispensers would be a sound investment.
FORE!
Yep. You've waited long enough now. It's time to start teaching your kids how to golf.
Are there more important lessons they need to learn in life? Sure. But think about this: What other sport can you play well into your twilight years that encourages mid-day beers and disappearing into nature for hours at a time? Maybe teach them that part later.
Yes, it also teaches focus and some other stuff I'm sure, but look at the potential upside if your kid goes pro. You've seen their free-throws and they couldn't kick a soccer ball straight to save their own life depended on it. But golf, damn it. This may be their ticket.
Even if you're not an insane person like myself, a trip to the driving range or even just chipping around in the backyard may be all it takes to spark their interest into a hobby that can last a lifetime. Check out products like Almost Golf that let you practice at home without taking out a window… again.
Whatever you do, do it with your kids. It's Father's Day. Bask in the fact you've created another person and enjoy every moment that you can.