6 Tips for Getting Your Kids To Be More Adventurous Eaters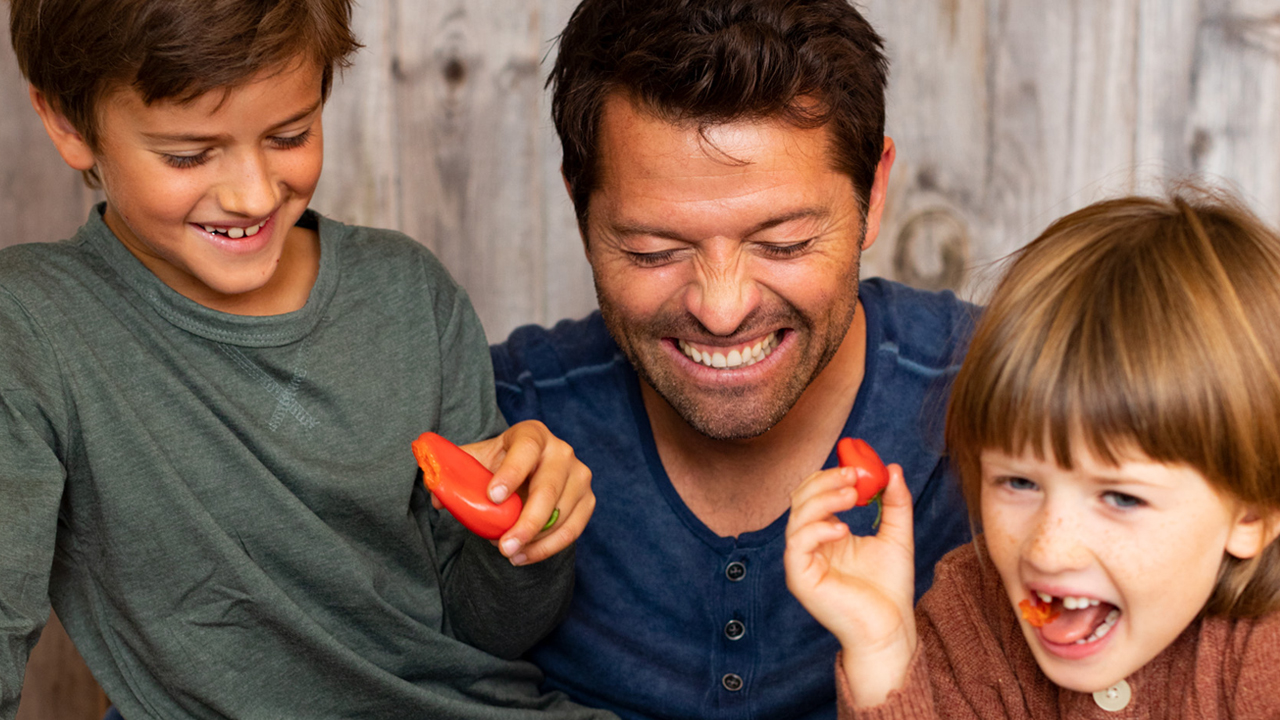 What's your biggest parenting struggle? Sure, bedtime can be a nightmare, and getting them to brush their teeth can often feel more like… well… pulling teeth. However, for most parents of young children, getting kids to eat at mealtime is universally one of the most endless wars fought on a daily basis.
Last night I wanted my kids to eat salad and they wouldn't, so I told them to put a little dressing on it and they'd like it. Not budging, I changed my approach and called dressing "salad ketchup" and voila! Success. Am I proud of it? Not really. But it worked…
The good news is that Misha Collins has some far better suggestions for you from his new book The Adventurous Eaters Club.
1. Play with your food.

Really! Welcome kids into the kitchen and let them play and experiment. This was the most important step in transforming our family's relationship with food. It means saying "yes" to some culinary visions that we adults might find, to put it diplomatically, "disgusting." But the trade-off is that we have more fun at mealtimes together. Kids learn through play, and playing with food helps build familiarity… and if they know what's in it, they're more willing to taste it.
2. No force-feeding.

Kids get to choose what to eat from the healthy options you've served, and how much to try. Don't pressure them to eat even a single bite. Serve it and back off. Parental pressure stifles the child's appetite and kicks off the power struggle. Empower your kids to control their intake. This helps them develop a healthy relationship with food and agency over their body, so no micromanaging, bribing, negotiating, or forcing anything. Serve food. Then eat. They might go hungry sometimes, and that's a learning experience, too.
3. Don't short-order cook.

This one is tough. We've been so brainwashed to believe that kids only eat "kids' menu" items, so it's hard not to prepare special kids' meals. But if parents keep making grilled cheese day after day, kids get the message that they aren't expected to learn to eat anything else and they won't evolve their habits. So one family eats one meal.
4. Don't Lecture.
You know that dinner guest that goes on and on about their new fad diet or the virtues of probiotics and macronutrients? Yeah. We all do. Nobody wants that guy at the table, so don't be that guy to your kids. Avoid labeling foods as "healthy" and extolling their virtues. (It turns out, kids become more resistant to foods labeled "healthy" anyway). You don't work for Big Broccoli, so skip the free sales pitch.
5. Baby steps.
Don't expect to go from mac & cheese to hot chicken curry overnight. Take it a step at a time, offering a combination of familiar foods plus something new at mealtime. Serve tiny portions of the new foods so kids aren't intimidated (and to minimize waste). Remember, even if they just smell the food, poke at it suspiciously, or talk about it, that's part of the learning process—even if they reject it this time. No pressure.
6. Patience.
Remember, you're training yourself, too. Develop a zen-like patience and don't forget that taste is learned. It can take children up to 15 tastes to learn to accept and love a new food. Most parents in the US give up after two attempts. So just because your kid might have rejected cabbage on the first one or two or 10 attempts, doesn't mean they're biologically incapable of enjoying green food. Studies show that tastes change and given time. Your kids can learn to love the cabbage. Give it time.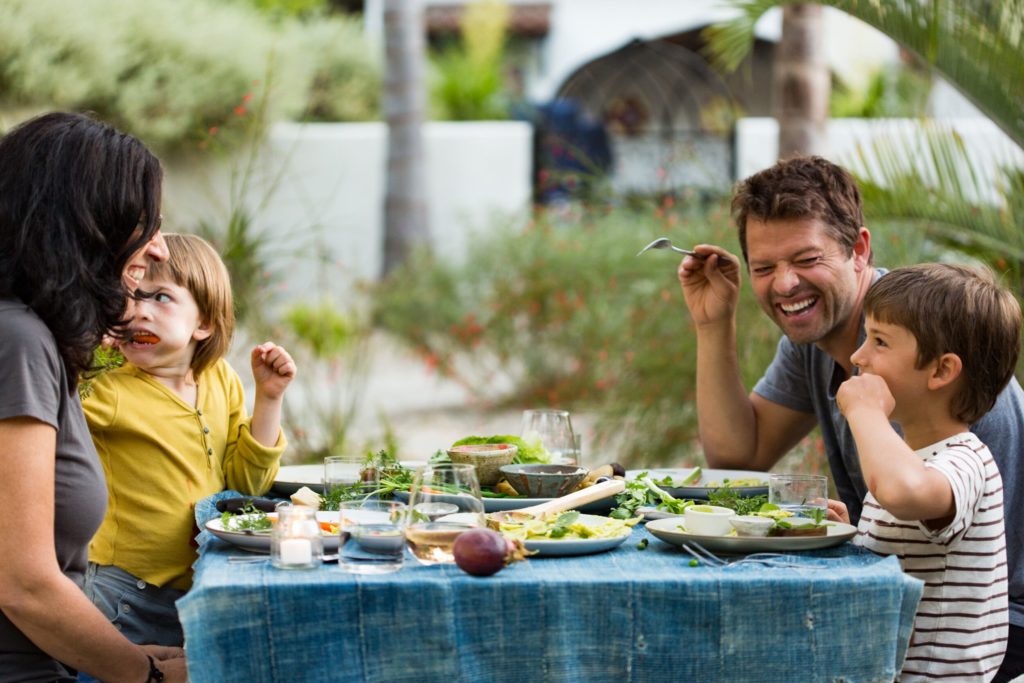 The Adventurous Eaters Club is Misha and Vicki Collins' guidebook to exploring food with your kids with the goal of ending the coerced eating and tantrums while getting your family to love eating more healthy and yes, adventurous meals.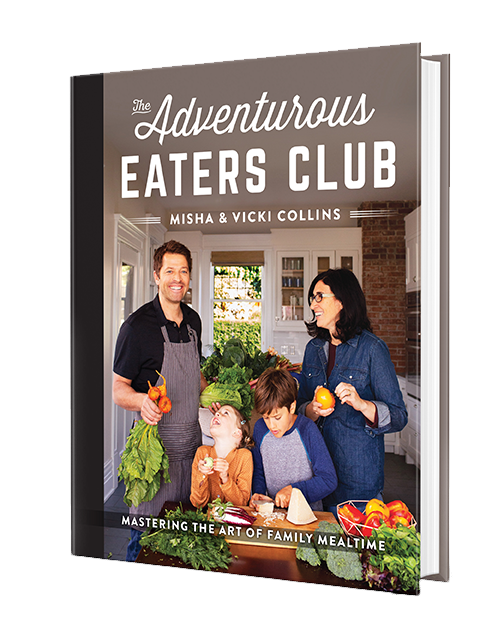 Misha Collins is likely best known for his recurring role on the CW's Supernatural as Castiel. But now he and his wife, journalist, and historian Vicki Collins, have chronicled their journey through mealtime in a new book due out today. In it, they detail several tips and tricks they learned along the way to help average parents "master the art of family mealtime."
The couple's biggest piece of advice is "to make learning fun as you patiently, consistently expose kids to new foods."
Misha shared with The Dad the couple's motivation behind their new endeavor. "When my wife and I first became parents, feeding our kids was a struggle. Every meal was a battle — and we usually lost," Misha admitted, something many parents can relate to quite easily.
"It was all about convenience. We were exhausted, overwhelmed parents in survival mode. But when our toddler hid some unauthorized, unusual groceries in our shopping cart and we let him cook us dinner with these ingredients, it opened our eyes to another path — one that reinvented our family's relationship with food forever. This cookbook is the story of that transformation and how healthy food became a source of joy, adventure, laughter, and connection."
In addition to the obvious benefits, their book will have in helping families everywhere cope with this common conundrum, the couple has also pledged to donate 100% of the author profits to charities that provide access to healthy food and the arts. Beneficiaries are organizations such as The Edible Schoolyard Project — a group dedicated to creating hands-on experiences in the garden, kitchen, and cafeteria that connect children to food, nature, and to each other.
So if you're like most parents and could use a little guidance and support when it comes to tackling those tiny tastebuds, this book is worth a read. It's available now on Amazon and wherever books are sold.
And you can also check out some of the family's adventures with food on Misha's YouTube Channel here.
Just a heads up, if you buy stuff using the provided links, The Dad may collect a small commission.