$650K Raised For Badass Grandma Who Fended Off Her Attacker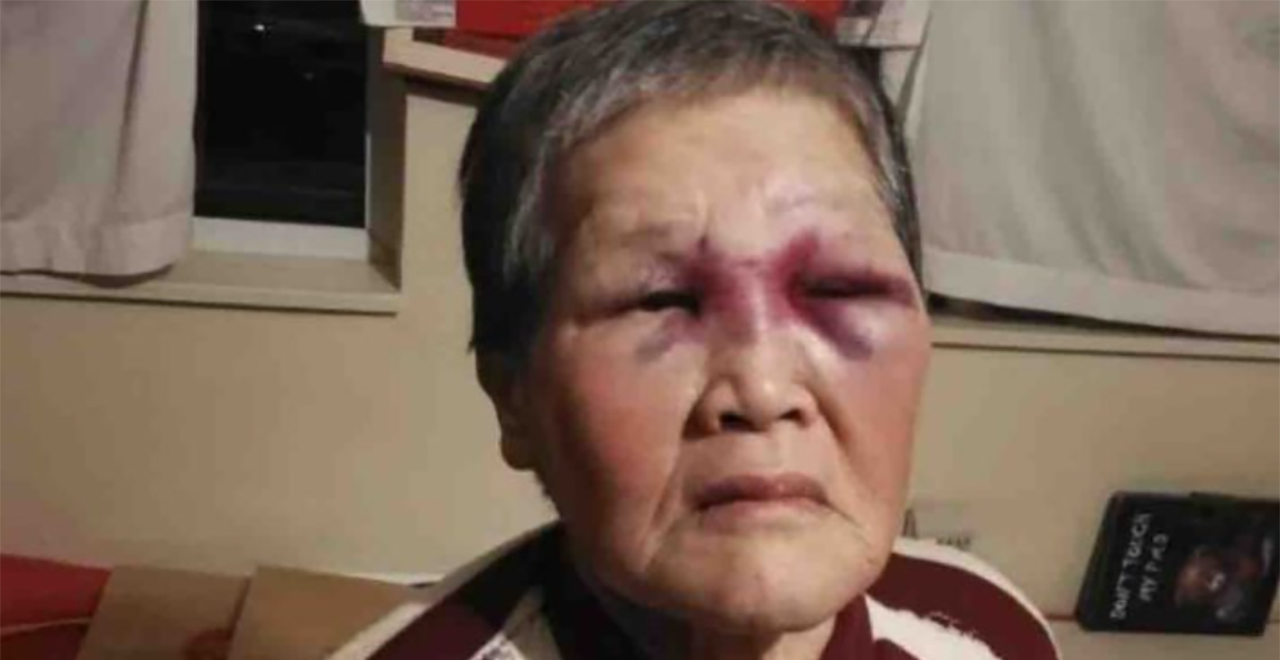 Asian-Americans have been targeted in an increasing number of hate crimes over the past year, which culminated in a horrific shooting spree this week in Atlanta. Violence against Asians has increased 150% in the last year, according to the Center For The Study of Racism and Extremism. On Wednesday a man attacked an elderly Asian-American woman in San Francisco's Market Street, but got more than he bargained for, ending up in the hospital.
39-year-old Steven Jenkins was reportedly caught on film punching 76-year-old Xiao Zhen Xie, who then gave Jenkins a taste of his own medicine. She picked up a nearby stick and fended off Jenkins relentlessly until bystanders could intervene. He was treated for injuries at the scene, placed on a stretcher, and taken to a hospital (accompanied by a score of police officers who had placed him under arrest as well).
Xie can be seen in the video going after the man even after he's on the stretcher, and she had to be held back by the police.
Just came upon an attack on an elderly Asian woman on Market Street San Francisco. Effort I got more details pic.twitter.com/5o8r0eeHE2

— Dennis O'Donnell (@DennisKPIX) March 17, 2021
"You bum, why did you bully me? He hit me, he hit me!" she can be heard yelling. While clearly a badass, Xie did suffer two black eyes from the attack, and her grandson said she's been suffering from PTSD and is afraid to go outside after being attacked.
He started a GoFundMe to help her with her medical expenses. They set the fundraising target at $50,000 and blew past it in a flash This show of support comes from many people sharing the #StopAsianHate hashtag and expressing support from their own communities.
During this rash of anti-Asian-American sentiment from a narrow group of clearly racist people, showing solidarity with the Asian-American community is important. More than ever, the AAIP community needs support from those willing to put their foot down and stand with them.
There are a number of different ways you can get involved and show support to the Asian-American community.
Donate to Stop AAIP Hate – an organization that tracks hate crimes against members of the Asian community, and uses that info to direct resources to anti-racism policy.
Attend Bystander Intervention Training – The Hollaback Movement offers a free, online, 1-hour training that empowers people to be aware and resilient in situations that could escalate towards a hate crime, and safely intervene before violence occurs.
Diversify Your Feed – It may seem like a small gesture, but seeking out and adding different perspectives to the content you consume not only supports Asian creators, it can greatly increase your own mindfulness. Consider following Youngna Park, the Executive Product Director of Parenting for The New York Times, or subscribe to Asian America: The Ken Fong Podcast.