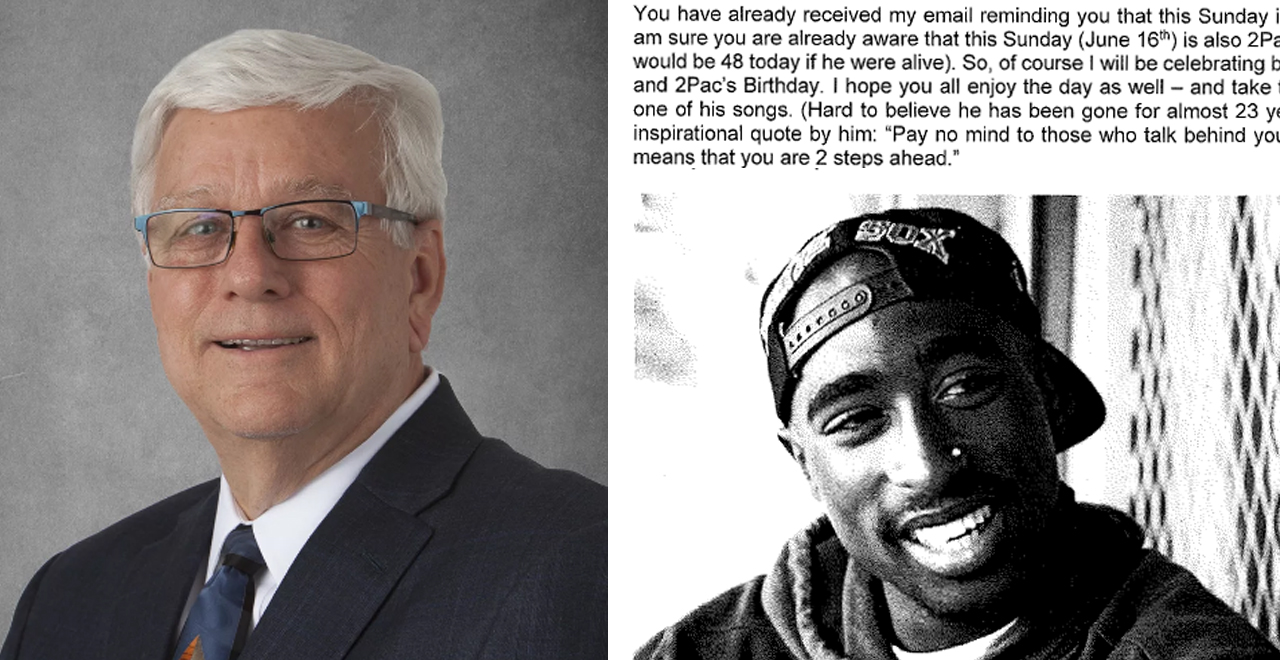 Credit: Office Lt. Governor of Iowa Twitter/timkmak
There are a lot of reasons you might lose a gig.
Maybe you took a bath in the company sink? Or farted on the job? Maybe you didn't properly fill out your TPS reports? Or just maybe you are too enthusiastic about your favorite rapper and it's rubbing people the wrong way?
Okay, so that last one seems a bit far-fetched unless your name is Jerry Foxhoven and you were asked to resign from your role in Iowa's Department of Human Services. Asked by the governor no less. And why? Well, that's not exactly clear, but I think my man Jerry went a little too hard with his love for Tupac.
Did I mention that Jerry is a 66-year-old white dude?
It's the timing of his resignation that is raising eyebrows, seeing as it came a day after he sent an email – to 4300 employees – celebrating Father's Day and his two-year anniversary at the DHS. Which also happened to be Tupac Shakur's birthday.
Here is the email 66 year old Jerry Foxhoven sent to his staff, the day he was fired.

He notes 2Pac's bday is also Father's day

"Hard to believe he has been gone for almost 23 years"

By all accounts, a kind email pic.twitter.com/ohSxSVpzJL

— Tim Mak (@timkmak) July 17, 2019
Apparently, that email came after Jerry's Tupac obsession had raised rankles and provoked complaints from coworkers. According to the Associated Press, he was known to send congratulatory emails to colleagues there featured quotes from his favorite rapper, he celebrated his 65th birthday with Tupac-themed cookies, and all in all, he sent over 350 pages of emails that mentioned the West Coast rapper.
Jerry insisted he used the references to keep things light and to inspire his subordinates, but not everyone was a fan. Still, my man was not backing off, and it may just be that his last email was the straw that broke the camel's back and sent him packing.
The governor has since denied Jerry went out because of his luv for 2pac.
Ok, ok, her spokesman, Pat Garrett, spoke a little more eloquently: "As the governor has said, a lot of factors contributed to the resignation of Jerry Foxhoven. Of course, Tupac was not one of them.
"Governor Reynolds is looking forward to taking [the human services department] in a new direction."
As for J-Fox (what I can only assume will be his name as a rap artist when he releases his first album), he doesn't think there's a connection between the firing and the deceased rapper who inspires him daily.
"I think it's a coincidence," Foxhoven told the New York Times.
Whatever the reason, pour one out for Jerry this weekend, a true G who we can only assume also has an enormous THUG LIFE tattoo on his belly.