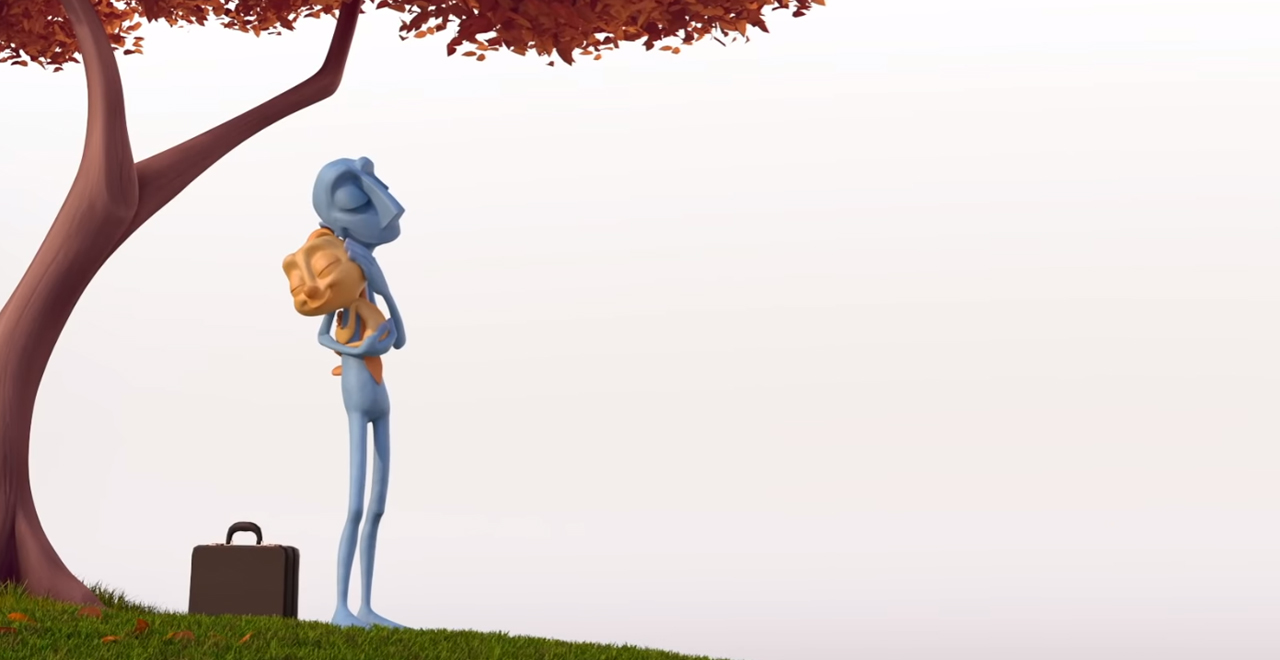 Credit: YouTube/Pepe School Land
Short film Alike highlights an all too common theme in parenting but in a fun, whimsical way. It opens with a father loading up his son's backpack with an unreasonable number of textbooks. The son, seen joyfully running around the house, is instantly anchored to the ground when his dad straps it around his tiny shoulders.
Acclimating to the bag's immense weight, the boy happily wobbles out of frame. His father grabs an equally heavy work briefcase and follows suit out the door.
On their walk to work/school, the boy spots a violin player in the center of town and is instantly captivated by the performance. Surrounded by grey buildings, grey cars, and grey pedestrians, the boy, father, and violinist appear to be the only things in color.
Despite his son's obvious enchantment with the musician, the father reminds his son of their responsibilities, slips the backpack full of books back on his son, and leads him back into the drab, colorless environment of the city. Clearly, this severe lack of color isn't a simple design choice.
After a quick embrace, the father departs from his son's school and heads to a dead end, soul-crushing job. Surrounded by menial tasks, the color literally drains out of him. Watching the clock with dull grey eyes, he counts the minutes until he's free to leave, his color only returning when he's with his jubilant son once again.
The son, however, retains his color initially—daydreaming about the violinist and the way the music made him feel, but he's told day after day that his passions are not appropriate. As time wears on, his color also begins to dwindle and he's forced to leave his interests behind to conform to the other students.
In a behind the scenes video, the film's co-director Daniel Martinez Lara explains how fatherhood means constantly asking ourselves what the best things are for our children at any given moment. We try our best and don't always get it right. This film doesn't answer that question per se but acts as a reflection of that process.
This is the reason the father and son characters are playfully known to the film crew as "Copi" and "Paste." We often consider our children to be miniature extensions of ourselves rather than unique individuals with dreams, desires, and personalities. Alike begins with Copi dragging Paste through the motions of what he believes life should be. It isn't until he listens and acknowledges his son's passions as legitimate that a genuine connection is established once again.
Parenting can often be viewed as a long list of "shoulds" and "musts," but it's also an opportunity to see your children for what they are: amazing people. So, while we have a responsibility to teach and guide our kids, so they don't become garbage human beings when they grow up, it can also be important to stop and just let them listen to the music every once in a while. You never know what you might learn as a result.