8-Month-Old Can't Stop Giggling When Meeting His Hero, Chewbacca
The best part about Star Wars is that there's something that most people can appreciate—rich character arcs, badass villains, and otherworldy droids and weapons.
But Chewbacca… Chewbacca is for everyone. Man or woman, young or old, human or otherwise – you'd be hard-pressed to find someone who doesn't love that big walking carpet. Even someone as young as 8-months-old can't keep their cool around him, as shown by a recent viral video.
"Lil Chewie" was visiting Disney's Hollywood Studios at Disney World Resort, Florida with his grandparents, Rachel and Eric Herrholz, when he finally met his hairy hero. Sporting his own Chewbacca apparel, the little boy was totally tickled while the famed Wookiee co-pilot playfully grunted and poked at him.
"This was Lil Chewie's first visit with Chewbacca. We dressed him in a Chewbacca outfit, and Eric wore a Han Solo shirt," said Rachel, regarding her Facebook video, which has since been viewed over 2 million times. "We were not expecting him to react the way he did. Chewbacca came over to get us.
"Next thing I know, I heard him laughing. I looked up and he was belly-laughing. Chewbacca was just as excited. I started to record. I was amazed and I wished his Mom and Dad were with us."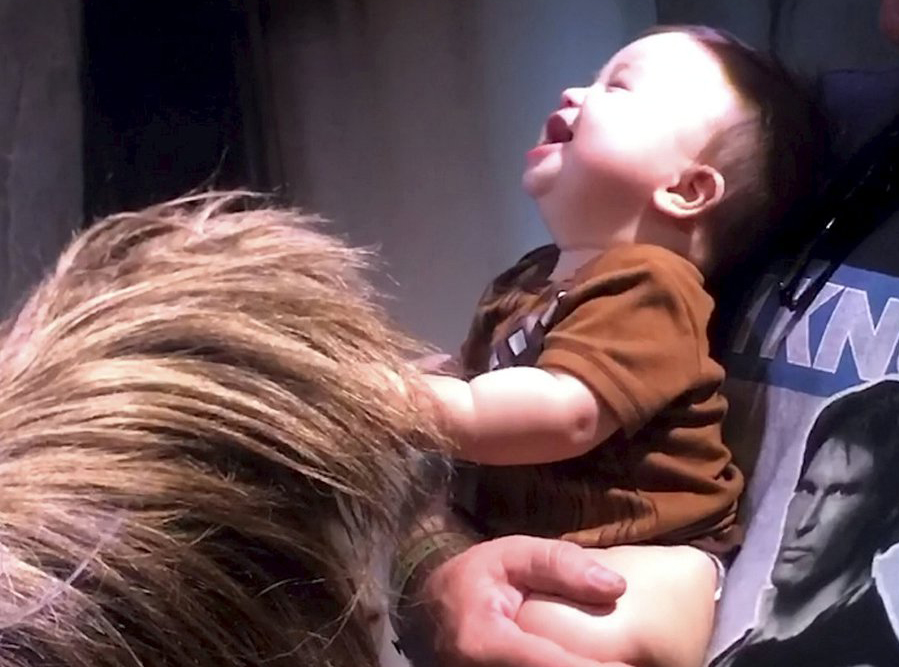 The adorable interaction took place in the 'Star Wars Launch Bay,' an attraction where park-goers experience "immersive exhibits of costumes, models, concept artwork and actual movie props" as well as a meet-and-greet with Chewie himself.
"I am blessed that my grandson can make people smile and bring them happiness in this world we live in," Rachel added.
I'm pretty sure any world with more Chewbacca in it is going to be happier, overall.