8-Yr-Old Helps Classmate With Autism Conquer His First-Day Fears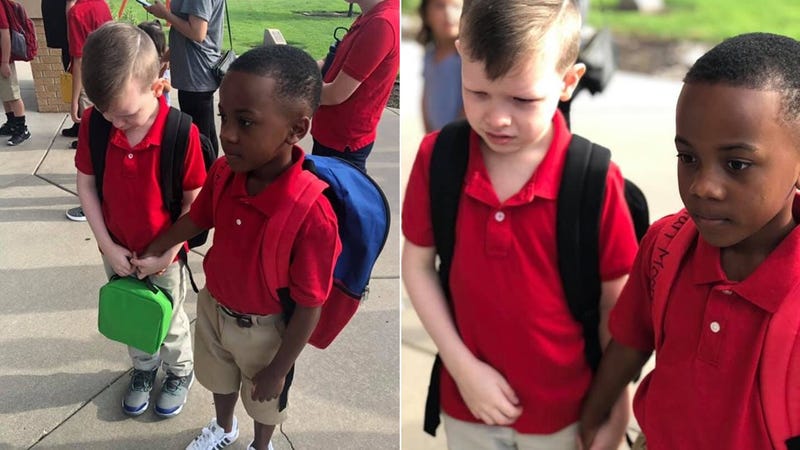 The first day of school can be a lot to take in for anyone. So when a Wichita boy arrived for his first day of classes last week and noticed another student having a hard time, he simply did what he thought was right.
8-year-old Christian Moore spotted a classmate crying in a corner. The student, Conner Crites, has autism. Large crowds and unfamiliar places can be challenging for those on the autism spectrum, but without hesitation or knowledge of Conner's struggles, Christian approached him and encouraged Conner to walk with him. The two walked into Minneha Core Knowledge Elementary together, hand in hand.
"I saw him on the ground with Conner, as Conner was crying in the corner and he was consoling him," Christian's mom, Courtney Moore, told local affiliate KAKE. "He grabs his hand and walks him to the front door. We waited until the bell rang and he walked him inside the school," she shared. "The rest is history. They have an inseparable bond."
The proud mom shared a photo of the two boys on her Facebook page, a post that has since spread across the web like wildfire. She captioned the heartwarming shot, saying "It is an honor to raise such a loving, compassionate child! He's a kid with a Big heart, the first day of school started off right."
Thousands of people have shared and commented on the post — moved by the simple act of kindness — including Conner's mom, April. She shared the original photo, adding "This made me sad but also absolutely warmed my heart. I'm so happy a caring little boy was so kind to my baby."
The thankful mom also reached out to Christian's mom in her original post, saying "Tell your son I said thank you so very much! I worry everyday that he is going to get bullied for being different and your son just absolutely warmed my heart. If there were more children like him I wouldn't worry about such things."
Conner, telling station KAKE that his classmate, and new friend, absolutely made his day. "He found me and held my hand and I got happy tears."