9-Yr-Old Son of Fallen Officer Gets Police Escort to First Day of School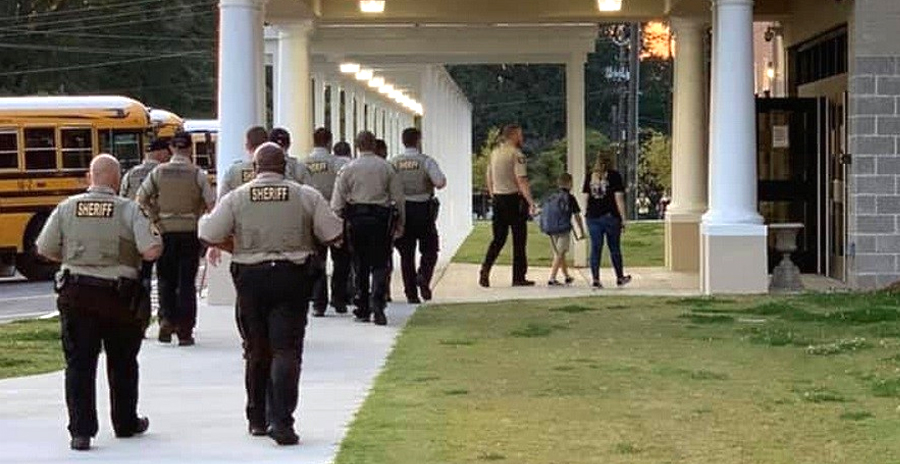 Starting a new school year comes with plenty of excitement and anxiety. It's a big day for kids across the country who aim to make a big impression, however, one Georgia boy's impressive entrance is making headlines for all the right reasons.
When Gainesville's Caden Dixon entered his first day of school this month, the fourth-grader had his very own, fully uniformed, police escort. Deputies from the Hall County Sheriff's Department in Georgia wanted to show their support for the young man after the loss of his father, Nicolas, just a month earlier.
Nicolas, a three year veteran of the Hall County Sheriff's Department, was killed in the line of duty after a shootout with four teenage suspects. What began as a chase with a stolen vehicle, ended in tragedy for the Dixons and the Gainesville community at large. The brave deputy left behind 9-year-old Caden, along with his wife Stephanie and their new 3-month-old son, Colton. His fellow deputies deciding to show the family that although Nicolas is gone, his brothers and sisters in blue will always be there for them, no matter what the occasion.
The department posted photos of their deputies showing up at Enota Multiple Intelligences Academy in Gainesville to their Facebook page.
Comments of support for Caden as well as kudos for the officers flooded in, with the post being shared and liked thousands of times over just the past few days.
The shooters, along with several other individuals who may have hindered the investigation, have since been apprehended and now face felony murder charges relating to the incident. Dixon is the fourth officer killed while on-duty in Georgia so far this year.
With so many instances of violence and division filling our feeds each day, it's stories like this that can put a bright spot on an otherwise tragic situation.