93-Yr-Old Grandma Crosses 'Getting Arrested' off Her Bucket List
Josie Birds has experienced quite a bit in her 93 years on this planet.
The Manchester, UK, resident has six daughters, 20 grandchildren, 28 great-grandchildren, and even two great-great-grandchildren. Phew! Most would say that's a life well lived, but Birds was still missing something. Having been honest and law-abiding her entire life, Birds had an odd desire to know what it felt like to "be naughty," perhaps without actually having to break the law.
After a life spent providing for her family, it was now their turn to do something special for Josie. One of her granddaughters, Pam Smith, helped organize a special surprise for the woman who has given everyone so much for the past 9 plus decades.
Last Saturday, thanks to the help of a family friend, two off-duty police officers showed up at Josie Birds' door, tossing accusations claiming she had robbed the local Co-op. Her response? "'I don't do my shopping in Co-op." The officers, needing to further investigate her claims of innocence, carefully cuffed Birds and placed her in the back of a police van for questioning down at the station.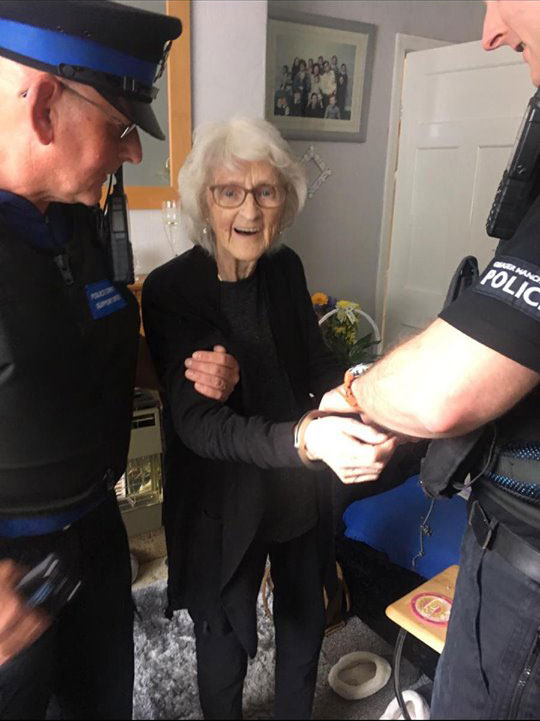 While most would resent being dragged out of their home for a crime they didn't commit, Smith says it was exactly was this senior was looking for.
"She wanted to go into the cells too, but they drew the line at that and gave her tea and cake instead. She was lit up all day Sunday talking about it, and she is still excited about her experience."
Smith thanked the Greater Manchester Police on Twitter for helping her grandmother cross this rather unusual item off her bucket list.
"A big thank you to @gmpolice for "arresting" my Gran Josie today. She is 93 years old and her health is failing, and she wanted to be arrested for something before it's too late. She has a heart of gold and thoroughly enjoyed it today. Thank you for granting her wishes."
The department later responding to the message:
Hello, I'm glad our officers could help out, looks like she got the full experience! Give our best to Josie and I'll try and pass your message back to the officers who kindly helped out.

— Greater Manchester Police (@gmpolice) June 25, 2019
Smith then with this final reply: "It has made an old lady very happy."