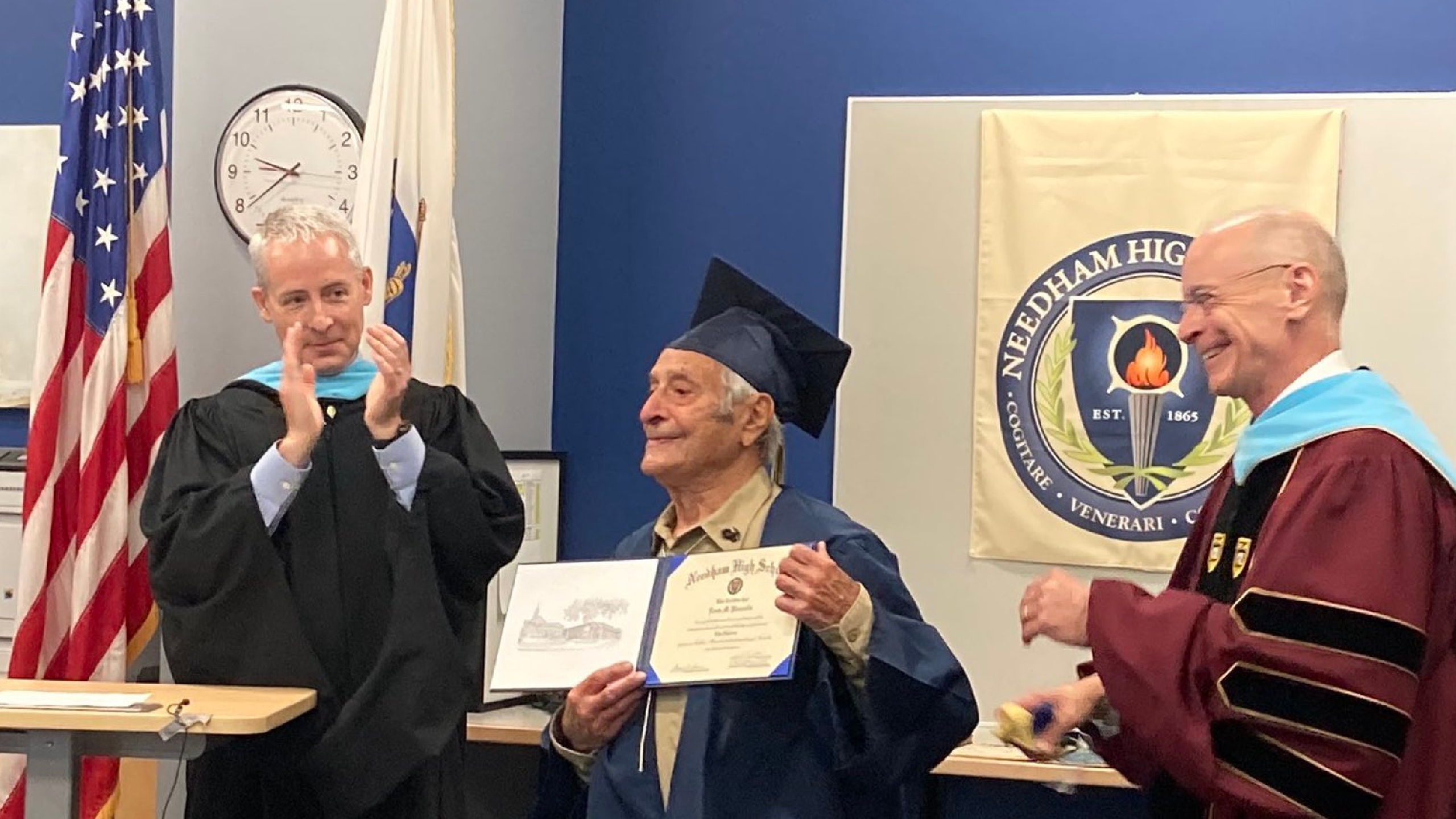 Credit: Twitter/NPS_Supt
Every college class would have the occasional old person in it. Someone in their 40s who went back to school or wanted to branch out to a new career and thought a degree would help. High school graduations, on the other hand, are filled pretty uniformly with teenagers. One extremely notable exception occurred this fall, as a 95-year-old WWII vet finally got his high school diploma.
Louis Picariello got an amazing Veteran's Day celebration when he got his diploma from a Massachusetts high school, just 77 years after he left the school to join the Marines and fight in WWII.
"I can't believe this," he told a local TV station. "Everybody went out of their way and I appreciate it."
Today NHS Principal Aaron Sicotte & I awarded WWII vet Louis Picariello his diploma 77 years after he left Needham High in his senior year, just shy of his graduation with the Class of '44. Vets, family & friends congratulated Louis on his service and a lifetime of learning. pic.twitter.com/gOXyF1aJ8f

— Daniel Gutekanst (@NPS_Supt) November 11, 2021
He left high school in the spring of 1944, just as soon as he turned 18. He could've waited a few months to graduate and then join up, but he wanted to be part of the war effort. His son said getting his diploma has always been a bucket list item for him.
His buddies at the VFW were the ones who reached out to the high school to set it all up. They were very cooperative, and the superintendent of the district said at the ceremony they were "really honored" to present Louis with "a lifetime learning diploma." He said it represented his time at the high school and a "life well lived with an amazing family, and so many friends and colleagues."
It's a very cool moment for someone that definitely deserves it. There aren't many WWII veterans left, so any time a community takes the time to show them the respect they deserve, it's gonna be special.
Even at 95, Picariello still has a good sense of humor. After being presented with the diploma, he jokingly asked if he could get into college now.