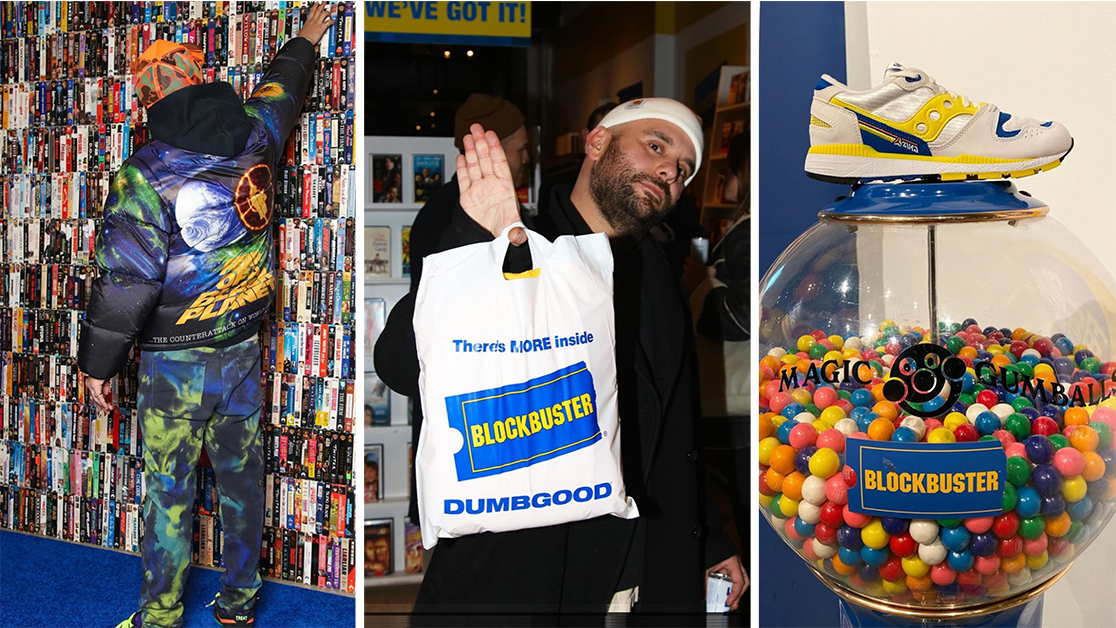 Credit: Instagram/dumbgood
Most of us remember the olden days of driving to our local video store to see which new releases were available to rent for 3-5 days. It was only a decade or so ago, but it feels a bit like ancient history in this golden age of streaming services.
Now, the once-popular Blockbuster video rental chain still has one store in Oregon that has famously remained viable, but it's definitely the gimmick that keeps the doors open rather than actual supply and demand.
If you longing for that childhood Blockbuster '90s vibe, you really need to check Dumbgood – they recently showcased their wares at a pop-up shop in NYC.
While it technically wasn't a Blockbuster store (you couldn't rent DVDs or VHS tapes), the pop-up by streetwear designer Dumbgood is selling Blockbuster-themed merch, including Blockbuster branded clothing, backpacks, VHS iPhone cases, "Be Kind, Rewind" Tube socks, and more.
There will also be an assortment of merchandise featuring iconic '90s titles like Buffy the Vampire Slayer, Cruel Intentions, Goosebumps, Titanic, and Seinfeld.
View this post on Instagram
Prices range anywhere between $12 and $90 (unless you decide to splurge on the 14-karat gold movie ticket necklace for a jaw-dropping $368).
"Our mission is to help people transcend brand and trend, using cultural affinity to express their individuality," Dumbgood co-founders Amelia Muqbel and Justin Deanda told Timeout. "We produce officially licensed collaboration with the brands that shaped our youth."
Chances are you weren't in NYC between December 6 to 15th so, if you're desperate for some ridiculously '90s memorabilia head over to Dumbgood and shop online.