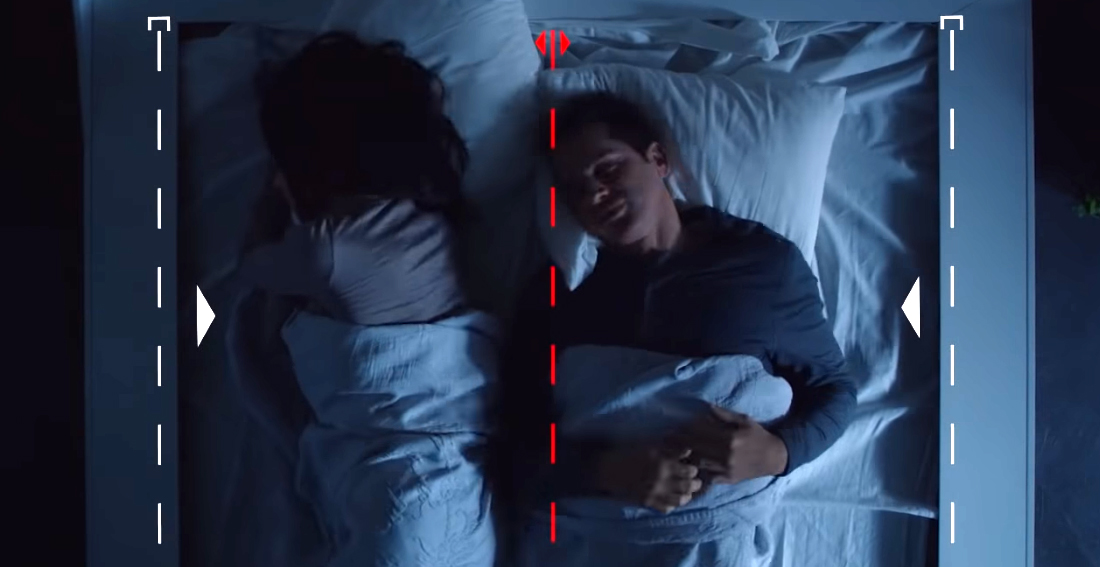 Credit: YouTube/Ford Europe
I don't care if you married an absolute dream of a human being who still gives you butterflies after 50 years of marriage. More than likely, there's something they do in their sleep that makes it difficult to catch the number of Z's you need—stealing the covers, snoring, unconsciously practicing their best snow angel technique, etc.
While there isn't one sole remedy for the laundry list of bedtime tribulations couples face, there's a remarkable new bed that's making sure your partner, at the very least, stays on his or her own side for once.
Of all the companies out there, Ford recently unveiled conceptual prototypes for a mattress that utilizes its car technology in unexpected ways. Taking inspiration from their programming that keeps vehicles from unintentionally drifting into other lanes, the mattress literally functions as a conveyor belt that keeps guilty bed-hoggers on their proper side.
Pressure sensors on each side interpret when your partner has violated your precious sleep-zone and gently returns everyone back to where they should be. No more being delegated to sleep on the final three inches of the mattress that our spouses previously deemed more than adequate.
Even though the bed is only a concept at this time and not available for purchase, we'd be surprised if Ford didn't begin production eventually. Considering how much money they'd make and how many marriages they'd save, they would be silly not to.