Actor Werner Herzog Saved Baby Yoda as We Know Him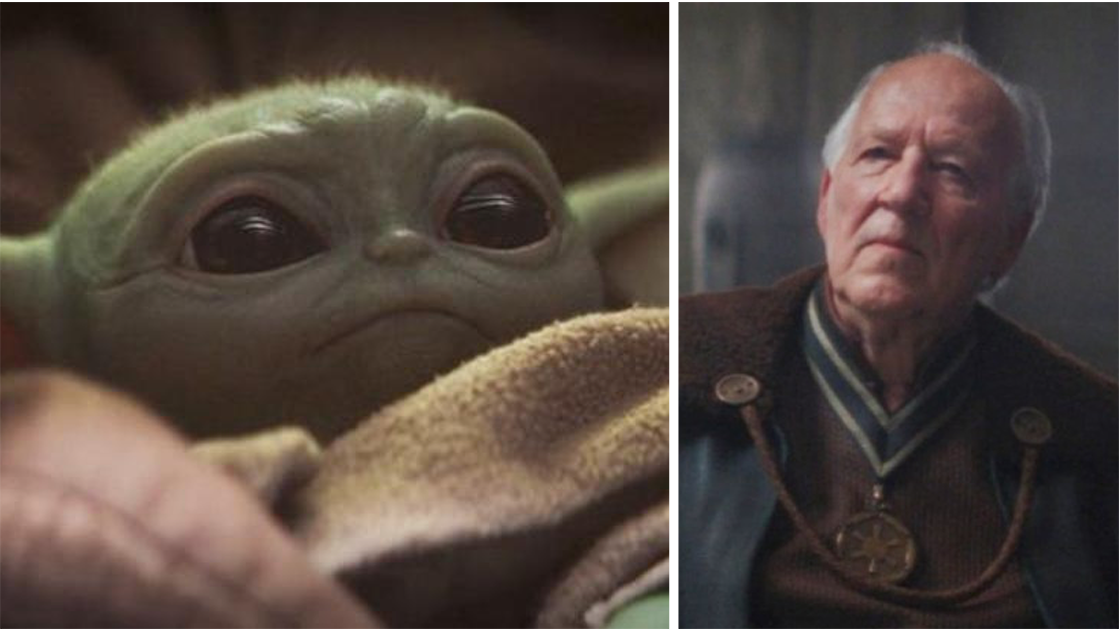 Few things have completely upended the cultural zeitgeist like the pint-sized space creature colloquially known as "Baby Yoda." Between his soft coos, sassy attitude, and absurd levels of cuteness, this force-powered munchkin from the Disney+ series The Mandalorian has been a source of delight for seemingly everyone.
And perhaps the most important quality that makes the little green alien so lovable is the fact that he's an actual flesh and bone (er, felt and fabric) character. The Mandalorian has generated acclaim for going back to the Star Wars roots by utilizing costumes and puppets instead of CGI characters that plagued the prequel trilogy. Surprisingly, though, Baby Yoda as we know him was nearly replaced by a computer-generated version.
As per The Hollywood Reporter, Lucasfilm nearly scrapped the adorable puppet in favor of yet another CGI character—a crime certainly worthy of the heaviest punishment, in retrospect.
Thankfully, a hero stepped up to make sure the studio did the right thing, not with a lightsaber or blaster, but with his voice in a thick German accent. Werner Herzog, the actor who currently plays the mysterious Imperial loyalist on the show, caught wind of the plans to replace the lovable puppet with CGI and couldn't help but speak up.
"He says, 'You are cowards. Leave it. Leave it,'" series director and EP Dave Filoni said at a Mandalorian fan event in Hollywood. And because it came from Herzog—a famed creator and director in his own right—showrunner Jon Favreau quickly changed his mind and acquiesced.
As it turns out, Herzog had grown rather fond of the puppet on set; at times, interacting with Baby Yoda as if he was simply another actor.
Deborah Chow, who directed an episode of The Mandalorian, told Vanity Fair, "I had a day with one of the weirdest moments I've ever had directing. I was directing Werner with the puppet, and Werner had just fallen in love with the baby. Werner, I think, had forgotten it wasn't actually a live creature, and started sort of… directing the baby. Werner is talking to the baby as if it was a real thing. And I'm trying to direct Werner. And I'm just like, How did I get here? How did my life end up like this?"
I mean, just look at the guy's eyes light up when he talks about his puppet cast member:
Chow further describes how actors and crew members alike would "melt" whenever the puppet was brought out, so it's hard to imagine why the showrunners would consider going a different direction when little BaYo was already having such an emotional effect on anyone in the vicinity.
But now the rest is history. Week by week, viewers are finding new reasons to fawn over the little green infant, in no small part because he just looks so damn realistic. Of course, this will just make it even harder when we inevitably watch him die or turn to the dark side, but let's just enjoy the time we have with him while we can, right?