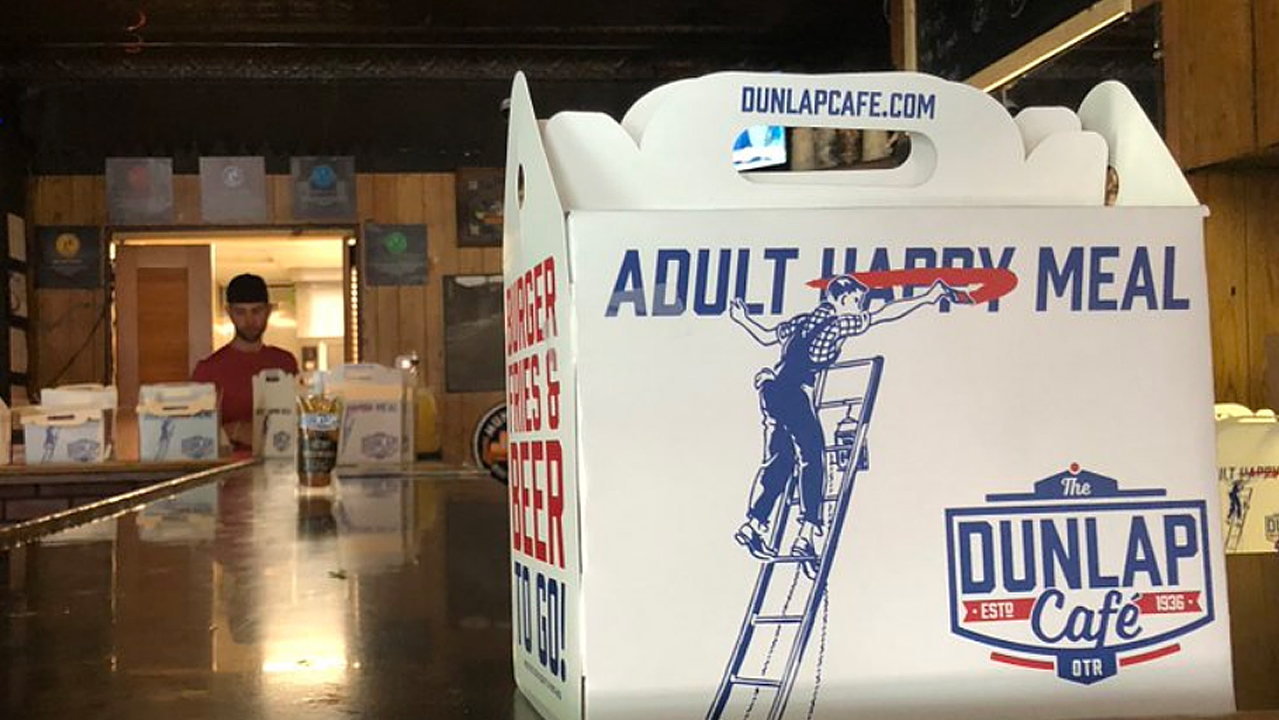 Credit: Twitter/McGingeryBeard
When it comes to takeout, branding, and packaging is everything. No one has mastered this more than McDonald's and their Happy Meals. And now, as restaurants are forced to get more creative with their business models in the COVID-19 era, at least one is scaling that idea up for adults.
A restaurant in Ohio, the Dunlap Cafe, has started selling Happy Meals for adults. All the normal happy meal components are there; the box, an entrée, a side, even a prize (a Koozie, in this case), and a dessert (a Twizzler). And the reason it's an adult happy meal and not just a happy meal? It comes with your choice of alcoholic beverage.
#EatLocal the @DunlapCafe is home of the adult happy meal! Burger fries and a "Adult" drink ! Check it out @Local12 pic.twitter.com/qumW7raCgb

— TR Gormley (@McGingeryBeard) May 1, 2020
The restaurant offers different options, depending on your drink of choice. The "Super Basic Box" comes with a PBR or Miller High Life. The "Basic Basic Box" includes a Bud, Bud Light, or Coors Light. The "Soccer Mom Selter Box" comes with a White Claw and they also offer adult happy meals with craft beers and cocktails for a higher fee.
While many families are still breaking up their routines with the occasional takeout meal, hopefully, this trend of adult happy meals continues. It will make quarantine a bit more tolerable if your meal comes with a beer. (Or your local ice cream truck sells booze.)
And honestly, one of the few positives to come from this awfulness is the trend of home beer and alcohol delivery. You can get cocktails and margaritas to-go from restaurants now. Is it the safest trend? Maybe not. Does it rule? Yeah, kind of.
Alcohol sales are through the roof, so no judgment when it comes to doing what you have to do to get through, and the same goes for restaurants trying to get a little more creative to survive.