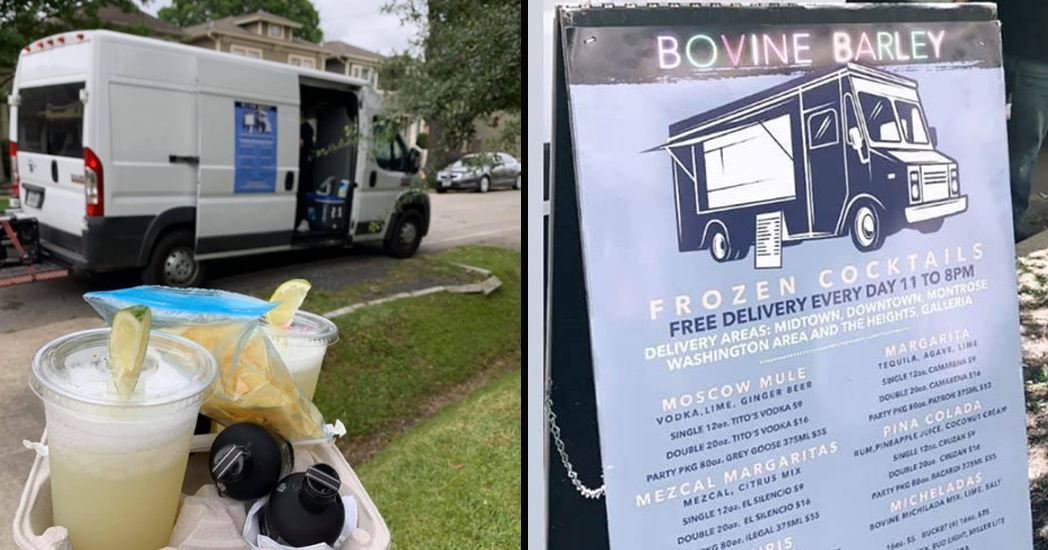 Credit: Facebook/Bovine & Barley
As more and more places shutter their doors, some businesses are shifting production while others are shifting gears. One restaurant, the Bovine & Barley in downtown Houston, has taken to the streets in a grownup ice cream truck of sorts, delivering frozen cocktails right to their customers' doorsteps.
The badass employees of this bar are masked up and fully equipped to assist folks from Midtown to The Heights in making the most of the gorgeous Texas springtime.
Whether you're in the mood for a margarita, Moscow mule, daiquiri, mojito, michelada, or maybe just a good ol' fashion pina colada, Bovine & Barley's got the cure for what ails ya.
You can even score chips for just a buck.
Sadly, Bovine & Barley can only deliver to the good people of Houston, so it's on us to safely circulate petitions within our respective communities that demand Frozen Cocktail Trucks become a thing of normalcy when we all get through this. Call your city councilperson.
Click here to follow Bovine & Barley on Facebook. Cheers, Houston!