Alex Trebek Makes Surprise Appearance at NHL Draft to Select Ottawa's Pick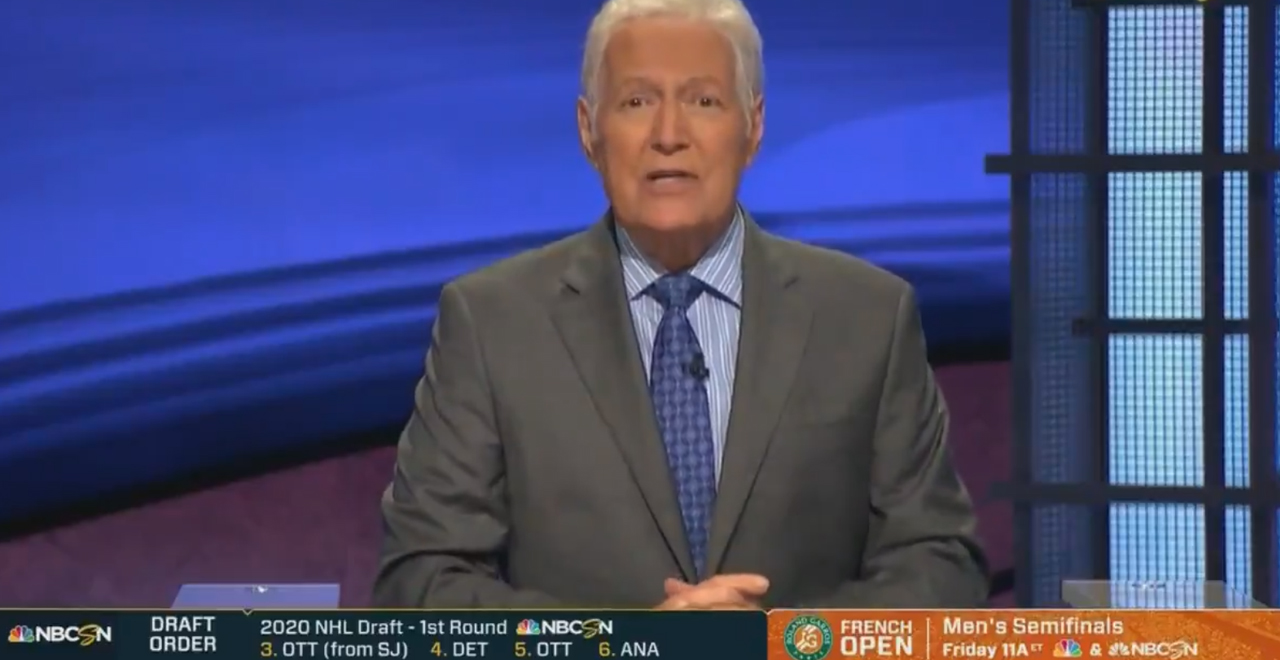 Everyone loves Alex Trebek.
One of the most stalwart television presences of our lifetimes, Trebek has been standing center stage on Jeopardy, asking questions, verifying answers, introducing contestants, and subtly shading those same contestants for 30+ years. Recently, the beloved quiz show host has been in the spotlight for his cancer diagnosis and the dignity and resolve he's shown as he fights stage 4 pancreatic cancer and makes his way back to the show that made him a household name.
Everybody loves Trebek, but you know who loves him the most? Canada! Because Trebek, like so many of our favorite celebrities, from Michael J. Fox to Jim Carrey, from Justin Bieber to Gordon Lightfoot, is a Canuck. Last night, during the National Hockey League draft, Trebek showed up to support his country's favorite sport, and add some spice to the proceedings.
When it came time for the Ottawa Senators to make their first draft pick, viewers were treated to the Jeopardy host himself, standing at a podium to make the announcement. Trebek graduated from the University of Ottawa, so while he may have been a "surprise guest", as NHL commissioner Gary Bettman put it when introducing him, Trebek has ties to the Senators' home town, which made his appearance all the more special.
As did the clever way the pick was presented, Jeopardy-style.
This is the greatest NHL draft pick announcement of all time pic.twitter.com/DbARpoffR8

— Pete Blackburn (@PeteBlackburn) October 6, 2020
Trebek framed the announcement of Ottawa's selection of German center Tim Stutzle with the third overall pick as a question from his show, in the NHL category. "The correct answer is: 'Who is Tim Stutzle?'", as the "Jeopardy!" theme music played in the background.
It was a fun way to add some flavor to the NHL's all-virtual draft, and surely a treat for hockey fans to see beloved Canadian Alex Trebek doing what he does best in the service of their national pastime.
Here's hoping he continues to stand at that podium for years to come.