Credit: Tom Aldworth and Getty/tab1962
Look, America, I get it. I know what you guys are about. I've eaten an apple pie or two in my time. I've worn blue jeans. I've had a Budweiser. I've even watched your version of The Office all the way through. So I get it.
So when I was asked to join a fantasy football league this summer, I said yes. "How hard can it be?" I thought. The quarterback throws the ball at the guy and he runs it to the end zone. I've seen Forrest Gump. I know the basics.
To prepare myself a little further I did some research. I watched both seasons of Last Chance U on Netflix, and I was suddenly an expert. I don't know if you guys know this, but there is something called a "running back," and those guys are pretty athletic. Also, they have a whole other team who come on to kick the ball every now and then! It's pretty wild.
Now, three months on, I hate fantasy football. I don't know what the hell is going on, and my team sucks.
Here are some of the main challenges I have faced so far:
1. The Draft
Like, I get the principle of this. I understand how it works. I understand why it works. I felt confident about this. But do you know what makes the draft particularly difficult? Not knowing a single football player by name. It's pretty hard to pick people when you don't know who they are. But I did some research. Quarterbacks are important. Running backs are important. Wide receivers are important. It was all starting to take shape, and I was excited to smash a bunch of Americans at their own game.
And then they scheduled the draft.
Now, America is a big place. You guys have four time zones, so coordinating a cross country fantasy football draft is kind of complicated. Throw in the fact that there is one idiot who lives in a different continent, and it's pretty hard to find a suitable time for everyone.
The draft took place at 2am British time, and, unsurprisingly, I was asleep.
All my research. All the hours spent discovering players and learning positions. All the blogs I read about what to prioritise. Wasted.
2. Trades
A common theme in my experiences of this season is my lack of knowledge about teams and players. "Your QB isn't very good, you should do a trade," my friend said to me. My QB's name was Mike Glennon and he played for the Chicago Bears. I looked him up, and, sure, he wasn't very good. The Bears were, apparently, not the team to beat this season. So I figured, sure, I need to get a new QB.
My friend wanted to trade. Mike Evans for Dak Prescott. I don't know, man. Mike Evans seems pretty good. If my friend wants him so badly, why should I give him up? It was soul-searching time. I asked around. I got some advice. "This is a good trade for you." "You should do it." I was hearing a lot of positives about this trade, so I decided to accept.
Then suddenly my "friend" Rob decided the trade wasn't good for him anymore. That he was getting the raw end of the deal. It was his frickin' idea! He goes, "give me Doug Martin too." Now, I may not know football, but what I do know is that two players is more than one player. Something seemed fishy to me. Why the hell am I gonna give him two of my guys if I'm only getting one in return? What does he think I am? Some kind of idiot?
"Two is more than one, buddy. No trade," I said, confidently. So we haggled.
I used the knowledge I had learned about the Bears to my advantage. "I know the Bears have a bad team. I know you won't be missing Kendall Wright. Give me him too." I was so proud of myself. He agreed. We did the trade.
Then it had to go for ratification through the league and it took like 48 hours to go through (what the hell?). But eventually it happened.
You guys, this is my biggest success to date. As I write this, on November 9 the total points look like this: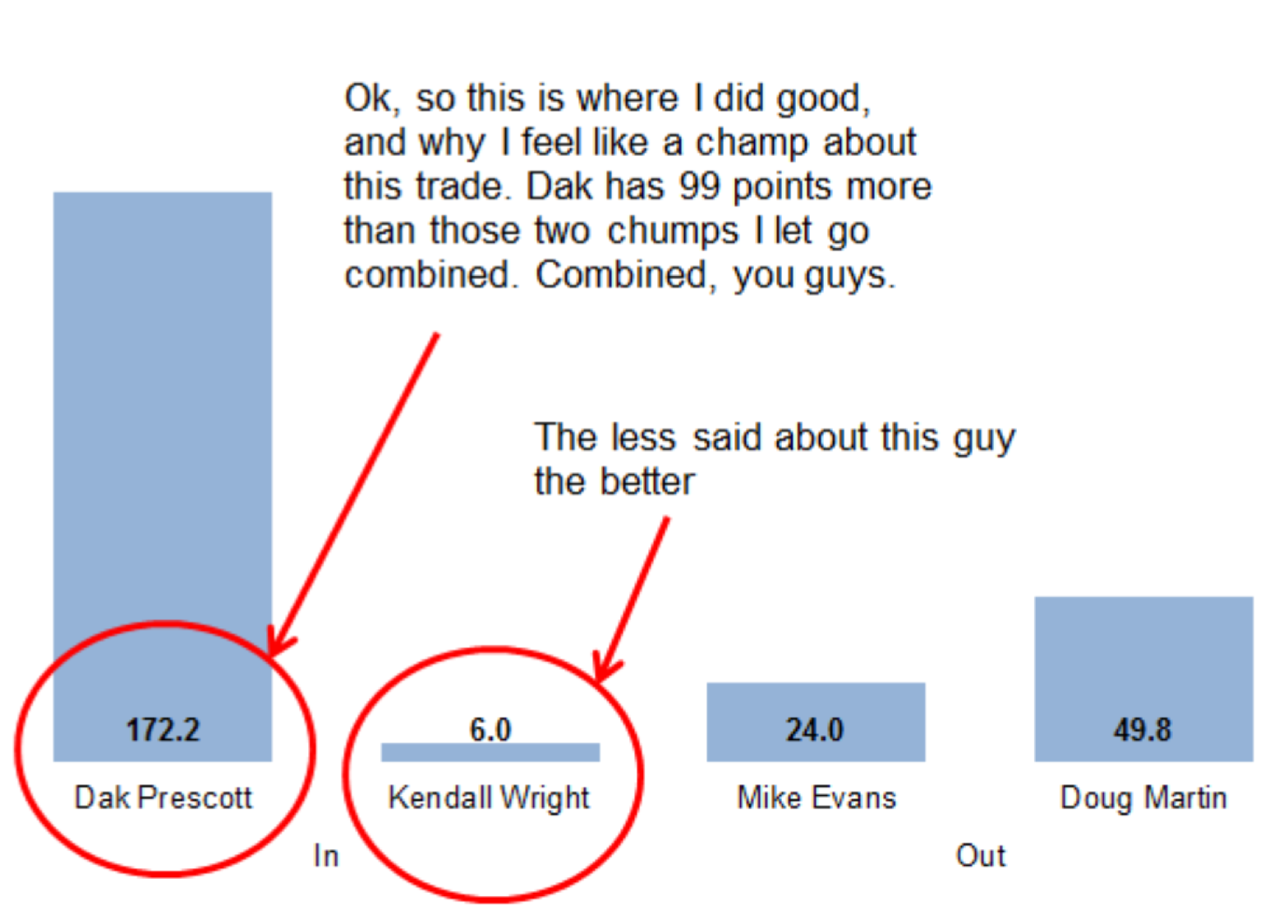 3. Game Week One
I swear to god, I got the third highest points in the league in game week one. I was delighted. I had done it. I was flying up the table. Except, one of the guys whose teams did better was the guy I was playing. So I got no points. Not a single point.
I… I'm not… I can't talk about this anymore
4. The Season So Far
Nine games in, my record looks like this: 2-7-0
Seven defeats. Seven.
My buddy Travis said to me before the season, "I don't really understand it either, I just make sure I replace injured players." He's top. He's won seven games. That lucky son of a gun.
Looking Ahead
It turns out, all the apple pie in the world couldn't prepare me for this ridiculous game. I'm frustrated, I'm weather beaten, I am in a rut. Maybe I'd be more optimistic if I knew how many games there are in a season. Do I even have time to turn this around?
I don't know man, this game is complicated. I don't understand it. I am tied for last. Maybe I'll listen to some Bruce Springsteen and try again next year.
On the plus side, I'll always have Dak Prescott.