Twitter Shares the Annoying Jokes They Keep Using on Their Partners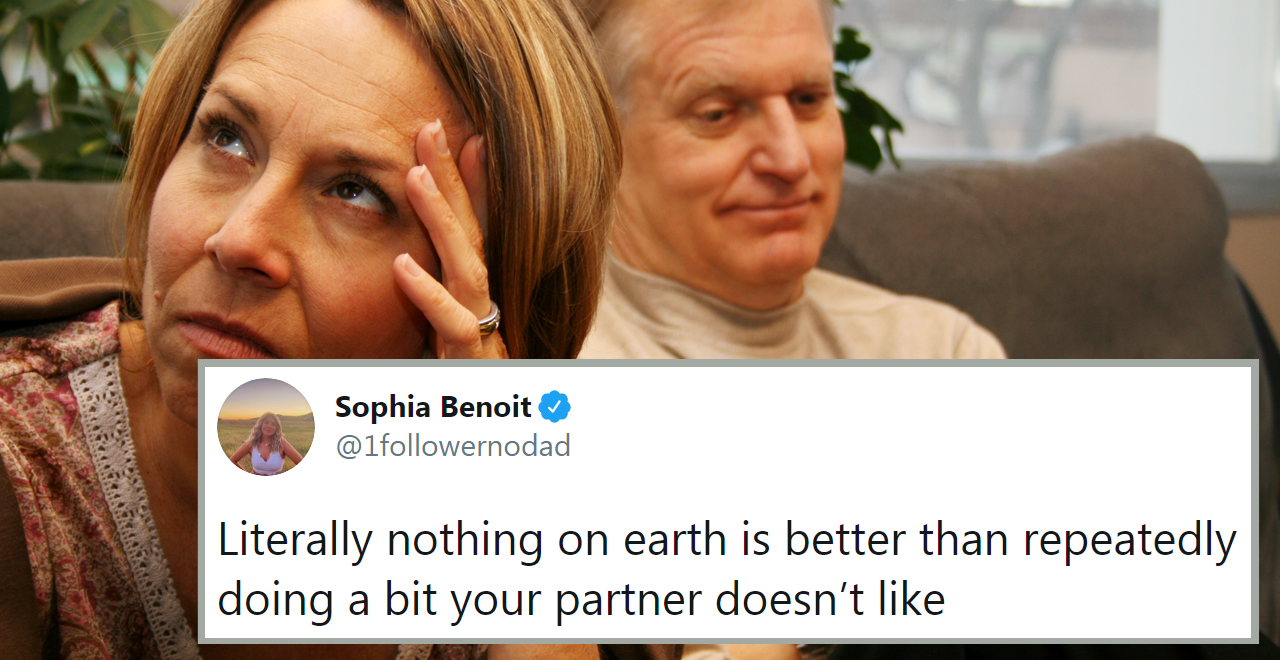 Long-term relationships often need a little spicing up. It's not easy being with the same person every day, year-in and year-out, and sometimes you need to find ways to keep things fresh. Even if that means annoying the shit out of your partner.
I'm an incredible husband, which is why I spend a few minutes every day irritating my wife. I have a variety of terrible jokes I use to poke at her, jokes I know she mostly can't stand, but because I've been doing them for so long – years, in some cases – have become affection reminders of our bond. At least that's what I tell myself.
Now, thanks to a tweet from writer Sophia Benoit, aka @1follwernodad, I know I'm not alone. She suggested that horrible, long-standing jokes – like when a random actor appears onscreen and I call my wife into the room so she can see her "favorite actor of all-time," despite the fact that she almost never has any idea who the person is and it makes her angry – are a delight, and countless people responded with their favorite bits.
Literally nothing on earth is better than repeatedly doing a bit your partner doesn't like

— Sophia Benoit (@1followernodad) June 27, 2020
The responses are, quite simply, the best thing that's ever happened to me:
My boyfriend is getting his PhD in Geology. My favorite thing is wrongly explaining geology things and then interrupting him when he tries to explain it by going "trust me, my boyfriend's a geologist so I know what I'm talking about"

— Julianna French (@Julianna_M_F) June 28, 2020
I call prescriptions 'subscriptions' then deny it

— David promises to shape up (@david1dea) June 27, 2020
Lol yeah like, my wife keeps gently—mostly gently— applying pressure to our infant son's head because she says he looks, "too human"… keeps talking about heads needing the "proud ridges of a warrior"

— River Boat Gambler (@chudgambler) June 27, 2020
My preferred method is "the parrot":
H: Ooh, the table is a bit lobsided…
M: YOU'RE a bit lobsided
Repeat with literally any negative comment on an inanimate object..
Tho in my defence, he's incapable of buying a cucumber without thrusting it at me… in public or otherwise 🤷‍♀️

— Vonny (@Its_me_Von) June 27, 2020
I change the language setting on the appliances every once in a while. We used to have power outages regularly and he thought it was a faulty reset problem switching displays to Spanish after a flicker, then it switched French, and then Chinese. He called the manufacturer.

— DeAnne Pearson (@DeAnneCoaching) June 27, 2020
Whenever my wife mentions being gay, I scream "YOU'RE GAY???!" at her, as if I've just learnt it for the first time

— Brona C. Titley (@bronactitley) June 27, 2020
Whenever my wife comes into the room when I'm working I respond with "How did you get past security?"

— Rich James (@richjamo) June 27, 2020
Every 3 months or so I reference something important my wife needs to see on my phone, and when I show it to her it is just a picture of the aliens from Mars attacks

— DougTector (@DougTector) June 27, 2020
There are SO MANY MORE. Sometimes, your best intentions backfire:
My wife included "always laugh at your jokes" in her wedding vows. HUGE mistake

— John McNamee (@Piecomic) June 27, 2020
I beg you to go check out the threadcheck out the thread, and I leave you with this classic:
Wife trolls husband by screaming Alanis Morissette song for a month pic.twitter.com/G8H9jeLxdY

— The Dad (@thedad) September 14, 2018