Awesome Baby Yoda Street Art Is Popping up All Over the World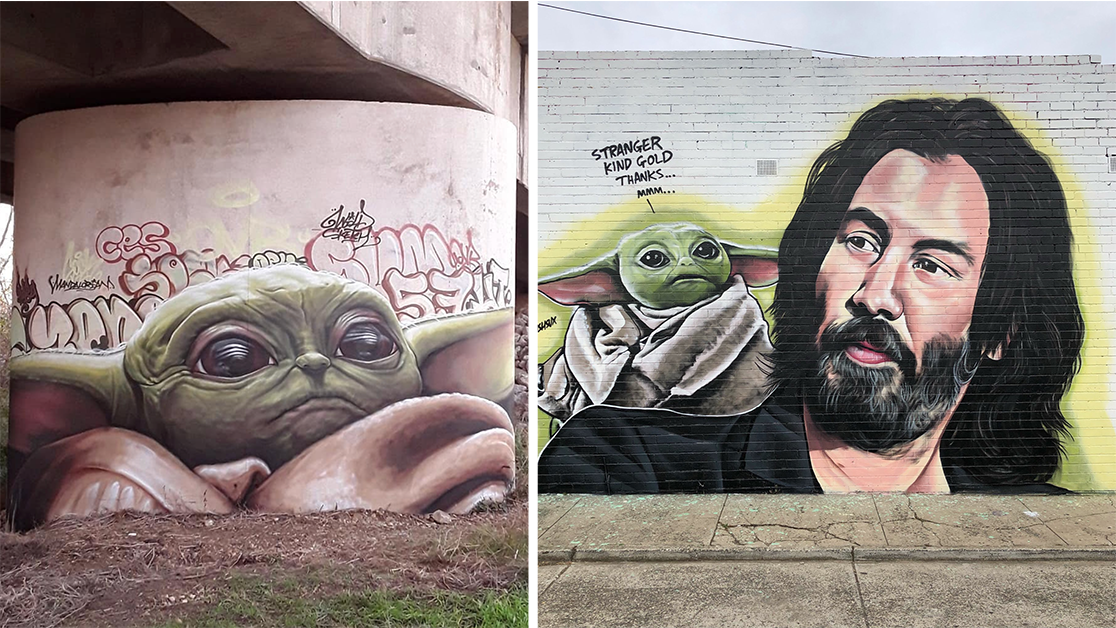 The cult status of The Mandalorian's Baby Yoda is nothing to take lightly. Hell, the little guy is out-trending actual presidential candidates so it's really no surprise that he's being represented in street art across the globe.
From France to the United States to Australia, everyone's favorite green force-user is showing up to brighten people's day in the most unlikely of places.
Sock Grafitti, for example, created this incredible mural in France, showcasing incredible detail in Baby Yoda's adorably giant eyes.
There is nothing cuter in the universe than Baby Yoda. He is the textbook definition of adorable.

Look 👇

a·dor·a·ble
/əˈdôrəb(ə)l/

This French street art of #BabyYoda by Sock Graffiti.

See, we told you so. pic.twitter.com/x8NPp8hiNF

— KSL NewsRadio (@kslnewsradio) December 10, 2019
Even businesses are getting in on the hype. Hotel Madrid in Milwaukee features a head-to-toe shot of a grinning BaYo front and center underneath their sign.
The hotel commissioned for him to be added leading up to their Gremlins holiday takeover, an event where they thought the little green fella would fit in nicely.
Another domestic work of art, this time in Charlotte, NC, highlights a big, bright, and colorful Baby Yoda surrounded by purple energy and popping off a yellow background.
Baby Yoda Street Art in NODA – Charlotte, NC. from r/StarWars
He's even been spotted in Melbourne, Australia, expressing his love for chicken nuggets (clearly, not a quote from the show, but a statement we can get behind, nonetheless).
BABY YODA pic.twitter.com/dbRRUogJHw

— @lushsux (@lushsux) November 22, 2019
The artist, who goes by the name lushsux, received so much positive feedback from the piece that he's since thrown up a couple of other Baby Yoda pieces, too – the first, highlighting Sir Elton John and the beloved soup-sipping version of the little green alien:
Welcome to Melbourne @eltonjohn and baby yoda pic.twitter.com/APRc9w3vuD

— @lushsux (@lushsux) December 9, 2019
And the most recent featuring Keanu Reeves, begging the question: Is it possible to love two creatures this much?
Who is the king of reddit ? pic.twitter.com/JIGCUxKzf0

— @lushsux (@lushsux) December 15, 2019
Even with the first season of The Mandalorian slowly approaching its finale, it doesn't look like Baby Yoda hype is going to die off anytime soon, and now he's being immortalized even further with these amazing art pieces.
Are you caught up on all of Baby Yoda's adorable shenanigans on The Mandalorian? Check out our recaps of the most recent episodes here.