Dad Creates Baby Beer Bong To Help Daughter Drink More (Milk)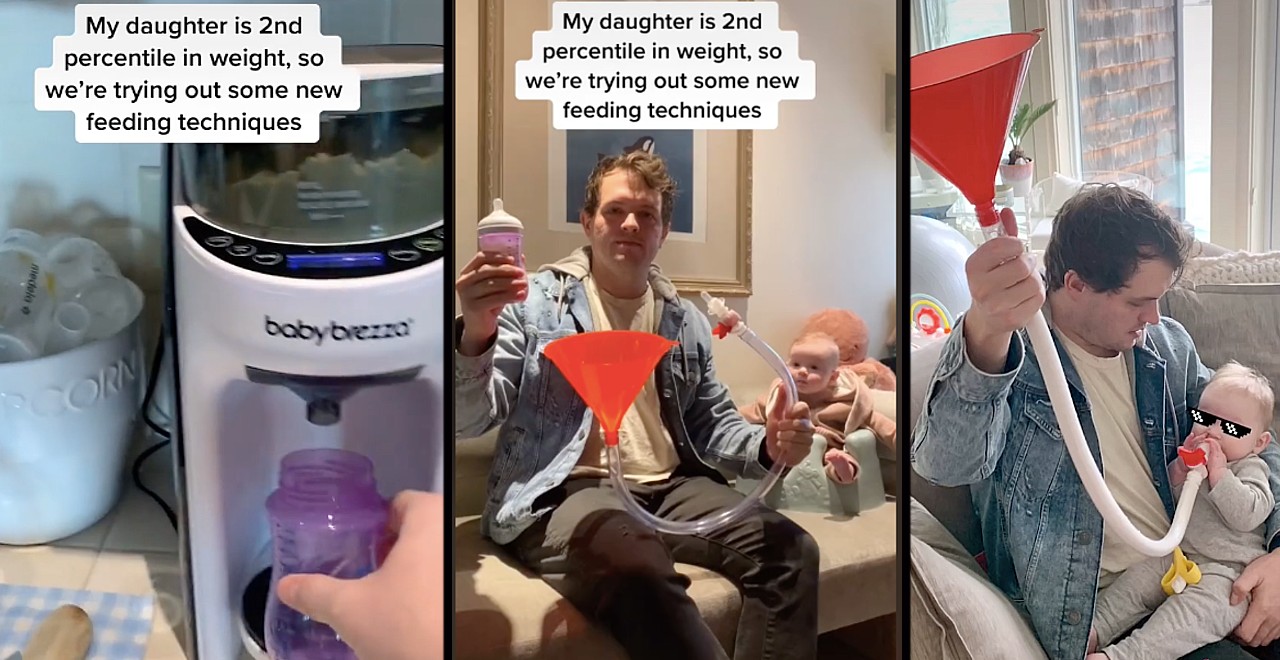 Getting babies to eat can be a challenge. With their schedules filled with important tasks like crying for no reason and vomiting more than they even weigh, there isn't a whole lot of room for eating a balanced diet of Just Milk. Some babies are simply fussy, while others struggle with things like colic that make eating adequately even more difficult. Statistically speaking, some babies have to fill the lowest percentiles in terms of weight. But hearing that news from your doctor is reminiscent of being told you had the slowest mile time in your grade – it feels like a challenge, one that Rudy Willingham was ready to accept.
Rudy Willingham primarily uses his TikTok to share his impressive street art, but fortunately, he made an exception to show off an invention that's both hilarious and seemingly effective.
Willingham's video opens with on-screen text that reads, "My daughter is 2nd percentile in weight, so we're trying out some new feeding techniques."
Sure, ok, sounds reasonable. We watch the baby's milk being expertly prepared by a baby-milk-making-machine (this one is SFW, relax) before the scene cuts to dad and baby, sitting on the couch. The contraption in Willingham's hands looks a little too familiar, a sight that makes our stomachs churn and our heads pound like Pavlov's hungover dogs.
Willingham uncaps the bottle and pours its contents into the baby beer bong, a phrase we never thought we'd have to use. The hungry baby stares dazed and open-mouthed, the exact same way everyone in the world has ever stared at a beer bong. Willingham raises the funnel and offers the plastic nipple at the end of the tube to his daughter, which she readily accepts.
The video ends with the baby happily drinking from her milk bong, the "deal with it" glasses appropriately covering her eyes as we all simultaneously realize that someone who can barely hold her head up is cooler than we'll ever be. Sometimes being a parent means getting creative when it comes to solving problems, and this dad absolutely nailed it.
"Gained a ton of weight this way in college," Willingham said in the video's caption, "so I figured it could do the same for her."