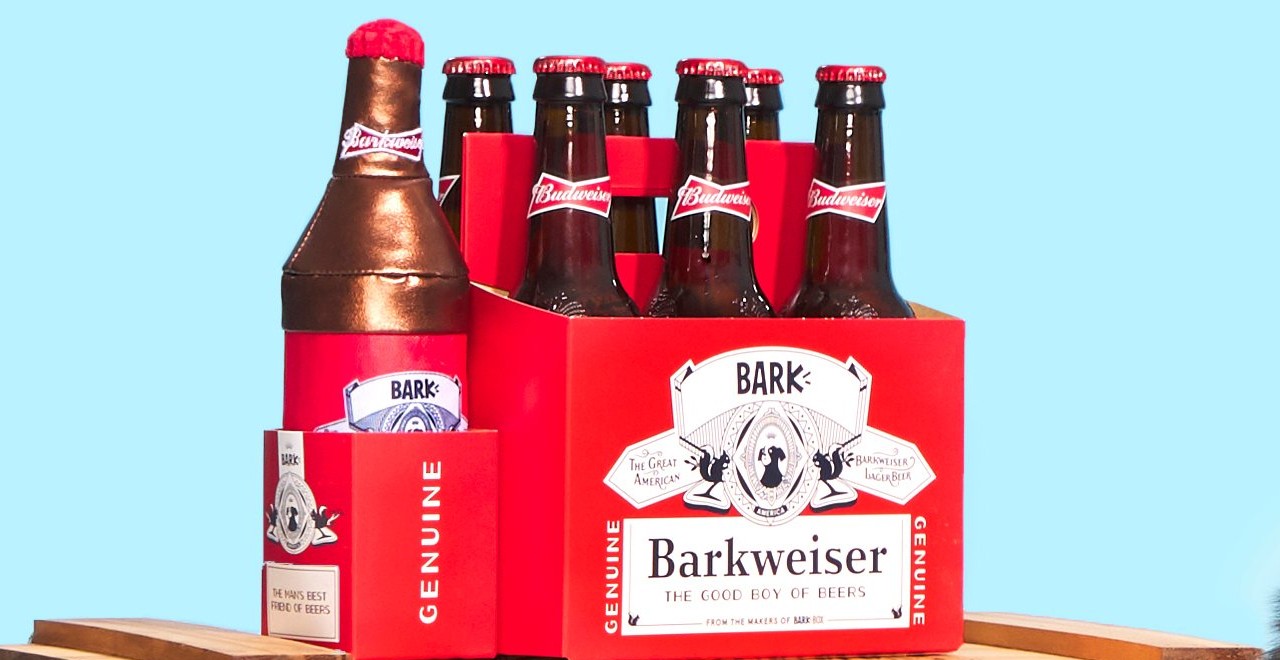 Credit: Twitter/Barkbox
Listen, with bars shut down in many places, and governments imposing curfews and other restrictions until this pandemic ends, our drinking options are limited. But this just means you have to get innovative in how you enjoy a cold one, and maybe the best development has been the attention given to man's best friend.
We've already seen one company develop a dog-friendly "beer" so your pup can throw one back with you, and now Bud Light and BARK have gone a step further and created the "7-pack" to truly elevate a night with your best bud.
HEY! We made a seven pack with our pals at @budweiserusa and @budlight and if YOU want a chance to win one, drop the most RIDICULOUS picture of your dog below. Full disclosure this is 97% me wanting to see 100s of dog pics today but YOU COULD GET SOMETHING, TOO. #BARKWEISER pic.twitter.com/Mu7RCSm1Ub

— BarkBox (@barkbox) December 7, 2020
The 7-pack of "Barkweiser" or "Bark Light" includes six beers, plus one crinkly stuffed dog toy bottle for your pup. He's no longer left out of the hang, as he gets something he'll like, and you get six of something you'll like (or maybe you include another human into the equation).
🚨Giveaway Alert🚨 Our newest innovation Bark Light is here. Post a picture of your favorite dog tagging @budlight with #Barkweiser and #Sweepstakes for a chance to win a Bark Light box from @BARK. pic.twitter.com/5dG7YIvEpM

— Bud Light (@budlight) December 7, 2020
If you're gonna do the 7-pack thing, you gotta do it right, and few places deliver better quality dog toys than BARK, as many owners can attest to. So when you're shopping for your true best friend this holiday season, you can always grab the gift that benefits both of you, as they are available for sale at ShopBeerGear.com.
Also, have you joined us over at The Dad Pets, yet?