Time and time again, we are reminded that we simply do not deserve dogs. They protect us, love us unconditionally, and even fight off sharks so they can continue living every day with their humans. It's no secret that dogs will do just about anything for their people, and they really don't ask for much in return. Some head scratches a few table scraps every once in a while, a small price to pay for their undying loyalty and affection.
The adults who feed and care for them aren't the only ones on the receiving end of a dog's devotion. Parents, children, friends that are over so frequently they should probably be paying rent – the entire household is the family dog's pack, and the drive to protect each and every member is in their blood. Recently, one Wisconsin dog's loyalty was put to the test, and they absolutely nailed (clawed?) it.
Around 6:45 PM Sunday, 3-year-old Abigail Ladwig from Wisconsin wandered out of her house tailing her family's Cocker Spaniel mix, Peanut. As soon as her mom realized Abigail was nowhere to be found, she reported the toddler missing. Every parent's worst nightmare became a reality as hundreds of volunteers showed up to search for Abigail and offer their support.
The Department of Natural Resources led the search, and in just over 24 hours, Abigail was found near the woods not far from her home. How does a 3-year-old survive 24 hours in the woods with nothing more than some scratches and bug bites? Well, because Peanut didn't leave her side. This committed canine stayed with Abigail until she was taken to a local hospital for medical treatment. Any dog owner knows that it doesn't take much more than the promise of food to make a dog take off running, but Peanut knew there were more important things at stake.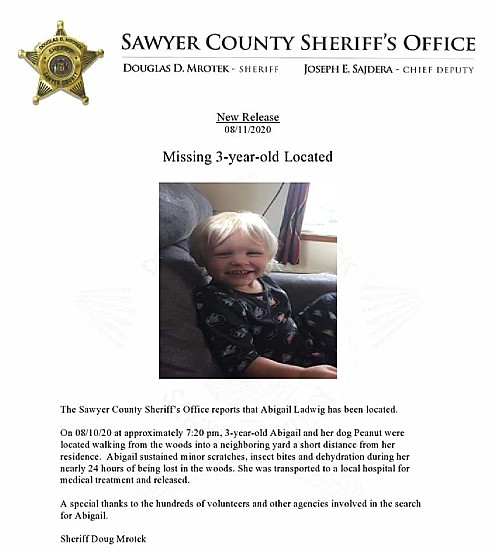 Pat Sanchez, a Sawyer County Search and Rescue coordinator said in a statement, "Thank you to all responders, volunteers who came out to search for Abby and the donations of food and water. It's amazing how in times of need, we all come together for such an amazing outcome."
And a hound of applause to Peanut, who made sure Abigail was safe during the entirety of her unintentional adventure. You're the real MVP (most valuable pupper).