Modern-Day Edison Invents Face Mask That Lets You Drink Beer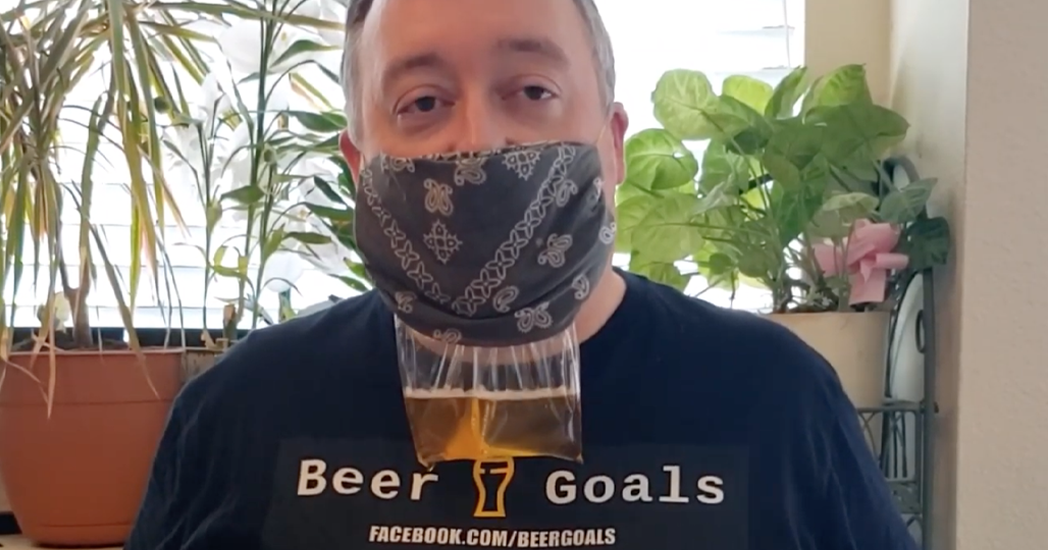 Picture this: you and a friend are catching up from an abiding distance of six feet. You're making meaningful connections through a mutual vulnerability, co-opting grievances with which you've both yet to fully assimilate.
This calls for a cold one.
But wait. You're both wearing protective face masks. Dammit. They are, by very function, obstructing your beer holes. What to do? You could go the It's Always Sunny route:
But if you don't have a hazmat suit on hand, Phil from Beer Goals (the same genius who invented the beer pillow) has you covered with a nifty way to sip beer while wearing a face mask.
What you'll need:
1 sandwich bag
1 straw from a kid's juice box
1 bandana
2 rubber bands
1 delicious beer
the knowledge this is for entertainment purposes only
Simply fill the bag with beer, seal in the straw, fold over the bandana, affix the rubber bands, couple more folds, and voila, those "drink responsibly" disclaimers take on a whole new life.
This, of course, just a silly fun thing, and should not be used in place of any real personal protective equipment. "The only thing this is gonna really protect you from is being sober," Phil admits. "The only thing we're not social distancing is this beer from going in my mouth. Am I right?"
You can check out Phil's beer Facebook page right here!
Here at The Dad, we hope you, your families, and communities stay safe and healthy during the COVID-19 pandemic. For the latest information, please utilize online resources from local public health departments, the Centers for Disease Control, and the World Health Organization to remain as informed as possible.