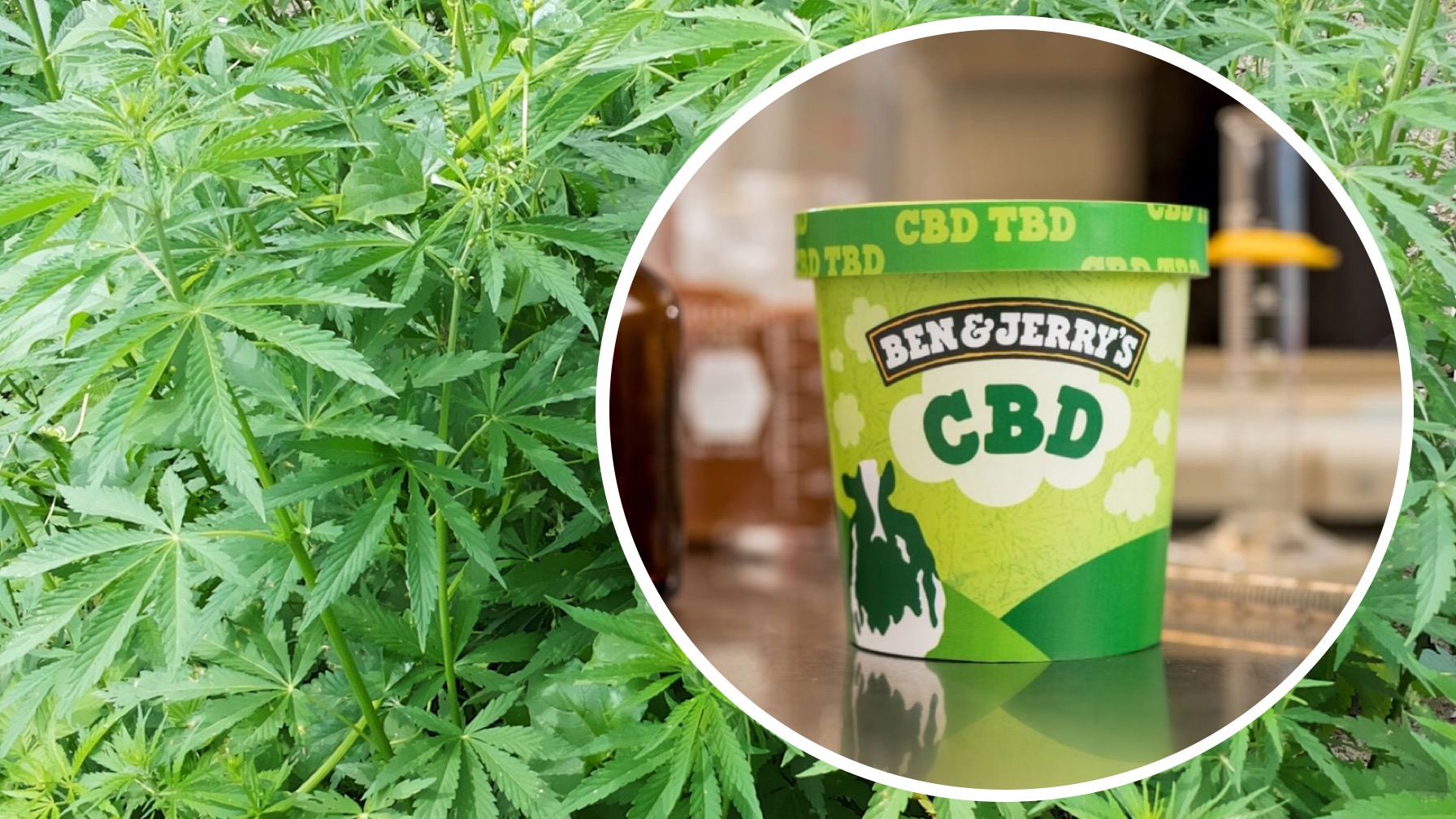 Credit: Instagram/Ben & Jerry's
Ben & Jerry's is already known for their goofy names and extravagant flavors, but now they're ready to take things to the next level by infusing their delicious products with cannabis. Well, technically, with CBD oil, the non-psychoactive compound found in cannabis and hemp products.
"Currently, the FDA prohibits adding CBD to food and beverages," Ben & Jerry's said in a statement. "But change is on the horizon: They've set a public hearing on the legalization of CBD-infused foods and beverages for May 31, and we've submitted a comment to them in support of legalization."
While the CBD treat isn't lining freezer shelves quite yet, the Chunky Monkey company wanted everyone to know their stance regarding the possible upcoming change in legislation.
CBD products—drinks, candies, oils, etc.—have exploded in popularity recently, with sales more than tripling between 2014 and 2017, to $367 million. They don't provide a psychoactive "high" due to a lack of THC, and many users claim that they're helpful in treating a wide range of health issues such as anxiety and inflammation.
Granted, these reviews are highly anecdotal, varying quite a bit in regards to dosing and products being utilized, which is why FDA regulation is so important.
It's also unlikely that the new ice cream will contain enough CBD to even have a noticeable effect, but this is a political move more than a medicinal one. Ben & Jerry's has long been a proponent for the legalization of cannabis consumption, and they definitely understand their target demographic.
"We're doing this for our fans," Ben & Jerry's CEO Matthew McCarthy said in a press release. "We've listened and brought them everything from Non-Dairy indulgences to on-the-go portions with our Pint Slices. We aspire to love our fans more than they love us and we want to give them what they're looking for in a Ben & Jerry's way."
We appreciate the substantial public contribution to the in-person cannabis/CBD meeting today at FDA. Getting started now with our first presentations. Webcast link here: https://t.co/horyXH8Sdy pic.twitter.com/vtU2C3H8Zv

— Dr. Amy Abernethy (@DrAbernethyFDA) May 31, 2019
After the Food and Drug Administration hearing on May 31, FDA Deputy Commissioner Amy Abernethy summed up the main points on Twitter: "Key questions about product safety need to be addressed. Data are needed to determine safety thresholds for CBD…There are both positive supporters of cannabis-cannabis derived products including CBD and also concerned citizens worried that widely available products can be harmful."
The FDA has now set a deadline of July 2 for written comments on the issue.
So, while definitely still a possibility, it will probably be a while until anyone gets their hands on B&J's newly teased flavor. . . though plain old cannabis-less ice cream is still doing wonders for my mental health all by itself, so I don't mind waiting.