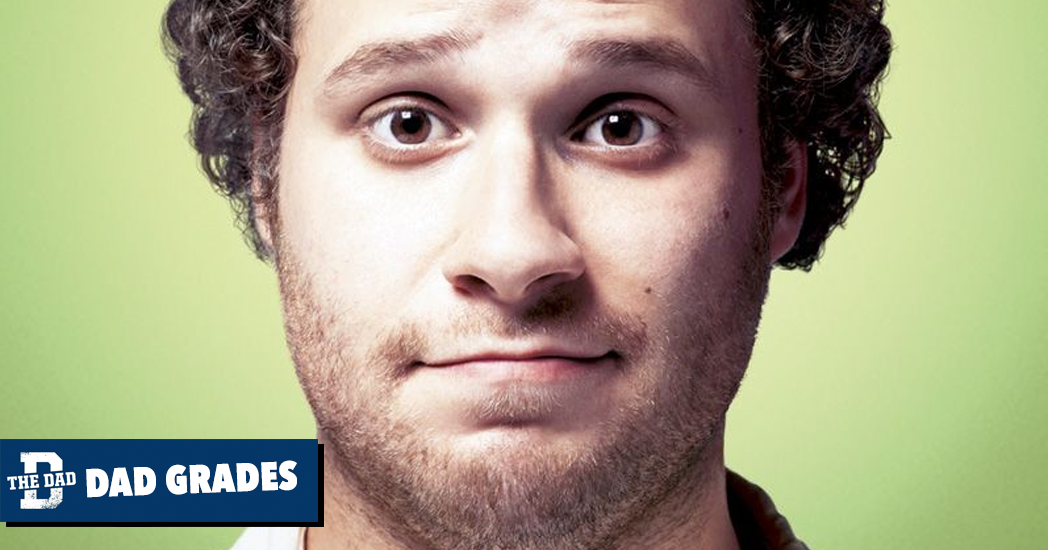 Credit: Universal Pictures
Fatherhood hits you like a ton of bricks. One minute you're chilling with the boys, smoking Js and duking it out Gladiator-style by the pool. Next thing you know, it's 3 am and you're elbow deep in a dirty diaper.
Knocked Up tells the story of that magic transitional period when every dad must come to grips with the incalculable amount of responsibility that comes with raising a child. Let's see how Seth Rogen's character, Ben Stone, handled that nine months of subdued panic.
WEAKNESSES
It feels unfair to highlight Ben's weaknesses, as his rampant immaturity serves as the stasis for our story. Ben spends his days getting high and riding roller coasters with his buddies who all have the same first names as the actors who portray them.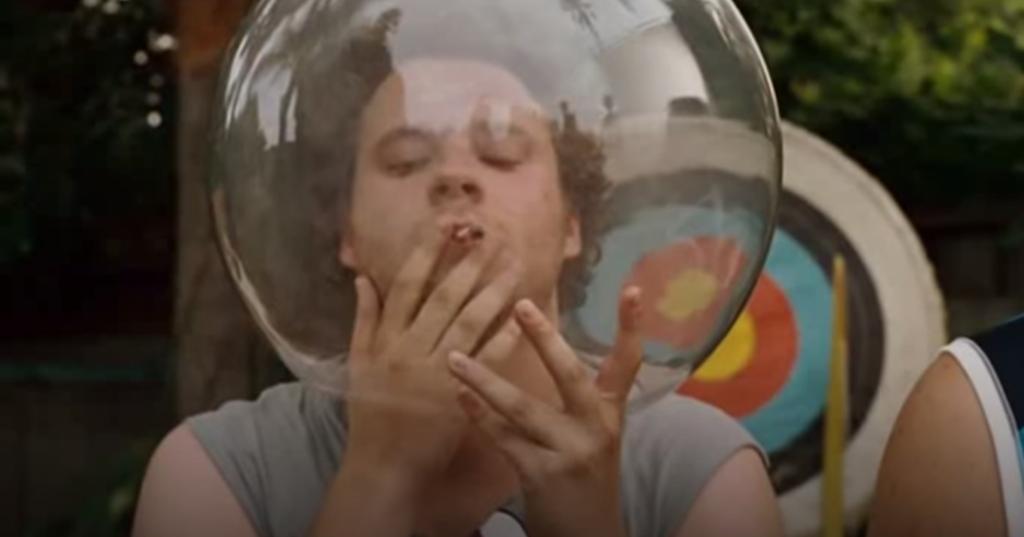 Beyond aspirations of a website that graciously indexes nudity in popular cinema, Ben has no goals. No prospects. No foreseeable plans to grow up. He smokes a lot of weed, much to the chagrin of Alison, the career-minded gal tasked with carrying his unborn child.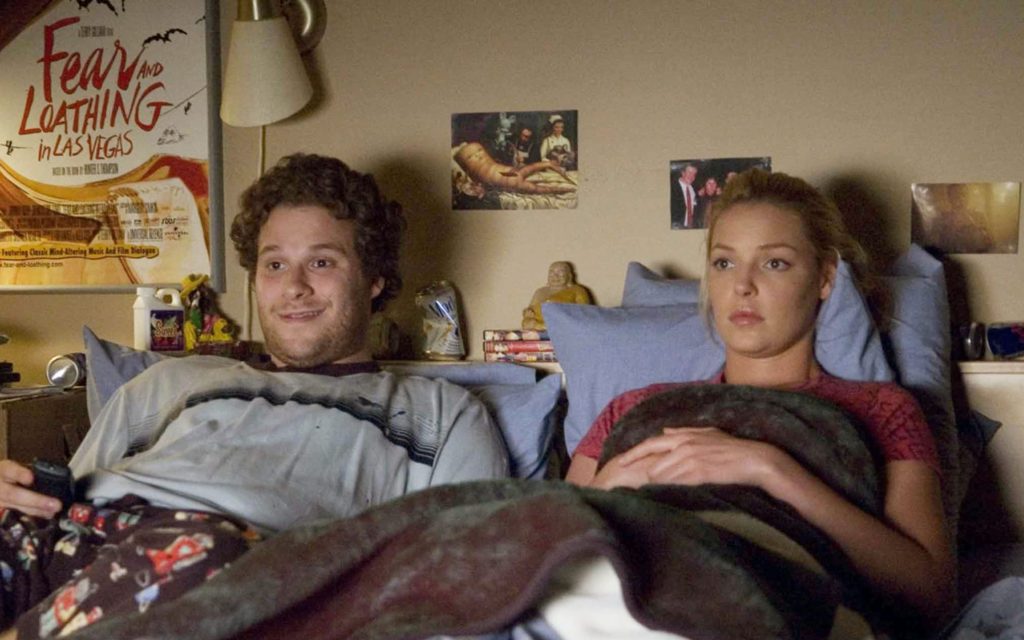 He's laid-back to a fault, which is necessary for the sake of his character arc. It's just not as fun to watch a guy with his shit together shop for onesies and attend Lamaze class. Ultimately, despite his arsenal of man-child tendencies, Ben is quite lovable. Which brings us to…
STRENGTHS
Ben tries. If there's one thing for sure, it's that Ben's giving this pregnancy everything he's got. He goes with Alison to the doctor. He proposes, albeit with an empty ring box. It takes a harsh reality check near the end of act two, but he even eventually gets around to reading What To Expect When You're Expecting. For a pothead, Ben really does put forth quite the effort.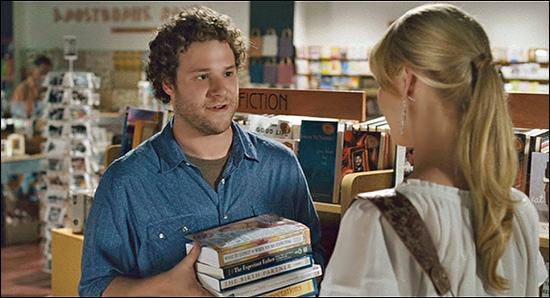 Ben is also incredibly funny, which is ideal for any expecting father. With hormones firing on all cylinders, it's of the utmost importance to keep things light and playful when possible. Dads are also notoriously bad dancers, so Ben's got that on lock with his patented Dice Throw.
Some of the movie's most tender, heartfelt moments are when Ben grabs lunch with his dad, portrayed lovingly by Harold Ramis. Ben's dad is exuberant about the idea of getting a grandkid and passes down all the fatherly wisdom you'd like to imagine Harold Ramis himself possesses. Ben obviously loves his dad, and clearly aims to be as good a one as he's been.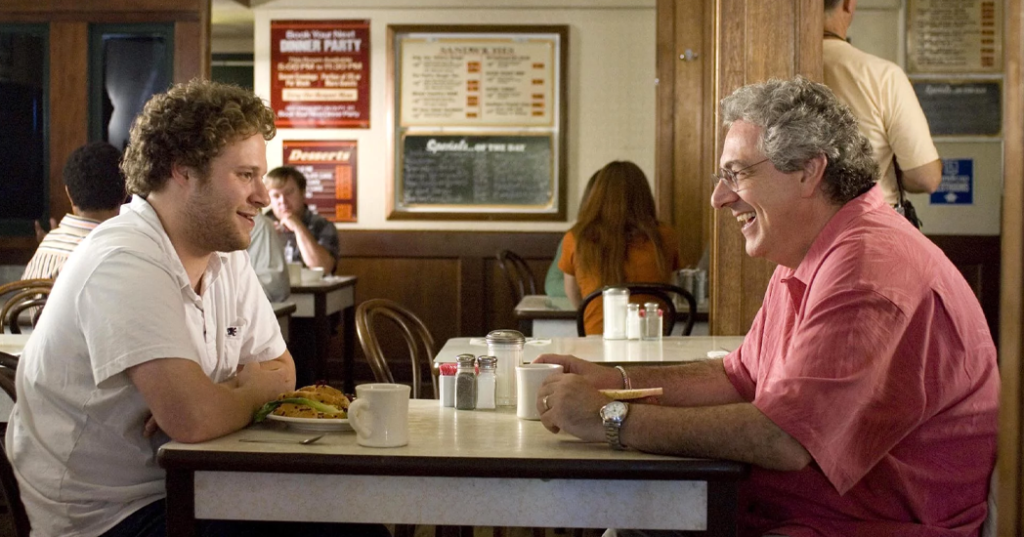 Another cool thing about Ben is that, if he's your dad, you have Jonah Hill, Jason Segal, Paul Rudd, and several other hilarious dudes in the role of uncle. Who wouldn't want this at their first birthday party?
VERDICT
Ben Stone is every dad. Your world stops spinning the moment you first hear "I'm pregnant," whether you're an investment banker or a stoner with dreams of cataloging movie nudity. Knocked Up perfectly illustrates that nine months of mounting responsibilities, uncertainties, fears, and excitement. And we think Ben Stone did one hell of a job sticking it out to the joyous end.
FINAL DAD GRADE: A-
Check out our previous edition where we graded Walter White from Breaking Bad..