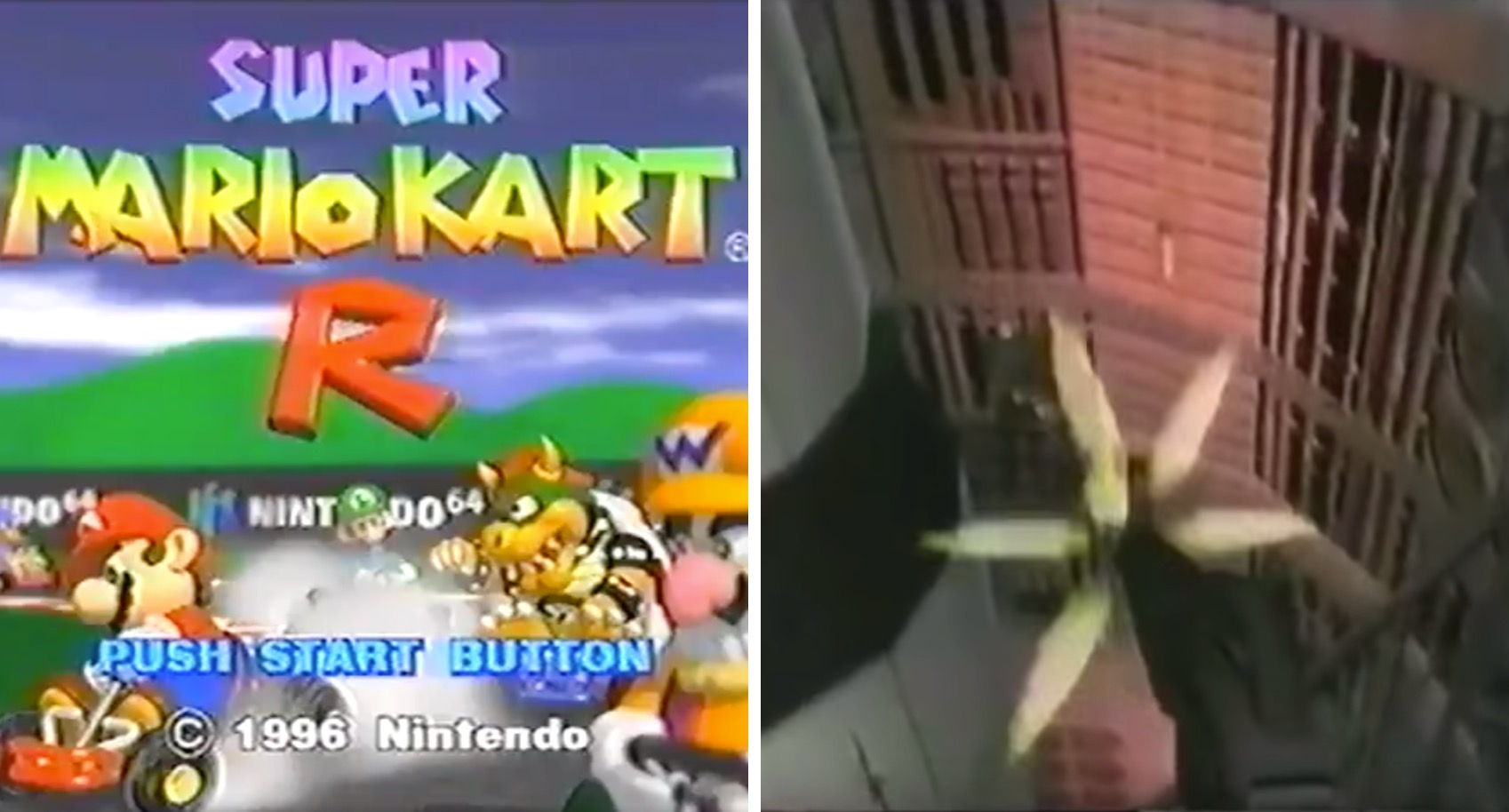 Credit: Twitter/forestillusion & YouTube/GoldenCube007
The late-90s was a magical time for video gaming—more specifically, the Nintendo 64. So many of us have fond memories of grabbing that ridiculous three-pronged controller and going ham against our friends with our poorly rendered polygonal heroes.
It was such a revered time for gamers, in fact, that news and footage of beloved N64 games are still being unearthed to this day.
Just last week, Twitter user Forest of Illusion shared an alternate Mario Kart 64 theme and title screen that had people buzzing.
Fun fact: For the early prototype builds of Mario Kart 64, Nintendo used this theme for the title screen of the game. The theme was likely used as a placeholder throughout development and first created for use in a 3D demo by SGI. (The company who developed the chip set for N64). pic.twitter.com/fmLtTRKE9G

— Forest of Illusion (@forestillusion) April 28, 2019
The little ditty is from a prototype of the game titled Super Mario Kart R and likely never intended to be more than a simple placeholder song. While it doesn't hold a candle to the kickass theme music of the final version of the game, it's a fun peek at the creators' vision at an earlier stage.
Always in contention with Mario Kart for the G.O.A.T. Nintendo 64 game, GoldenEye 007 was back in the news this week with early found footage, too.
The promotional video features a very different game compared to the final product, and all in the explosive style we came to expect from video game commercials in the 90s.
Goldeneye vets will notice that there isn't an elevator like that in the "Silo" mission featured here, not to mention the player movement feels totally off.
This is due to the on-rails shooting mechanic featured in early versions of the game. It wasn't until famed game developer David Doak (who you'll also recognize as the lead scientist in the "Facility" mission) joined the team that the game ditched this format for the free-roaming MI6 agent we know and love.
Early demo footage of #GoldenEye007 (from before I joined the team). At this point the player movement was automatic and followed a scripted spline path. The original design was that the game would be more like Virtua Cop / Time Crisis. https://t.co/ycrbkeQ8eM

— David Doak (@drdoak) April 29, 2019
Given the hours and—let's be honest—childhoods spent with these incredible games, finding previously unseen footage is like getting a free little nostalgia injection right in our dorky little hearts.
Which classic N64 title always had you coming back for more? The multi-colored turtle shell goodness of Mario Kart 64 or the high-octane, proximity mine-filled chaos of GoldenEye 007?