Bill and Ted 3: Casting, Plot Details and Most Excellent Set Photos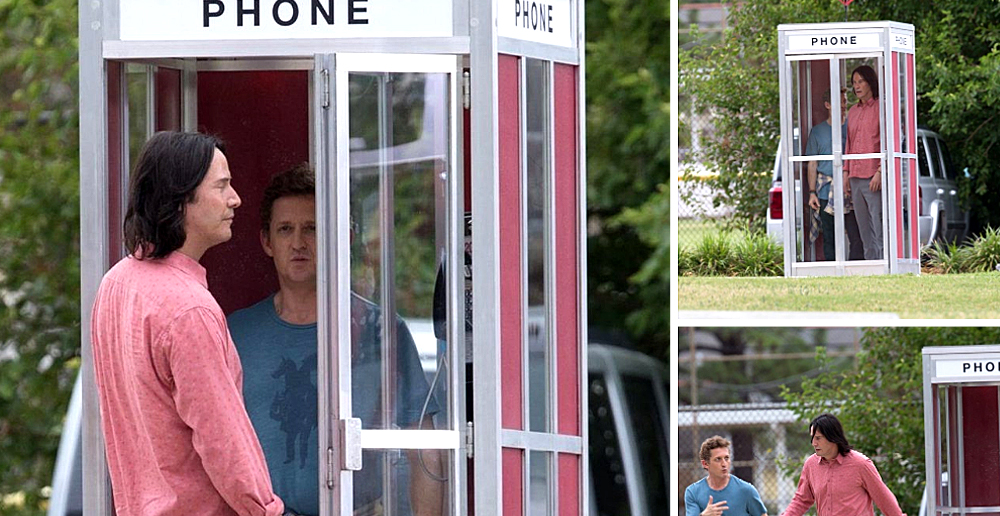 A few months ago, Alex Winter and Keanu Reeves officially announced that they were making another sequel to the 80s classic Bill and Ted's Excellent Adventure.
Set many years after Bogus Journey, the third movie, titled Bill & Ted Face the Music, will complete the trilogy with Bill and Ted well past the goofy stoner high school students they were in the original.
This time, the Wyld Stallyns are not only middle-aged, but they're also dads. (Excuse me for a moment while in sit here feeling old AF.) They each have a daughter: Brigette Lundy-Paine is billed as Billie Logan and Samara Weaving will play Thea Preston.
The Wyld Stallyns are grown up, and they now have children of their own. #BillAndTed3 finds daughters for 'Face the Music' https://t.co/VXOIBcjrpX pic.twitter.com/4nAmFpxp4u

— Hollywood Reporter (@THR) June 5, 2019
Now that the movie is officially filming, more and more news is trickling out. Including the shocking fact that the typically-bearded Keanu is going clean-shaven to reprise one of his most famous roles.
I hadn't thought of him playing Ted as clean-shaven! I mean, he's gorgeous either way, but… I have so many feelings right now. ???????? Keanu Reeves spotted on first day of filming Bill and Ted 3 https://t.co/SuWgmO60X9 via @DailyMailCeleb

— keanu_is_my_muse (@keanu_muse) June 29, 2019
There's also the return of fan favorites Missy, Bill (and then Ted's) hilariously youthful stepmom.
The stellar news continues! Amy Stoch and Hal Landon Jr. will reprise their roles as Missy and Chet Logan, and @becbenit joins the cast as Deacon Logan! Who's ready to #FaceTheMusic? ????⚡️ https://t.co/ZcKvetPjLS

— Bill & Ted 3 (@BillandTed3) June 27, 2019
Beck Bennett from SNL is joining as Ted's brother, comic dynamo Jillian Bell is playing the family therapist, and the hilarious Anthony Carrigan, NoHo Hank from HBO's "Barry" will be playing the villain. Musician Kid Cudi (Scott Mescudi) also joins the cast, perhaps as the final element necessary for the Wyld Stallyns to write their world-saving song.
A handful of set videos and photos have sprung up in the last few days. One of them features a phone booth (those still exist?!) so we know strange things are afoot, but can't definitively say it happens at a Circle K.
Keanu Reeves and Alex Winter Filming ????Bill and Ted 3 in New Orleans – by @HlywdPipeline

July 2 2019 in #neworleans #billandted3 #keanureeves #alexwinter #nola
00:24 video on YouTube ????https://t.co/6Whrl5Dps8 pic.twitter.com/VLlqmbVZFJ

— Keanu Planet (@keanuplanet) July 2, 2019
It also appears as though the Wyld Stallyns will have a Jimi Hendrix experience.
DINNER IS SERVED, bts pics of bill and ted 3 ???????????????? pic.twitter.com/U1mVNENEnH

— ???????????????? *:・゚✧ (@bodaciouskeanu) July 2, 2019
Plot-wise, the movie will see Bill and Ted reckoning with their unfulfilled potential. Bill and Ted are struggling with the destiny their pal Rufus (George Carlin, RIP) laid on them 30+ years ago. They're supposed to make music that saves the world, but instead, they're stuck living boring adult lives. They travel back in time to observe their younger selves after a visitor from the future tells them their as-of-yet unwritten song will bring peace and harmony to the universe.
Screenwriter Ed Solomon (who returned to co-write the script with Chris Matheson) promised that old footage of Rufus and the Circle K will be used. So maybe we'll get some George Carlin after all!
With the original cast returning, the original screenwriters penning the script, and a fun time-travel-based premise, we should all have the August 2020 release date circled on our calendars.