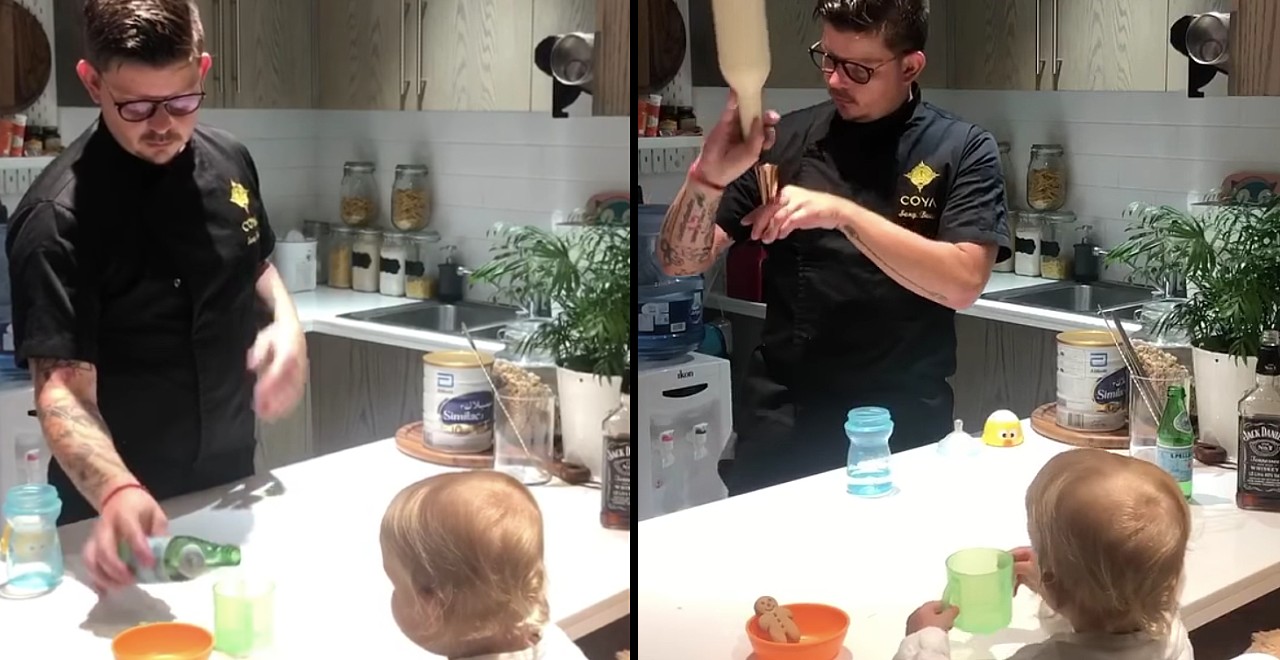 Credit: Instagram/sanybacsi
People often say that breakfast is the most important meal of the day, but until now, I just didn't buy it. Seeing Sany Bacsi make his 18-month-old son Sasha the fanciest bottle of formula in the history of reconstituted food made me completely reevaluate my stance on a morning meal. A couple of months ago, Sany shared the incredible breakfast video to his personal Facebook page, and people couldn't get enough. In just a week, the video accumulated over 300,000 views. This is obviously not your typical breakfast – Sany, who has spent over 15 years working at bars in several countries, has developed some pretty impressive skills. In the increasingly popular video, Sany uses his bartending skills to make a show-worthy bottle of formula, much to the delight of his adorable son, Sasha.
Sany told The Dad, "you can barely see it in the video but Sasha was constantly talking to me 'demanding' and 'instructing' what to do. He only speaks in his own language yet so this is only an assumption but the tone of his voice and the gestures were unmistakable. 'Pour me more!!', 'Give me the bottle!!'"
In the video, we see Sany approach a seated Sasha from the other side of the table, like a bartender noticing a new patron. The song "Booty Swing" by Parov Stelar plays in the background as Sany begins to give his tiny customer the best service of his life. Tossing a bowl and a cup from one hand to the other before presenting Sasha with his finest S.Pellegrino. Sany then begins to make Sasha's drink of choice (or drink of circumstance), his formula.
Swiftly and gracefully, Sany gets to work. He sends the bottle spinning through the air before catching it with his other hand, and displays the top-label formula powder like a fine bottle of wine. He then uses a double jigger to measure out the water (which, of course, is stored in a liquor pourer). Sany scoops in the formula powder stopping occasionally to do a little dance, much to the delight of his toughest customer. Every good thing must come to an end – after giving the bottle a good shake, Sany takes a small taste of his finished product. He puffs his chest with pride, giving Sasha a thumbs-up and admiring his handiwork before sliding the bottle over to the 18-month-old. Sany gives a small but humble bow before gesturing to someone off-camera as if he just noticed another customer was waiting.
Sany's grace and mastery comes from years of working behind bars, as well as in the field of hospitality. "The moves and gestures in this video are all-natural and have been developed little by little almost unintentionally in the past decade," Sany told The Dad. "Over the years I surely mastered how to make cocktails, but I also learned how to juggle a little bit and do magic tricks, I learned how to tell jokes or how to keep all sort of people entertained." Including toddlers, apparently.
Outside of his home, Sany still makes use of his impressive skills. Originally from Hungary, Sany now lives in Dubai but travels regularly for his job as the Global Bar Manager of a Latin American Lifestyle Restaurant called COYA. When he's home, he spends his time with Sasha and his wife. Sasha is quickly becoming his little assistant, much to Sany's delight. "He's enjoying very much everything that feels like an adult task from his perspective, like unpacking grocery bags," Sany explained, "all cleaning activities fascinating him for some reason and he loves to assist -in his own way."
Hopefully, this means we can expect more videos from this dream team in the near future. Follow Sany on Instagram for the latest updates.