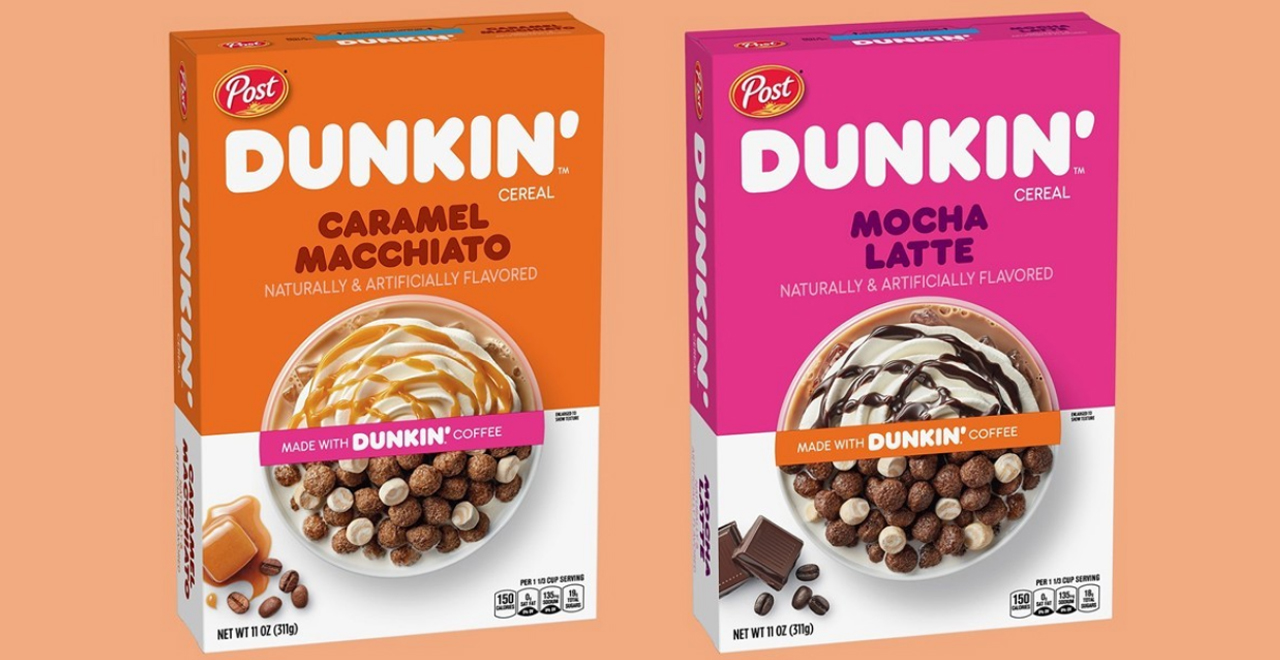 Credit: DUNKIN'
In an ideal world, I'd start every day with a bowl of 90s inspired cereal and 25 cups of coffee. But seriously, who has time for that? Pouring three separate things into two separate containers is way too much work when you're rushing around and trying to start your day. We've all tried pouring the cereal directly into the coffee, but it just doesn't hit the spot like a refreshing bowl of cold milk. Dumping cereal into the filter for some cereal-infused coffee leaves us longing for something crunchy. There has to be a better way!
The people at Dunkin' and Post apparently heard our desperate pleas, because they've joined forces to give us exactly what we've been missing. That's right – coffee-flavored cereal. These game-changing cereals will be coming to cereal aisles everywhere in the very near future, and each serving contains a tenth of the caffeine of one cup of coffee. We don't need a calculator for that math, we know we'll need a solid ten bowls each morning to get that pep in our step.
And finally, some common ground for mocha and caramel people – this Dunkin' cereal features two flavors, caramel macchiato and mocha latte. The cereals both have a chocolate base, but the mocha latte flavor features latte-swirled marshmallows while the macchiato version's marshmallows contain a light caramel swirl.
Post brand manager Josh Jans said in a press release, "Coffee and cereal are the ultimate breakfast go-tos, ranking as the top two most consumed items to help people start their day. Dunkin' coffee is a daily ritual for Americans, and we're excited to be partnering with them to indulge their fans' coffee cravings. Getting the flavor right on our new cereals was a top priority, and we think we've nailed the rich, smooth and creamy taste."
I, for one, can't wait to streamline my breakfast process. Here's hoping a Monster Energy-Infused bagel is up next!