Breaking Bad Beer "Schraderbrau" Is Brewing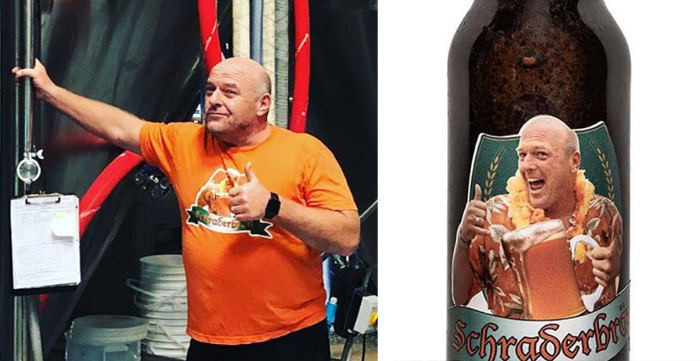 If you watched Breaking Bad, or even know what it's about, you already know that not everyone made it out of the series alive. But one thing that did survive, and will be coming soon to a package store near you, is the beer that Hank Schrader, Walter White's brother-in-law and DEA adversary, brewed in his garage.
Hank, who started the show as a kind of blustering macho man and ended it as a tragic figure blindsided by how close he was to Heisenberg, had his hobbies. One was collecting rocks and shit, another was brewing his own beer. And now you'll get to taste it!
The Blast did some sleuthing and discovered that Sony Pictures Television, the studio behind Vince Gilligan's landmark TV series, has filed papers to trademark "SCHRADERBRAU," the cheesy name that Hank gave to his homebrew. Making things explicit, Dean Norris, the actor who portrayed Hank on the show, has been teasing the product on his Instagram account.
Last week, he shared a video of himself inside a meth lab, sorry, a brewery, in which he says, "Just brewing up some ideas if you know what I'm saying." The actor then laughs while treating followers to a quick look at the brewery before finally saying, "Schraderbrau: brewed to silky perfection."
View this post on Instagram
So you may not be a meth kingpin or a DEA agent, or enjoy breakfast, or love Stevia in your coffee, but you'll be able to get a taste of what it's like to live inside Walter White's world when the beer hits the market. Hell, if you drink enough of it, you might even find yourself hallucinating that very scenario!
No one yet knows when the brew will arrive in stores, but the smart money is on the roll-out coinciding with the release of the forthcoming Breaking Bad movie, which will hit AMC and Netflix at some point in 2019 – presumably.