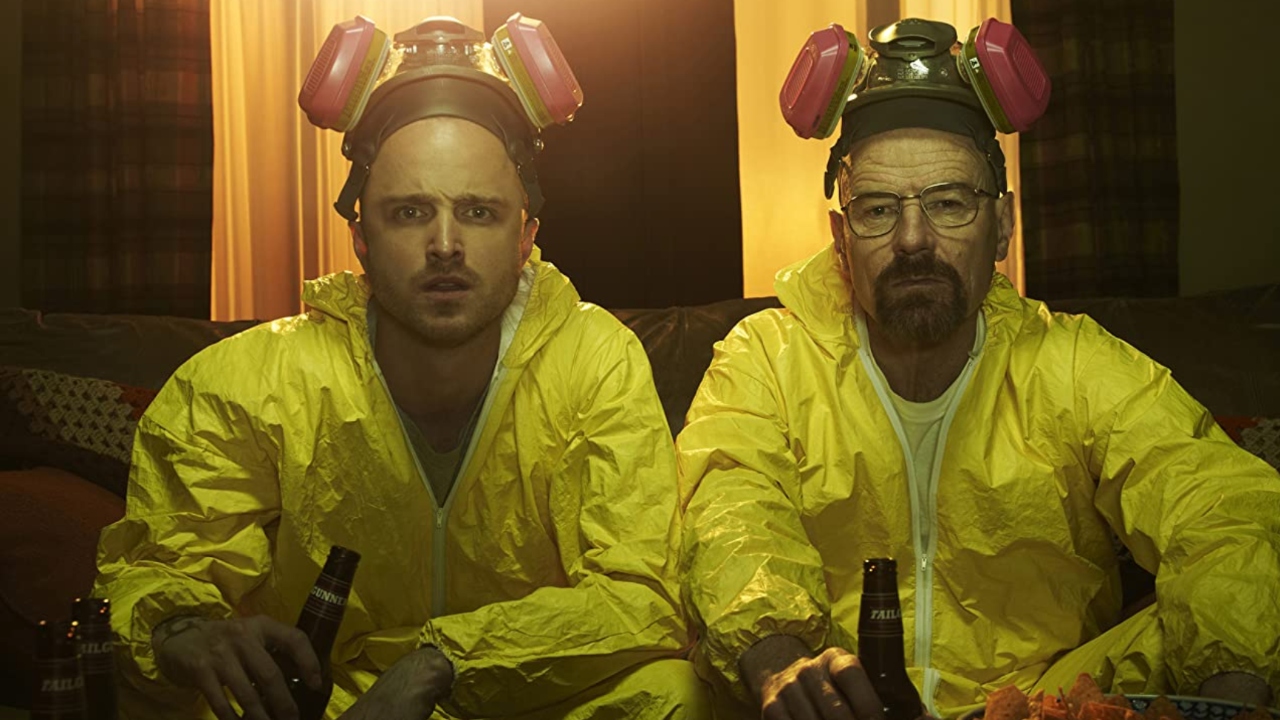 Credit: High Bridge Productions
One, maybe twice, in a lifetime, a network will happen upon a show that is pure genius. A good show will hook its claws into viewers from the very first episode, much like shows like Friends or Mad Men did. It'll offer something relatable but also offer an escape. Breaking Bad was just that show. On the surface, it was a about a dude named Walter White (Bryan Cranston) cooking meth. Something most Americans can't relate to and probably look down on. In the very first episode, though, we met a very different man. We met a middle-class science teacher with cancer, crushing debt, with a healthcare system and government not keen on helping him. We met a man who only wanted to provide a decent life for his family and not be a burden. Now that is definitely relatable.
From there, we watched Walt learn to utilize the scientific knowledge he already had and use a connection with a hoodlum named Jesse (Aaron Paul). Soon, Walt was running a drug empire. Did he do some seriously sketchy shit? Yes, sir. But, he did it in the name of love… and survival. (Uh… mostly.) Who can fault a guy for that? Breaking Bad was a raging success and when it ended, many viewers were left absolutely crushed. Years later, we're still talking about those final moments.
And, of course, years later we're still quoting the show. If you're looking to go down memory lane, these are some of our favorite quotes from Breaking Bad.
Perfect Breaking Bad Quotes From Walter White Himself
1. "I have spent my whole life scared, frightened of things that could happen, might happen, might not happen, 50-years I spent like that."
2. "Finding myself awake at three in the morning. But you know what? Ever since my diagnosis, I sleep just fine."
3. "What I came to realize is that fear, that's the worst of it. That's the real enemy. So, get up, get out in the real world and you kick that bastard as hard as you can right in the teeth." –
4. "Well, technically, chemistry is the study of matter. But I prefer to see it as the study of change."
5. "Is this just a genetic thing with you? Is it congenital? Did your… did your mother drop you on your head when you were a baby?"
6. "You clearly don't know who you're talking to, so let me clue you in. I am not in danger, Skyler. I am the danger. A guy opens his door and gets shot, and you think that of me? No! I am the one who knocks!"
7. "I mean, it's just… it's the constant, it's the cycle. It's solution, dissolution, just over and over and over. It is growth, then decay, then transformation. It is fascinating, really."
8. "Right now, what I need is for you to climb down out of my ass. Can you do that? Will you do that for me, honey? Will you please, just once, get off my ass? You know? I'd appreciate it. I really would."
9. "Walter Jr., you're my big man. There are going to be some things that you'll come to learn about me in the next few days. But just know that no matter how it may look, I only had you in my heart. Goodbye."
10. "I did it for me. I liked it. I was good at it. And, I was really… I was alive."
11. "I have lived under the threat of death for a year now. And because of that, I've made choices."
12. "Jesse, you asked me if I was in the meth business or the money business… Neither. I'm in the empire business."
13. "We tried to poison you. We tried to poison you because you are an insane, degenerate piece of filth and you deserve to die."
14. "Say my name."
15. "There is gold in the streets just waiting for someone to come and scoop it up."
16. "We're done when I say we're done"
17. "If you don't know who I am, then maybe your best course would be to tread lightly."
18. "Fuck you and your eyebrows."
19. "Smoking marijuana, eating Cheetos, and masturbating do not constitute plans in my book."
Breaking Bad Quotes From Jesse Pinkman… Bitch!
20. "Did you know that there's an acceptable level of rat turds that can go into candy bars? It's the government, jack."
21. "Ah, like I came to you, begging to cook meth. Oh, hey, nerdiest old dude I know, you wanna come cook crystal? Please. I'd ask my diaper-wearing granny, but her wheelchair wouldn't fit in the RV."
22. "We're all on the same page. The one that says, 'If I can't kill you, you'll sure as shit wish you were dead.'"
23. "Some straight like you, giant stick up his ass, age what, 60? He's just gonna break bad?"
24. "Even the government doesn't care that much about quality. You know what is okay to put in hot dogs? Huh? Pig lips and assholes. But I say, hey, have at it bitches 'cause I love hot dogs."
25. "Yeah, Mr. White! Yeah, Science!"
26. "This is my own private domicile and I will not be harassed… bitch!"
Our Favorite Saul Goodman Quotes From Breaking Bad
27. "Scientists love lasers."
28. "Congratulations, you've just left your family a second-hand Subaru."
29. "Sending him on a trip to Belize."
30. "I once told a woman I was Kevin Costner and it worked because I believed it."
31. "Hey, I'm a civilian! I'm not your lawyer anymore. I'm nobody's lawyer."
32. "I'm not saying it's not bad. It's bad. But it could be worse."
33. "The fun's over. From here on out, I'm Mr. Low Profile. Just another douche bag with a job and three pairs of Dockers. If I'm lucky, a month from now, best-case scenario, I'm managing a Cinnabon in Omaha."
34. If you're committed enough, you can make any story work."
More Breaking Bad Quotes From Everyone Else
35. "The moral of the story is…I chose a half measure when I should have gone all the way. I'll never make that mistake again. No more half measures, Walter." – Mike Ehrmantraut
36. "You are not the guy. You're not capable of being the guy. I had a guy, but now I don't. You are not the guy." – Mike Ehrmantraut
37. "Just because you shot Jesse James, don't make you Jesse James." – Mike Ehrmantraut
38. "This kicks like a mule with its balls wrapped in duct tape!" – Tuco Salamanaca
39. "You know what Walt? Someone needs to protect this family from the man who protects this family." – Skyler White