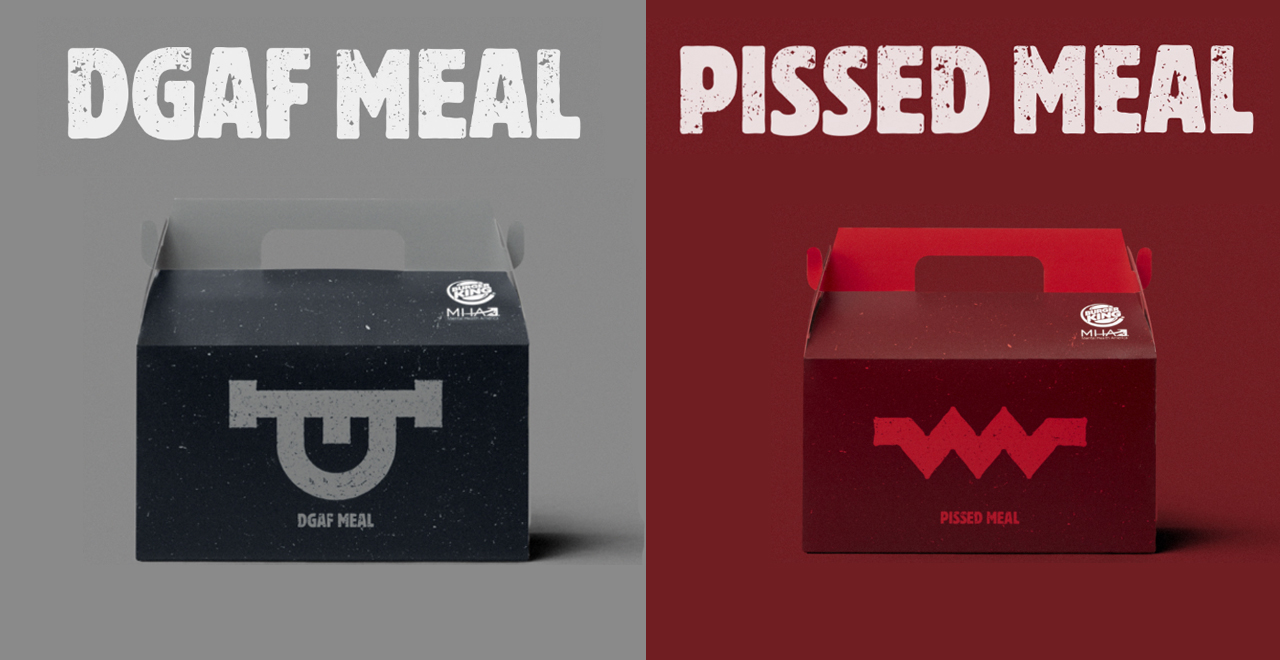 Credit: Burger King
Burger King, the fast food giant known for the Whopper® and the long ass chicken sandwich, has launched a brand new campaign for Mental Health Awareness Month.
Dubbed "Real Meals", an obvious shot at rival McDonald's infamous "Happy Meal", the chain says the boxes are designed to better represent a range of moods including the Pissed Meal, Blue Meal, Salty Meal, Yaaas Meal and of course, the DGAF Meal.
While the boxes may differ, the contents all consist of a Whopper, french fries, and a drink.
"Burger King restaurants understands that no one is happy all the time. That's why they're asking guests to order a Whopper meal based on however they might be feeling," the company said in a release.
They have even posted an ad on YouTube showing people in various emotional states, that ends with the message: "No one is happy all the time. And that's OK."
While fast food and mental health may seem like an odd match, Paul Gionfriddo, president of Mental Health America who partnered with BK for the project, says any way to raise awareness is a win.
"By using its internationally-known reputation to discuss the importance of mental health, Burger King is bringing much-needed awareness to this important and critical discussion — and letting its customers know that is OK to not be OK."
Mental Health America, which launched in 2014, says if someone is concerned about their mental health, one of the simplest steps to take is to take an online screening. Today, MHA collects around 3,000 screenings daily, a number they hope increases thanks in part to this campaign.
The partnership represents Burger King's first foray into a serious mental health issue, however, it's certainly not their first time feeding the flames of their rivalry with McDonald's.
Last year, the company released a special deal via their app that targeted customers within 600 feet of a McDonalds, unlocking a special "Whopper for a penny" deal.
The promotion was a huge success.
As for the "Real Meals", they are available now for a limited time only at BK locations in Seattle, Miami, Los Angeles, New York City and Texas, while supplies last.