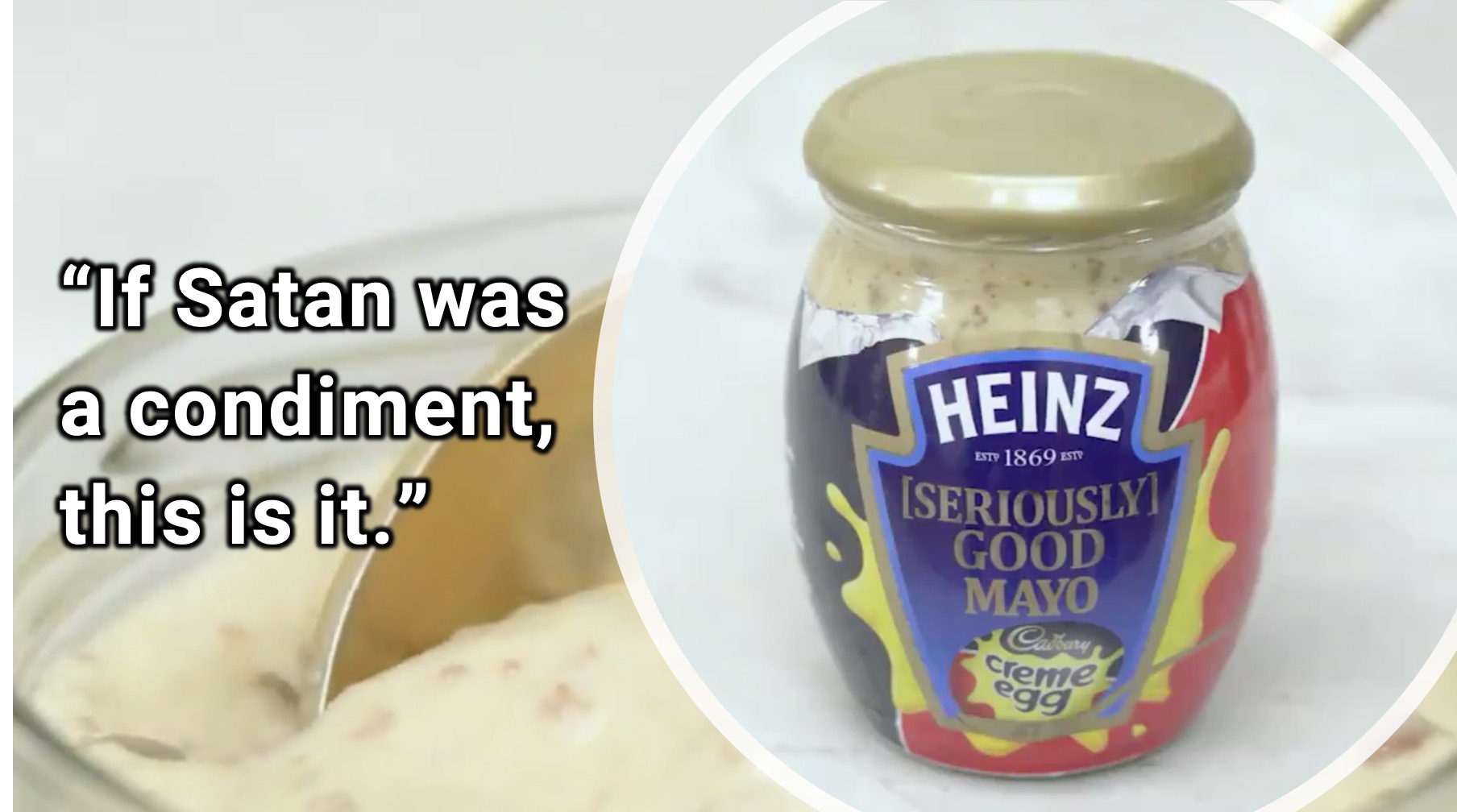 Credit: Twitter/heinzmayo
With a very egg-centric holiday on the horizon, it's time again that the folks over at Cadbury begin rolling out their signature creme eggs. This year, however, the candy company is also promoting a new product that has people practically up in arms.
In a strange collaboration with Heinz, Cadbury has decided to ditch the candy for condiments, rolling out a product that no one on the planet was asking for: Cadbury Egg mayonnaise.
Or, if we want to call it by its official and definitely-not-trying-too-hard title: "[Seriously] Good Mayo."
We weren't kidding, Heinz Creme Egg Mayo is a thing! Who wants to try it????? OF COURSE YOU DO! Come and see us at Ely's Yard, Truman Brewery in London from 11th-13th April for free samples of this crazy combo. Only until stocks last! pic.twitter.com/3ZVehv0LJb

— Heinz Mayo (@heinzmayo) April 2, 2019
Needless to say, people on Twitter were less than excited about the announcement.
I am curled up in the fetal position waiting for you to take this back.

— Amadis Kay (@TheAmadisKay) April 5, 2019
— ???????????? ℍ???????????????????????? (@GrizzlyHillman) April 6, 2019
If Satan was a condiment. This is it.

— RosieTRiveter *AV Club* (@RosieTRiveter) April 5, 2019
Some were so skeptical of the radical move, they assumed it must be an April Fools' Prank.
@MissC_1717 this wasn't an April Fools??

— Emma Flynn (@MissFlynnY6) April 8, 2019
It is not April Fools ????

— Heinz Mayo (@heinzmayo) April 3, 2019
This was posted on April 2nd? April 2nd, not April 1st? Really?

— Paul Zachary Wilson (@pzwilson) April 6, 2019
However, a special few culinary daredevils are keeping their minds open, trusting the food company giants not to steer them wrong.
Okay, a few questions. If one were an American, and, say slightly drunk, and wished to create some facsimile of this on their own, what would the ratio of mayonnaise to candy be?

And how would you describe the texture?

Asking for @chuckwendig.

— Geraldine (@everywhereist) April 5, 2019
The only way to try this is in a deviled egg recipe.

— Me Onthesun (@AmeliaOnthesun) April 5, 2019
Perfect with crumpets or waffles! ????

— Heinz Mayo (@heinzmayo) April 9, 2019
As for the actual flavor profile, Cadbury and Heinz are playing things pretty close to the vest, simply calling the condiment "scrumptious."
"It's unlike anything you've ever tasted before," said Heinz brand manager Martina Davis, "a true taste sensation! If everyone loves it as much as we do, then who knows, we might have to roll it out nationwide one day."
I don't know about you, but that sounds like a threat if I've ever heard one.
For those with curious palates and strong constitutions, the [Seriously] Good Mayo will be available from Thursday to Saturday at a Heinz-Cadbury pop-up store in London's Ely's Yard.