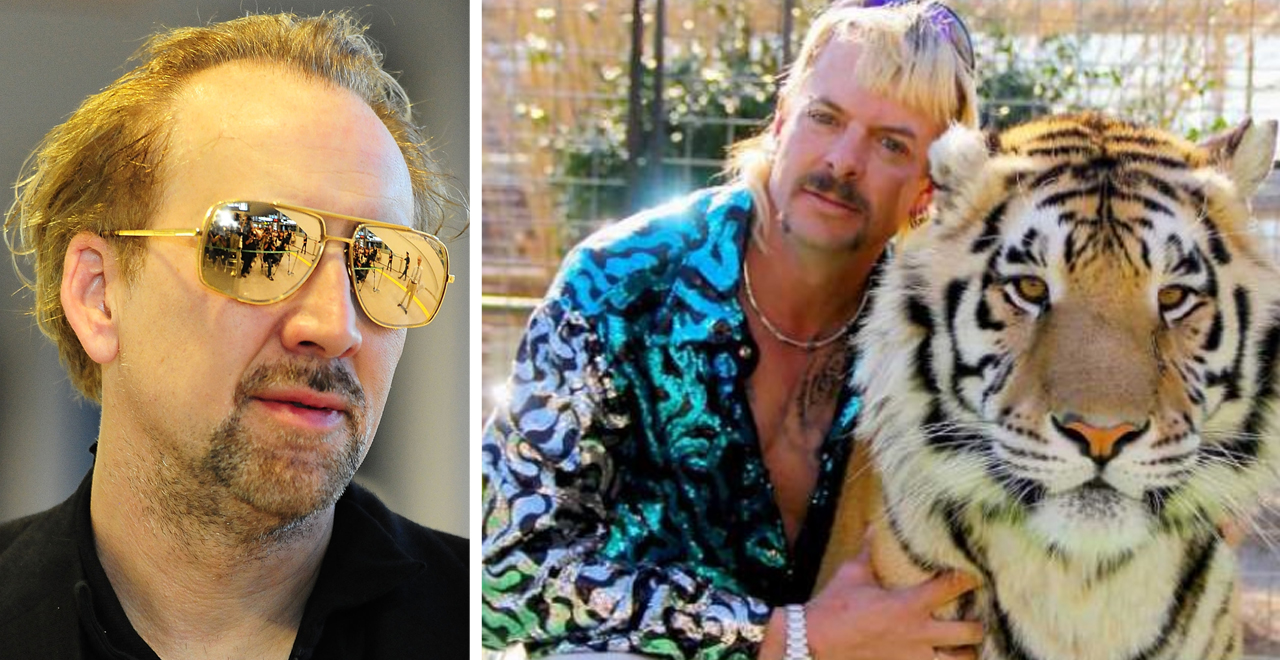 Credit: Getty/Jun Sato Netflix
Sometimes, the gods smile down on you.
A few weeks ago, Netflix's Tiger King documentary took the country by storm. We'd just settled into the quarantine, and everyone was relying on streaming services to fill their time. The story gave us Joe Exotic and his multiple husbands, Carole Baskin and her missing husband, big cats, and even a political campaign, and we couldn't get enough.
Almost immediately, the memes went flying, and many people began dream casting their movie version of the show. People suggest Dax Shephard, David Spade, and more, but in our heart of hearts, we all knew there was only one person who should portray the Tiger King. And now our prayers have been answered.
Earlier today, Variety announced that the one and only Nicolas Cage has been cast as Joe Exotic for an 8-episode TV series.
The series is coming to us from the showrunner behind Netflix's American Vandal mockumentary and is based on the Texas Monthly magazine article "Joe Exotic: A Dark Journey Into the World of a Man Gone Wild," by Leif Reigstad. The series will "explore how he became Joe Exotic, and how he lost himself to a character of his own creation." How the facts and events in that article and in this TV series will differ from the Netflix documentary is yet to be seen, but no one can dispute the casting.
Joe Exotic is such an absurd and over-the-top individual, he might as well already be a Nicolas Cage character! And now he will be. Cage will sport the mullet, he'll adopt the accent, he'll probably even get himself a Prince Albert (don't Google) just for the verisimilitude. The only thing that could make this project sound more incredible is if John Travolta were cast as Carole Baskin and it was a stealth sequel to Face/Off.
Cage has never done a TV show before, but this sounds like the perfect possible project for the legendarily batshit actor, who is capable of being insanely good, insanely bad, and simply insane, depending on the role. My man ate a live cockroach for a movie (two of them, in fact). It wouldn't even be that surprising if we learned he ate Carole Baskin's husband, as opposed to her tigers. Somebody ate that motherf*cker!
Anyway, no word on when or where Cage's Tiger King will air, but something tells me we won't need a quarantine to hunker down and binge that bad boy.