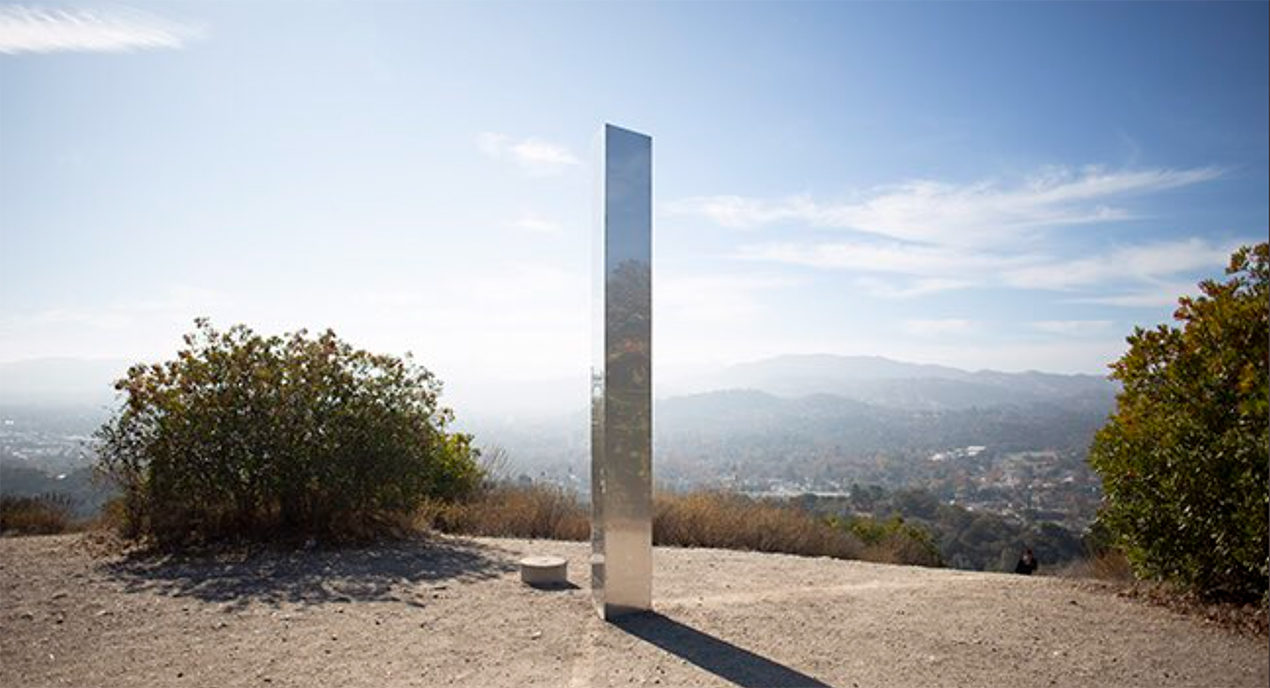 Credit: Twitter/NorbertElekes
It's baaa-aaack!
For the past week or so, many of us have been captivated by the saga of the silver monolith. It first appeared in Utah, this strange silver structure that was just sticking out of the ground. People hardly had a chance to compare it to the black monolith in Kubrick's sci-fi classic 2001 before it suddenly disappeared. (The New York Times learned that some guys just took it down, though it seems like they were not involved in erecting it.)
Then, it suddenly reappeared. At least, a monolith just like it did, emerging on a hillside in Romania.
Speculation was rampant. Was it an art installation? An alien message? A prank like the giant woody in Germany? No one came forward to admit it was a Banksy-style guerilla art project, and no UFOs descended to claim ownership of this strange piece of metal.
And now there's a third monolith. This time, in California!
NEW: Mysterious monolith appears in Atascadero, California pic.twitter.com/aPJxe0U13X

— Norbert Elekes (@NorbertElekes) December 3, 2020
A hiker on Pine Mountain in Atascadero, California stumbled upon it on Wednesday morning. It's ten-feet tall and looks just like the other two: stainless steel, about 10 feet tall. Also, like the other two, there are no clues as to who or what put it there.
🚨 🚨 BREAKING NEWS 🚨 🚨

There is currently a monolith at the top of Pine Mountain in Atascadero!!

(Photos by @Atownreporter) pic.twitter.com/0vPhEWYkeY

— Connor Allen (@ConnorCAllen) December 2, 2020
Unlike the other two, this one is merely standing on the ground, as opposed to being dug into it, according to Atascadero News perhaps the aliens were interrupted before they could finish installing it.
A mysterious monolith has appeared in California after others were seen in Utah and Romania pic.twitter.com/zNGR7Jb2nv

— Reuters (@Reuters) December 3, 2020
The world will be watching to see if – and when? – this one disappears, and we'll all be waiting to see if we get an explanation for these bizarre monoliths that are sprouting up across the globe.
One cynical tweeter already has a guess:
can we just cut to the end of this marketing campaign already https://t.co/QjHl2lcxpc

— Nathan Bernhardt (@jonbernhardt) November 30, 2020
I'm not sure if I'd be annoyed or relieved to learn this is all promotion for 2001 Part 3: The Monolith's Revenge!