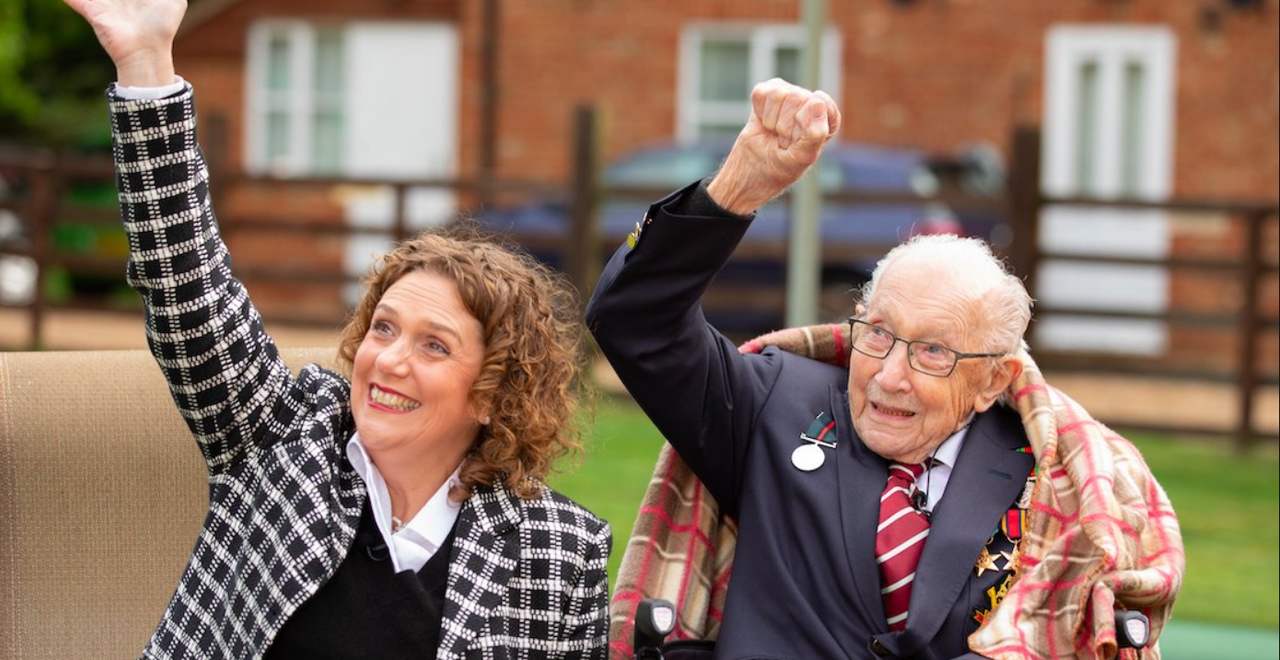 Credit: Twitter/captaintommoore
Few heroes of the young Corona era have captured a global audience quite like Captain Tom Moore. Captain Tom is a WWII veteran, and the former British Army officer made news for his astronomical fundraising efforts for COVID-19 relief and the National Health Service. He started out with modest goals for his fundraiser-walk; to raise $1,200. To date, he has raised nearly $40 million, making it the biggest fundraising walk in history (according to the Guinness Book of World Records).
And people from around the world, united by his message of hope, sacrifice, and togetherness have answered the call with more than dollars. Over the last few weeks, leading up to his 100th birthday, they've been sending Captain Tom birthday cards. A lot of them. At press time, he had received more than 125,000 from well-wishers around the globe. There were so many cards, it overwhelmed the local post office and his grandson's school had to pitch in to help sort them all.
Our Great Hall has been transformed into a sea of 100th birthday cards for Captain Tom. His grandson Benjie, a Fifth Former here at school, has been showing his grandfather photos of the cards as they have been arriving. The Captain has been 'blown away' by the sheer number. pic.twitter.com/CqXqVyN6dt

— Bedford School (@BedfordSchool) April 28, 2020
Captain Tom's birthday is a big enough celebration to get even the most revered figures in the U.K. to send their thoughts.
Just received a rather special birthday card from Her Majesty The Queen @RoyalFamily pic.twitter.com/jqIxpVFBRH

— Captain Tom Moore (@captaintommoore) April 30, 2020
What a wonderful day full of well wishes, kindness and plenty of cake! Can't think of a better way to finish than clapping extra loudly for all the @NHSuk heroes who continue to do such a magnificent job for us all#100thbirthday#ClapForOurCarers#TomorrowWillBeAGoodDay pic.twitter.com/JgcJAYUrvx

— Captain Tom Moore (@captaintommoore) April 30, 2020
It's quite the life when flying fighter jets in World War II isn't the most important thing you've done, but Captain Tom's fundraising efforts have inspired people from every pocket of the globe. Of course, he's revered nowhere like he is at home.
The amazing moment a Spitfire and Hurricane flew over @captaintommoore's house to mark his 100th birthday on #BBCBreakfast.#CaptainTom100
More here: https://t.co/1BAoxJgEVN pic.twitter.com/auFO4hbGbC

— BBC Breakfast (@BBCBreakfast) April 30, 2020
And you know your birthday is a big deal when not only do you get a card from the queen, a freaking flyover (!) but also your very own WWE championship belt.
#WWEChampion @DMcIntyreWWE is gifting World War II veteran Captain Tom Moore a custom #WWETitle to commemorate his 100th birthday! https://t.co/p3kOmuFnkh pic.twitter.com/msAkLTAKrx

— WWE (@WWE) April 28, 2020
Captain Tom's birthday month has been full of magic, as he also became the oldest person to have a No. 1 hit single (those words barely make sense in that order, but these are the times we're living in).
🙌🏾🙌🏾🙌🏾 @captaintommoore https://t.co/IN9JJzw2Kn

— The Weeknd (@theweeknd) April 24, 2020
The more you read about Captain Tom, the harder it is to be unmoved. The way people have responded, with their own acts of fundraising, generosity, and positivity, is nothing short of breathtaking.
Happy Birthday to a true living legend and a hero for our times. Here's to 100 more (you never know).