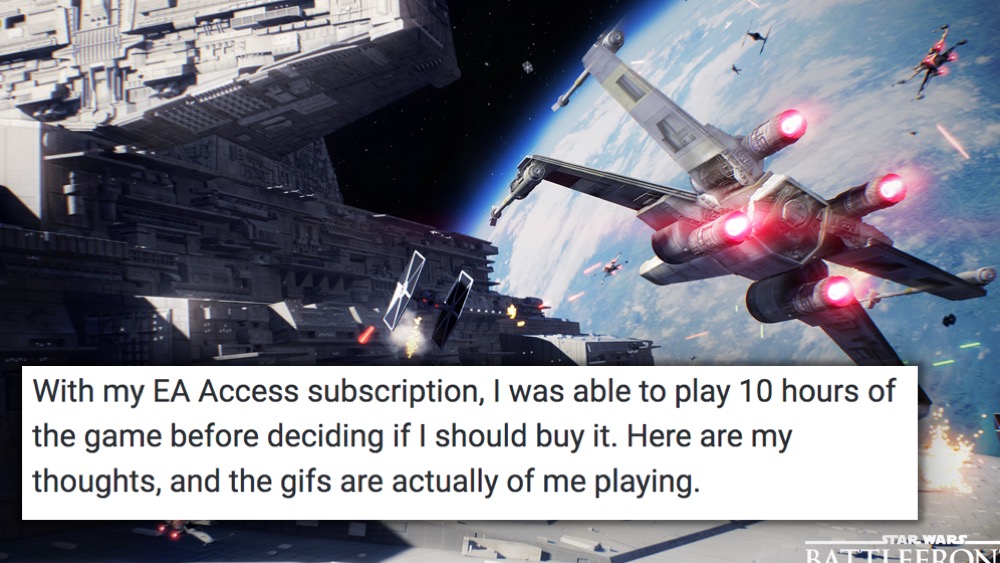 Star Wars Battlefront II Review: An Improved Galaxy, Far, Far Away
Before We Get Started…
I am a long-time gamer, but I have never played anything at a hardcore level. Other reviewers can detail specifics far better than I can (or care for). My goal is to provide reviews for casual gamers without spouting unnecessary information. For example, I don't care if the game runs smoothly at 60 frames per second, just because a game may have better specs doesn't make it any less shitty (Looking at you, Tony Hawk Pro Skater 5).
Like Riding a Bike
For those of you who have played the last Battlefront game, you'll be able to pick this right up as if you were never gone. It is very familiar, in a good way. But the game has definitely improved on it's predecessor. They even removed those awful bright white menus, so no more burnt retinas for me.
A Long Overdue Campaign
The addition of a campaign is a very welcome improvement. Few games are able to be successful without one (kudos to you, Overwatch), and Battlefront I did okay without one, but it just felt a little empty. The EA Access preview opens three of the campaign missions, all focusing on an elite pilot for the Empire with the story starting at the Battle of Endor. The gameplay is paced appropriately, varying from open gunfights to stealthy encounters. Crushing the rebellion and punting Ewoks has never been so fun. (Okay, I made that part up.)
Stomping Stormtroopers, With Friends!
The game's multiplayer is split into two modes: foot solider battles or spaceship dogfights. Do you want to mercilessly destroy clone troopers with 20 other people? (The largest matches are 20 vs 20.) Or do would you prefer to fly a tie fighter around a star destroyer like a badass gunning down x-wings? It doesn't matter if you're not a good shot or strategist, you will still have plenty of opportunities to experience classic Star Wars moments. I mean, check this gif below of myself, just stumbling upon an epic Star Wars scene.
Pro? Newb? Come One, Come All.
This game is pretty laid back. I've played other first-person shooter games, Battlefront II feels different and is more accepting of the casual player. Halo or Call Of Duty can be very aggravating as you get PWNed repeatedly by teenagers who are clearly better than you, but Battlefront II accepts all gamers. It's fun and rewards those who are skilled, but is forgiving to those that sometimes suck. I am a terrible pilot. I mean, terrible. But even I can enjoy myself while dodging turret fire in these epic dogfights.
A Disturbance In The Force: Microtransactions
I enjoyed my time playing Battlefront II, and am sad that my 10-hour trial is nearly at its end. I felt like the only downside to this game was the horrible microtransactions. There aren't a lot people who purchased stuff but they were easy spot because they're better than everyone else. But EA and Disney actually listened to the gamers' complaints about this and have now disabled the in-game microtransactions. So here's hoping that with the next update to the game, it will bring a much improved progression and microtransaction system.
The Verdict
8.5/10 Stormtrooper Helmets.
The game is great, and the annoying microtransactions are gone. (They will eventually be back, but they'll be forced to do so in a way that won't bring so much negative attention)
Yes, I WILL buy this game. It will be mine. It's fun and relaxing. Plus, I mean, it's Star Wars! What more could you want?