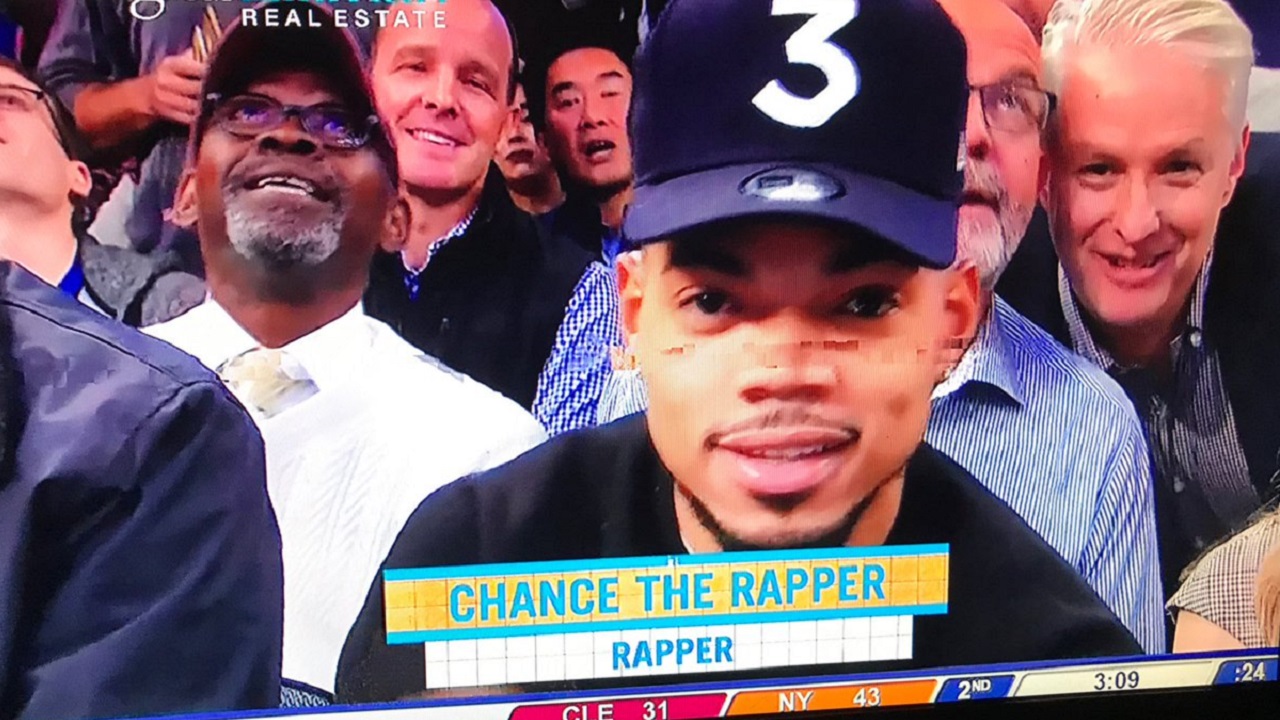 Credit: Twitter/Darren Rovell
Chance the Rapper, rapper, is now Chance the Rapper, weatherman
A few months ago, Chance the Rapper, the beloved, genial, and talented hip-hop artist, was seen chilling court side at a basketball game. When the cameras caught wind of his attendance, they threw him onto the screen with a helpful caption that identified his occupation.
Of course, his occupation is part of his name, so the image was comically redundant, in that it read "Chance the Rapper, rapper."
It spread far and wide and entertained us all. But judging by Chance's sojourn into a new career, maybe it didn't entertain him as much as it did us?
In case you wanted to know the occupation of "Chance The Rapper"…. pic.twitter.com/ZP16PYHqo7

— Darren Rovell (@darrenrovell) November 14, 2017
Yesterday, perhaps eager to eliminate the stink of that absurdly repetitive caption – he does say he's looking for a job at the end – Chance the Rapper appeared on WGN's local news program and played the part of meteorologist. And, by all accounts, he crushed it. Although, tbh, all he did was stand in front of a green screen and point.
Maybe we should start calling him Chance the Meteorologist… ?
Or not. Here's your morning forecast from @chancetherapper ! #ChicagosVeryOwn #WGNToyDrive pic.twitter.com/yNu6Xw9CA7

— WGN Morning News (@WGNMorningNews) December 8, 2017
I'm kidding. Obviously, being a meteorologist has a lot more to it than standing and pointing, guys. For one thing, you have to consistently be incorrect about tomorrow's weather. And it doesn't hurt if you're good at inadvertently drawing dicks on the screen.
But, as the other anchors pointed out during his stint as a weatherman, Chance displayed nice form while pointing out Peru, and he pleased Harry Potter fans everywhere by donning an "invisibility cloak" that just happened to be lying around. What other magical tools do these meteorologists have at their fingertips? The time turner?! Haha, of course not, if they could go back in time, they'd get the forecast right once in a while!
Using the green screen wasn't all the rapper – still a rapper, as far as we know – did to have fun while at WGN. He also took a little ride on an electric motorcycle for some reason.
Just @ChanceTheRapper riding an electric mini motorcycle down the @WGNMorningNews hallway. #WGNToyDrive pic.twitter.com/q8lyOzE9e7

— Marcus Leshock (@marcusleshock) December 8, 2017
And he found time to do what he does best, be one hell of a good guy.
Awesome moment when @chancetherapper congratulated Laleeh, our Friday Forecaster, on a job well done. So sweet. @SocialWorks_Chi #wgntoydrive @WGNMorningNews pic.twitter.com/HgdTODC97u

— Robin Baumgarten (@WGNRobin) December 8, 2017
We're not the only ones who are impressed by his performance, the meteorologist at KETV in Omaha, Nebraska reached out with a job offer of his own.
Hey @chancetherapper, if you are looking for a job, we have an open spot. You got a good start on your reel here. https://t.co/Nev8W72AOz

— Matt Serwe KETV (@MattSerweKETV) December 8, 2017
Chance in Nebraska? That meteorologist definitely doesn't do the same drugs no more.