Chicago River Dyed "Green Screen" Green and Twitter Took Advantage [WATCH]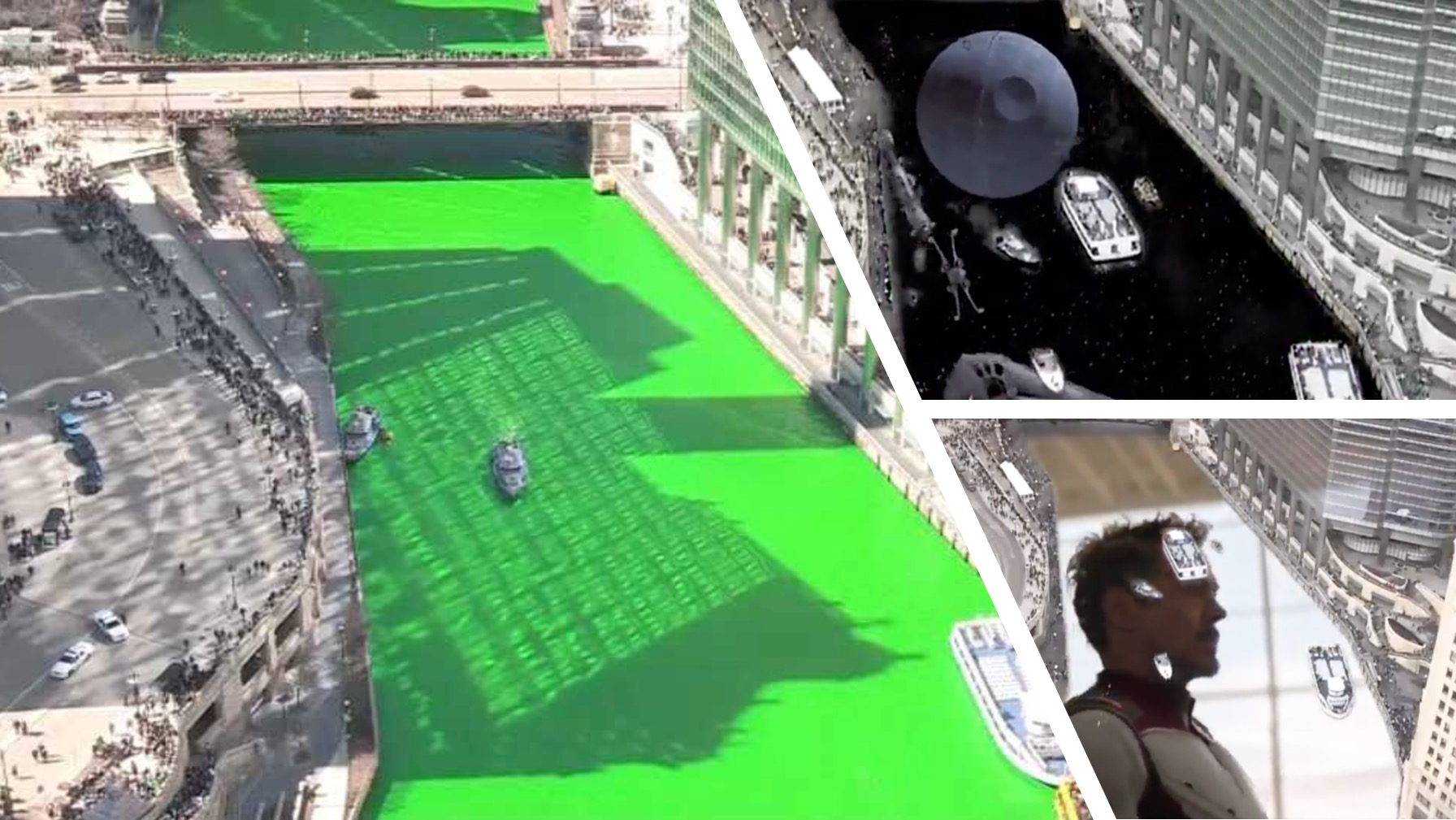 As per tradition, the winding Chicago River was dyed green for St. Patrick's Day, but whoever is in charge of the emerald dye really upped the ante this year. It was so green, in fact, that anyone with some decent video editing chops could transform the body of water into whatever their goofy mind could come up with.
People on Twitter did their best to outdo one another regarding what bizarre things they could key onto the liquidy green screen and the results were pretty damn great.
This never gets old. The Chicago River goes green to celebrate #StPatricksWeekend. ☘️ (Via @chicagotribune) pic.twitter.com/lHgjVZPooF

— Marcus Leshock (@marcusleshock) March 17, 2019
Yes, it really is that green… #Chicago #ChicagoRiver #StPatricksDay pic.twitter.com/m3K9o3eVP0

— Suzanne Lynch (@suzannelynch1) March 16, 2019
YOU: Oh look, they dyed the river green
ME, AN ARTIST: Oh look, they dyed the river chroma key green#StPatricksDay pic.twitter.com/PPmquC3VOl

— Donnachaidha Ó Chionnaigh (@TwoClawsMedia) March 17, 2019
guys they made the river a green screen heheheheheheh pic.twitter.com/O2xthCUath

— tech support™ (@theBjrd) March 17, 2019
Tired: dyeing the Chicago River green for #StPatricksDay

Wired: dyeing the Chicago River the starting lineup for the 1997 Chicago Bulls pic.twitter.com/bN5vf8U1sc

— Parker Molloy (@ParkerMolloy) March 17, 2019
???? pic.twitter.com/EFAqTq8yE1

— Parker Molloy (@ParkerMolloy) March 17, 2019
Using the dyed river like a green screen and replacing it with the Avengers Endgame trailer pic.twitter.com/6DtxllvIrl

— Parker Molloy (@ParkerMolloy) March 17, 2019
I couldn't resist and did my spin on the Chicago green screen #StPatricksDay river! Thanks for the awesome idea @TwoClawsMedia and thanks to Kermit for his charming voice. ♥ pic.twitter.com/RLsWGEminF

— Mitra (@PoetessYT) March 18, 2019