Chris Hemsworth Wants to Assemble Avengers for a 'Three Amigos' Remake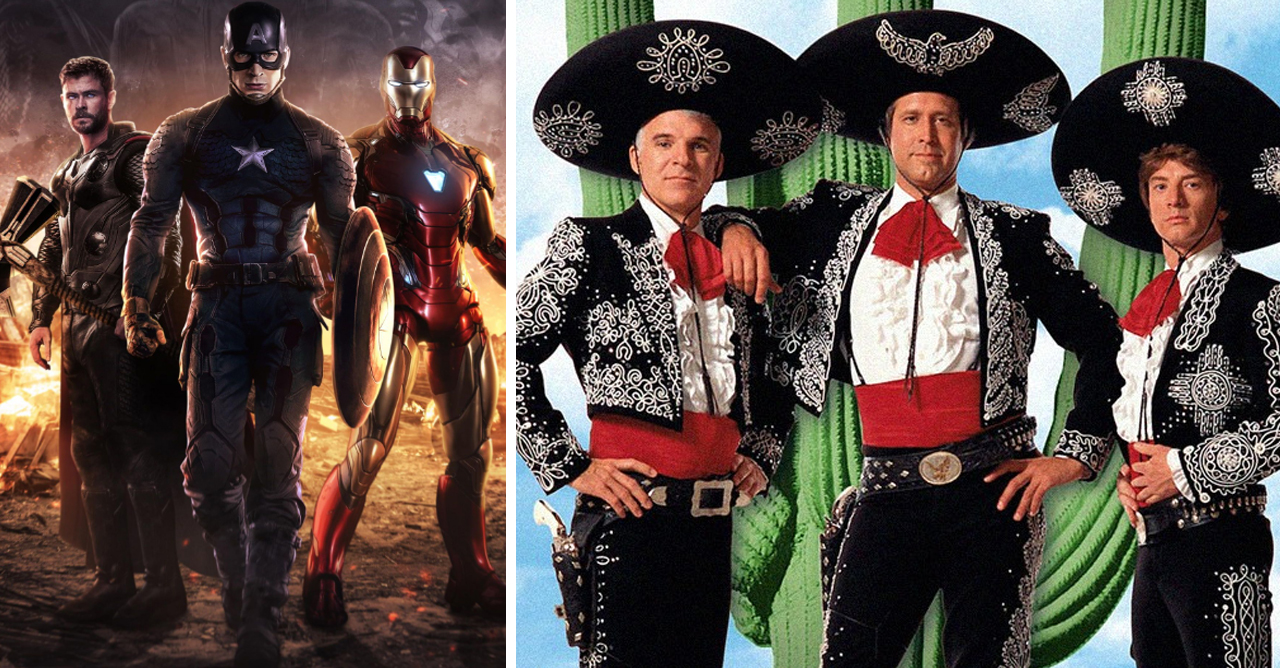 It's the age of prequels and origin stories and remakes and reboots and reimaginings, but some films are sacred and shan't be touched. Like The Godfather. Or Raiders of the Lost Ark. Or The Princess Bride. Or Three Amigos.
*checks ear*
Wait a second, I'm getting word that Chris Hemsworth wants to remake Three Amigos with Chris Evans and Robert Downey Jr. If you'll excuse me, I have to go buy tickets.
Okay, maybe Three Amigos can be remade. Maybe not. Chris Hemsworth seems to like the idea, having put it out into the universe while appearing at ACE Comic-Con Chicago.
"That was so sad about kind of finishing Endgame, was just 'Were we ever going to get to hang out again?' And I immediately started thinking 'What else could we do?'" Hemsworth told fans, adding, "We could remake the Three Amigos or something."
If you didn't grow up in the 80s with HBO and a lot of free time, the original Three Amigos is a fairly bizarre flick about three silent movie stars who think they've been hired to perform their act in a Mexican village but were actually hired to oust a dangerous outlaw. The goofy comedy has gained cult status thanks to the comic styling of the three leads, comic legends Steve Martin, Martin Short, and Chevy Chase. With bonafides gained from careers in stand-up, Saturday Night Live, SCTV, and a string of beloved comedies, the original cast were all comic heavyweights, something Hemsworth and his Avengers friends – RDJ's brief stint as one of the Not Ready For Prime Time Players notwithstanding – are not. But they do have chemistry!
Plus, Chris Evans was in Not Another Teen Movie, and looks to be having a lot of fun in the trailer for this fall's Knives Out from Rian Johnson, Robert Downey Jr. is simply a national treasure of wit and charm, and Hemsworth himself showed off his comic chops in Ragnarok and as Fat Thor. Watching those three, fresh off saving the world several times in the biggest series of films of all time, play bumbling idiots in ridiculous outfits (what else is new?) would sure be a lot of fun.
The Marvel fans don't disagree:
@chrishemsworth @ChrisEvans@RobertDowneyJr

I usually cringe at the thought of remakes but this would be good. Imagine "My Little Buttercup". Pure joy!!!#makeithappenhttps://t.co/VACPbpHwcC

— Bleed Balance (@BleedBalance) October 15, 2019
Could it be another blockbuster?
The movie would get all of my money. https://t.co/WSX9XjkcfS

— Ross Hughes (@hughescoloring) October 14, 2019
Hopefully Rocket Raccoon gets involved. He and Hemsworth are a buddy movie waiting to happen.